The Consular Snapshot contains information about the assistance the Ministry provides to New Zealanders who travel or live overseas.
These services can range from helping people who have been victims of crime, to assisting people in detention, and providing advice to the families of New Zealanders who have died in another country.
Consular Snapshot 2019-20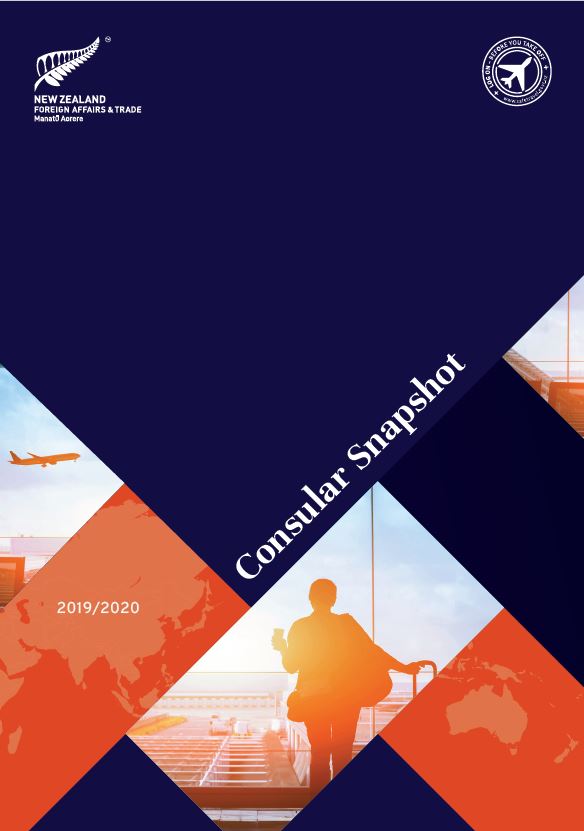 The Ministry received more than 70,000 general inquiries about consular issues, and dealt with 3,600 consular cases in the year from 1 July 2019 to 30 June 2020.
Advice for New Zealanders overseas
We advise travelling New Zealanders to check our travel advice for your destination, register your travel details on the SafeTravel website so we can contact you in an emergency, and get comprehensive travel insurance.
We also encourage New Zealanders who are planning overseas travel to:
check their passport will be valid throughout the trip
check the visa or entry requirements of their destinations (including if there are restrictions applying to people who have a criminal record)
find out whether there are any health requirements for the destinations
ensure they can access sufficient money to see them through the trip.
Find more information about how the New Zealand Government can help New Zealanders overseas on SafeTravel(external link).
Download the Consular Snapshot report
Our Consular Snapshot report summarising how we helped New Zealanders overseas in the 2019/20 year is available to download as a PDF below:
Read the Consular Snapshot 2019-20 Report