With international air travel severely restricted by the global pandemic, many Ministry Heads of Mission experienced a longer-than-expected time outside Aotearoa New Zealand.
That prompted us to come up with a way of ensuring our people offshore still felt connected to, and a part of, the Ministry whānau.
The result was Tūhono, a virtual Heads of Mission global hui, held over two, two-hour sessions on 12 and 13 May 2021.
Tūhono included sessions with the Minister of Foreign Affairs, Hon Nanaia Mahuta, as well as the Ministry's Chief Executive and Senior Leadership Team (SLT), and external guests.
The sessions were punctuated by Post Pulse Checks from Heads of Mission around the world, who shared the challenges, triumphs and lessons of the last year. This included posts being hampered by travel restrictions preventing many staff from returning to Aotearoa New Zealand when scheduled. Also noted were the challenges of working virtually and living in sustained lockdown environments, meaning many offshore staff were under considerable pressure.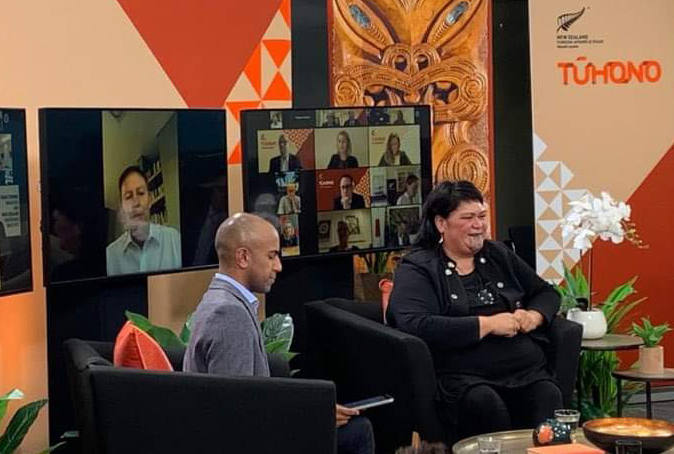 Conversations covered a range of topics, from internal organisational matters to the changing political and strategic landscape in Aotearoa New Zealand and around the world.
The sessions were interactive, with offshore staff taking the lead in asking questions of the Minister and SLT. Key sessions were recorded and shared with the wider Ministry.
The project drew on the experience of Aotearoa New Zealand's APEC21 hosting, to provide a high-quality and seamless virtual meeting experience.
Prior to the hui, our organising team consulted with a small group of offshore Heads of Mission to obtain feedback on what they wanted to get out of the event. A reference group of staff in Wellington also helped to test ideas along the way.
One of the most challenging aspects was managing the different time zones across all the Ministry posts around the world. As a result, Tūhono took place over two separate sessions at 8am and 8pm New Zealand time.
The Ministry's waiata group recorded a performance of the Ministry's waiata, "Aorere E", especially for Tūhono.
As one offshore staff member put it, "It brought a tear to the eye. It was a really comforting sight for those of us who haven't been home for a long, long time. I for one felt very supported and uplifted by that great expression of kotahitanga and manākitanga."