Audrey Sonerson
Deputy Chief Executive - People and Operations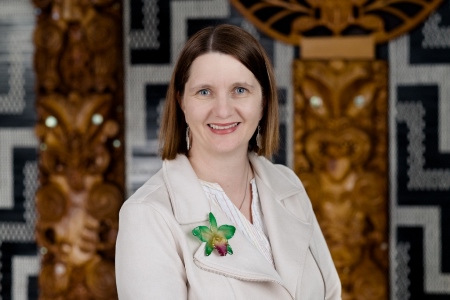 In July 2018 Audrey joined MFAT as Deputy Chief Executive, Resources before becoming DCE (People and Operations) in December 2019.
Audrey oversees the enablement functions within the Ministry, which include People, Finance, Security and Organisational Resilience, Asset Management, Information Management, Portfolio Services and Commercial. Audrey chairs the Resources Committee and is a keen member of the Health, Safety and Well-being committee.
Before coming to MFAT, Audrey was with NZ Police as a Deputy Commissioner. This was an interesting and varied role where Audrey had oversight of the Royal New Zealand Police College, Police Professional Conduct, Risk and Assurance, Infrastructure, Information and Communications Technology, Legal Services and Organisational Security Groups. Audrey is a long time public servant.
Prior to NZ Police she was Deputy Chief Executive at the Ministry of Justice and held various policy and strategy roles at the Ministry of Health, Ministry of Education and Treasury. Audrey has a Master's degree in Economics from Victoria University of Wellington.