Safe travel matters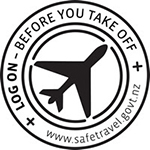 SafeTravel is the official source of travel advice for New Zealanders, with advisories for specific destinations. Checking SafeTravel helps you avoid travel blackspots.
On SafeTravel you can also register your details and travel plans. If a crisis occurs overseas, MFAT will contact New Zealanders who have enrolled to check on their safety and well-being.
We also recommend you take out travel insurance. If you can't afford travel insurance, you can't afford to travel.
While you are overseas, make sure you respect cultural norms and obey local laws.
While you are overseas, make sure you respect cultural norms and obey local laws.
SafeTravel(external link) is the Ministry of Foreign Affairs and Trade website designed for New Zealanders who are travelling or living overseas. You will find:
traveller's checklist to help you plan your journey
news features
travel advisories for specific destinations, with up-to-date information on security risks
registration facility where you can log your travel plans in case you need to be contacted in an emergency
when things go wrong - information that may assist you.
Being prepared in Korea
South Korea has a modern, well developed emergency response infrastructure and contingency plans in place for many emergency situations. In any emergency situation, New Zealanders should always monitor developments closely and follow instructions issued by local authorities. While the New Zealand Government will do what it can to assist New Zealanders in emergency situations, and the Embassy in Seoul prepares accordingly, New Zealanders living in and visiting South Korea must make their own preparations and decisions regarding their safety based on individual circumstances.
As we recommend for New Zealanders in all countries, it is important that you and accompanying family members are prepared for an emergency situation. Some of the measures you may wish to consider include:
Prepare an emergency kit similar to what you would have at home in New Zealand, including cash, food, water, medicines, baby supplies, torches, radios, a backpack, etc.
Keep your family in New Zealand regularly informed of your plans and well-being.
Familiarise yourself with emergency procedures in your home and workplace, and nearby emergency shelters (eg see below).
Check you have comprehensive travel and medical insurance.
Replace your credit cards if they are about to expire and ensure you have enough credit available to pay for unexpected flights and emergency accommodation.
Ensure your passports are up-to-date and have a minimum of six months validity left on them. See the Department of Internal Affairs website for information on applying for a replacement passport, www.passports.govt.nz

(external link)

If accompanying family members do not travel on a New Zealand passport ensure they have a valid visa for possible onward travel to New Zealand.
If you have recently had a child overseas, apply for New Zealand citizenship and a passport for the child.
Keep your essential documents in one secure place that is easily accessible to you at all times.
The Korean government National Emergency Management Agency (NEMA) website provides general advice in English and Korean on what to do in the event of an emergency in Korea. NEMA have also prepared a smart phone application (for both Android and Apple) that details nearest emergency shelters. You can find this in the Apple App Store(external link) (not available in the New Zealand App Store) and Android Play Store(external link), or by searching for the application called "재난안전알리미". After installing this app, you will see a section called "Shelters" that has English information on your nearest emergency shelter. The other parts of the app have information in Korean.
Travel advisory for Republic of Korea