Paul Wallis
New Zealand's High Commissioner to Kiribati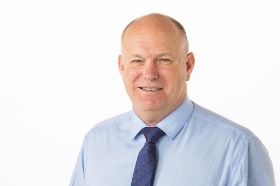 Paul Wallis took up the role of High Commissioner to Kiribati in January 2020.
Paul joined the New Zealand public service in 1988 and his career focused largely on domestic and international fisheries policy and development. Paul has worked at the Ministry of Foreign Affairs and Trade since 2011, providing advice and implementing New Zealand's Pacific fisheries regional and bilateral fisheries development programmes. Prior to this he worked for the (then) Ministry of Fisheries on legislative reforms, economic development policy, and foreshore and seabed negotiations with East Coast iwi.
In the 1990s Paul worked at the Paris-based Organisation for Economic Cooperation and Development, represented New Zealand at various international fisheries meetings (OECD, APEC), was agriculture portfolio private secretary in the Minister of Agriculture and Forestry's office, and was a policy adviser on agriculture and horticulture matters.
Prior to posting in Tarawa, Paul resided in Wellington and has links to the East Coast-Gisborne region where he spent his formative years. He was educated at the Gisborne Boys High School and at the University of Waikato, and holds a Bachelor of Management Studies (Economics).
Paul is married to Margaret and they have three adult daughters.