Tonga is a group of islands in the South Pacific Ocean, located near Fiji and Samoa. It is home to around 103,000 people who live on 36 of the country's 170 islands.
Tonga is the only Pacific country with a constitutional monarchy – it is known officially as the Kingdom of Tonga. In 2010, Tonga made an historic and fundamental change from an executive monarchy to a modern parliamentary democracy, holding its first fully democratic elections in November that year.
Our relationship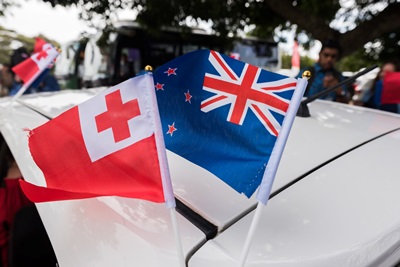 Tonga and New Zealand have a long history together. In 2020, New Zealand and Tonga will celebrate 50 years of diplomatic relations.
Our relationship is underpinned by the large number of New Zealanders of Tongan descent living in New Zealand, and Tongans with connections to New Zealand. Tongan New Zealanders contribute to both countries across all facets of society, including the arts, sports, business, politics, the media and academia.
Defence partnership
Tonga is New Zealand's key defence partner in Polynesia, dating back to World War I, when Tongan citizens served in the Māori and Regular Battalions in the New Zealand Army. More recently, both countries took part in the Regional Assistance Mission to Solomon Islands (RAMSI).
We also share a sea boundary with Tonga, and have shared interests in border security, climate change, and regional security.