Tuvalu is made up of nine inhabited islands with a population of approximately 11,000. It is the fourth-smallest nation in the world.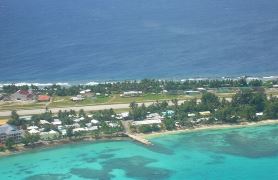 New Zealand and Tuvalu's relationship is founded upon sovereign equality and a spirit of close friendship.
Both countries have signed a Statement of Partnership which identifies a set of common priority areas for ongoing cooperation and commit to building deeper connections.
New Zealand sits on the Tuvalu Trust Fund which provides an influential role in the country's governance and fiscal management.
Challenges
Tuvalu faces a number of challenges. It is remote and has few natural resources. Its economic development is constrained by a shortage of skilled workers, high unemployment, infrastructure challenges, high population density in urban areas and geographical remoteness.
Climate change
And then there's climate change. With an average elevation of 1.83m above sea level, it is one of the most vulnerable countries to the impacts of climate change. As a consequence, Tuvalu is preparing to respond to the impacts of rising sea level and more intense cyclone activities.
For now Tuvalu's government wants to maintain the population in Tuvalu, rather than find new countries for its people to migrate to. But migration is likely to become a reality.