Jan Henderson
Jan Henderson
New Zealand's High Commissioner to Barbados, Guyana, Trinidad and Tobago, and the Eastern Caribbean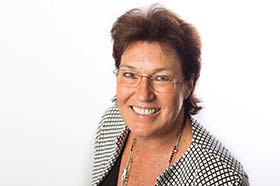 Biography
Jan Henderson is a career diplomat who is currently serving as New Zealand's High Commissioner to Barbados, Guyana, Trinidad and Tobago, and the Eastern Caribbean. 
Jan is also New Zealand Ambassador to the Caribbean Community (CARICOM) and the Organisation of Eastern Caribbean States (OECS)  
Before her Caribbean assignment, Jan was New Zealand's High Commissioner to India, with accreditations to Sri Lanka, Bangladesh, and Nepal.
From 2003 – 2006, Jan was New Zealand's Ambassador to Turkey, Israel and Jordan, resident in Ankara.
Previous postings include Washington DC, Solomon Islands and Thailand.
In New Zealand, management assignments in the Ministry of Foreign Affairs and Trade have included Director of the Chief Executive's Office and Director of the Environment Division.  Jan has also served in Pacific, Development and HR roles.    
Jan is married to David Henderson and they have two daughters Jennifer and Rachel.