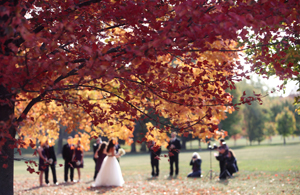 New Zealander's coming to the United Kingdom to get married or for a civil partnership – whether to another New Zealander or any other nationality – must obtain a visa before arriving.
The 6 month tourist visa waiver scheme does not apply in this instance.
The UK Visas and Immigration website provides the relevant information at this page on their website for marriages and civil partnerships(external link).
The type of visa you need to apply for depends on your situation –
If you want to come to the UK to get married or register a civil partnership, and you and your partner intend to leave the country within 6 months, you can apply for a visa as a visitor for marriage or civil partnership. More info on is the marriage visitor visa

(external link)

page.
If you want to live in the UK after your marriage or civil partnership ceremony, you cannot come here as a visitor. More info is on the marriage for foreign nationals

(external link)

page.
If you are getting married anywhere outside of New Zealand, it is important that you contact the marriage authorities in the country where you plan to marry and check their laws and requirements. Many countries need a document stating that you are legally able to marry.
Apostille and Authentication of documents
For marriages overseas, foreign documents might need to be authenticated. For information on the authentication process visit the section under 'services' on document authentication at the Department of Internal Affairs (DIA)(external link).
To check the requirements, contact the relevant authorities in the country concerned or their overseas representative to see what they will accept. The process varies depending on the document type and country requirements.
For New Zealand citizens getting married overseas, a 'Certificate of No Impediment to a Marriage' might be required. This can be applied for from the Department of Internal Affairs' Births, Deaths and Marriages service. Application forms and further information can be found at on this page of the Department of Internal Affairs' website: Births, Deaths and Marriages(external link).
Births Deaths and Marriages can be contacted at:
PO Box 10 526
Wellington 6143
New Zealand
Tel: +64 (0)4 463 9362
Fax: +64 (0)4 382 3613
Email: bdm.nz@dia.govt.nz
Recognition of your marriage overseas
Your marriage should be registered in the country where it took place. There is no legal obligation to register your overseas marriage in New Zealand. More information can be found on this page of the Department of Internal Affairs' website: Getting Married Overseas(external link)