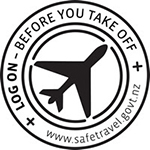 Safe travel matters
SafeTravel is the official source of travel advice for New Zealanders, with advisories for specific destinations. Checking SafeTravel helps you avoid travel blackspots.
On SafeTravel you can also register your details and travel plans. If a crisis occurs overseas, MFAT will contact New Zealanders who have enrolled to check on their safety and well-being.
We also recommend you take out travel insurance. If you can't afford travel insurance, you can't afford to travel.
While you are overseas, make sure you respect cultural norms and obey local laws.
SafeTravel(external link) is the Ministry of Foreign Affairs and Trade website designed for New Zealanders who are travelling or living overseas. You will find:
Let us know you are in Iran
The New Zealand Ministry of Foreign Affairs and Trade offers an online registration(external link) service for New Zealanders visiting or residing in a foreign country. The details you provide when you register will help us to contact you in an emergency (e.g. natural disaster, civil disturbance, family emergency etc.), or to pass on information that we wish to alert you about.
Who should register?
New Zealanders travelling to Iran, Afghanistan or Pakistan whether as tourists, for business or for short or long stays
New Zealanders living in Iran, Afghanistan or Pakistan
Who can register?
The registration service is intended for New Zealand citizens travelling on New Zealand passports. We accept registrations from:
all New Zealand citizens regardless of the travel documentation
long-term permanent residents of New Zealand
non-New Zealand children of New Zealand citizens
Travel advisories for countries accredited to the New Zealand Embassy in Tehran