New Zealand is working alongside the international community to reach a coordinated, effective global response to climate change.
United Nations Framework Convention on Climate Change
The Convention is the major foundation global treaty that deals with climate change.
New Zealand is a party to the Convention, which provides a structure for negotiating climate change agreements. The Convention was signed in 1992 at the Earth Summit in Rio de Janeiro – today more than 190 countries have joined. Convention parties and the various subsidiary groups meet regularly to discuss the implementation of the Convention, including:
the implications of the latest scientific findings and technological developments
opportunities for collective action and cooperation in reducing emissions
ways to support countries to respond to climate change
the provision of financial and technological support to help vulnerable countries that need to take action
The Convention holds an annual meeting called the Conference of the Parties (COP) which is its highest decision-making body. The Minister for Climate Change leads New Zealand's team of representatives at these meetings each year.
New Zealand, along with other Annex 1 Parties to the UNFCCC, produces regular reports which track progress towards meeting our commitments. Our Biennial Report highlights New Zealand's climate-related support for developing countries. It also shows New Zealand is supporting low emissions agricultural development.
Progress towards our targets(external link)
Climate change reporting(external link)
Global Research Alliance on Agricultural Greenhouse Gases(external link)
NZ submissions to UNFCCC
Paris Agreement
The Paris Agreement is the global agreement on climate change adopted by Parties on 12 December 2015 under the United Nations Framework Convention on Climate Change (UNFCCC). It commits all countries to take action on climate change.
New Zealand ratified the Paris Agreement on 4 October 2016 (New York time).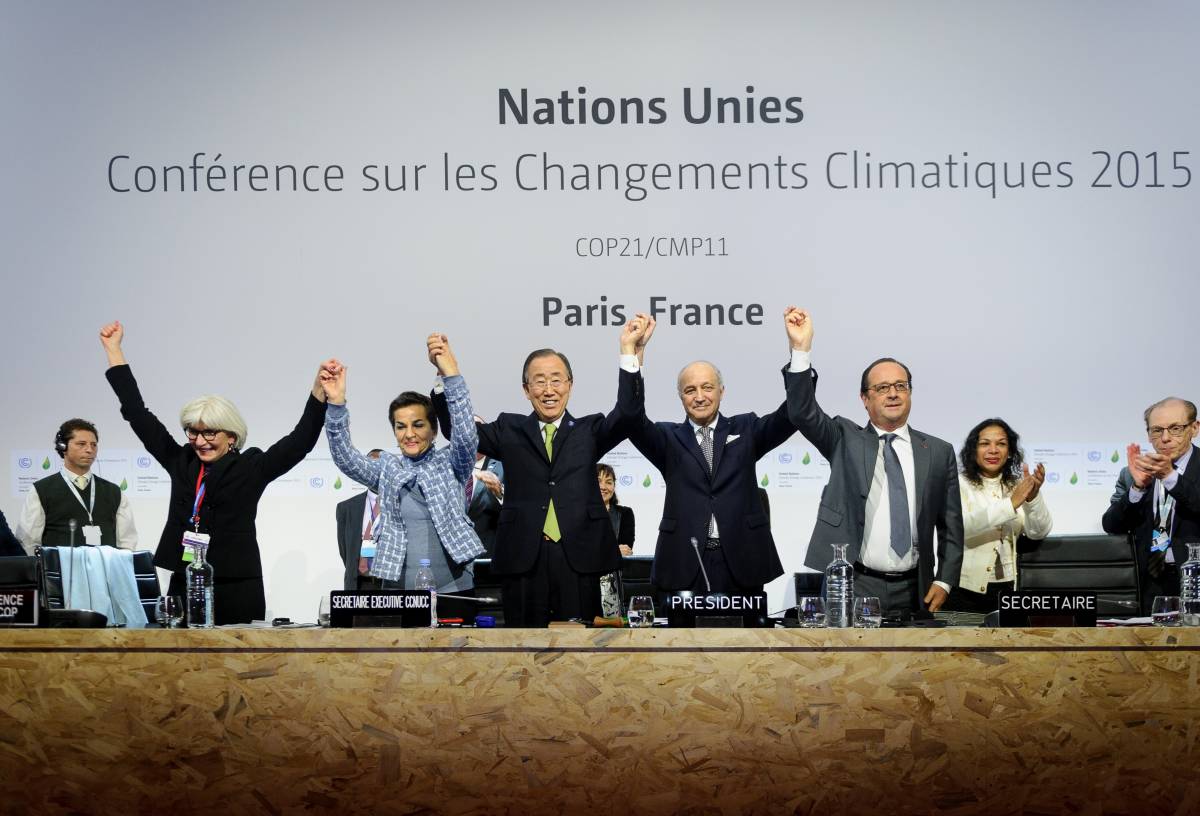 The Paris Agreement entered into force on 4 November 2016 and took effect in 2020. This means New Zealand's commitments to reduce greenhouse gas emissions apply from 2021.
New Zealand's first nationally determined contribution (NDC)(external link) to the Paris Agreement was submitted in October 2015. An updated NDC was announced(external link) on 31 October 2021 on the eve of the 26th Conference of Parties (COP26). The updated NDC is published on the UNFCCC NDC Registry(external link). Our Long-Term Low Emissions Development Strategy is published on the UNFCCC website(external link).
Paris Agreement(external link)
Global Climate Action Agenda
New Zealand is a participant in the Global Climate Action Agenda (GCA), established at COP22 in Marrakech, Morocco. To demonstrate an area of climate action in which we have particular expertise, we convened a side-event at COP23, Precision Technology for Agriculture Development, to highlight how precision farming tools and methods can reduce emissions, increase climate resilience, and improve productivity. New Zealand also engages with a range of initiatives as part of the GCA, including the Powering Past Coal Alliance, the Climate and Clean Air Coalition, the NDC Partnership, and the 2050 Pathways Platform Partnership.
Kyoto Protocol
The UNFCCC Kyoto Protocol was agreed in Kyoto, Japan in 1997, and entered into force in February 2005. New Zealand is a party to the Kyoto Protocol.
The Kyoto Protocol operationalizes the United Nations Framework Convention on Climate Change by committing industrialized countries and economies in transition to limit and reduce greenhouse gases (GHG) emissions in accordance with agreed individual targets. The Convention itself only asks those countries to adopt policies and measures on mitigation and to report periodically.
First commitment period (CP1) 2008 to 2012
the Kyoto Protocol committed participating developed countries to individual legally binding targets to reduce greenhouse gas emissions over a first commitment period of 2008 to 2012.
Second commitment period (CP2) 2013 to 2020
at the 2012 United Nations climate change negotiations in Doha, parties agreed to a second commitment period to reduce greenhouse gas emissions collectively to at least 18% below 1990 levels in the eight year period from January 2013 to 2020
37 developed countries have signed up to targets in the second commitment period. New Zealand

chose

to make its climate change pledge for this period under the Convention track, rather than the Kyoto Protocol.
The Convention track
The Convention track is one of the Cancun Agreements under which countries made voluntary pledges to reduce or limit greenhouse gas emissions by 2020. New Zealand has made pledges under the Convention track which, together with pledges from 90 other countries, cover 85% of global emissions.