CPTPP is New Zealand's first trade agreement with Peru and opens up opportunities with our third-largest export market in Latin America.
Why Peru matters
New Zealand has modest trade and investment ties with Peru. These are expected to strengthen on the back of the improved access under CPTPP and Peru's sustained high economic growth, forecasted at 4% annually until 2022, and economic diversification.
While New Zealand companies targeting Peru are currently dominated by dairy, food preparations, mining solutions, and machinery such as baggage handling systems, some emerging sectors of interest are horticulture, construction, health, aviation, and retail (logistics and intelligence).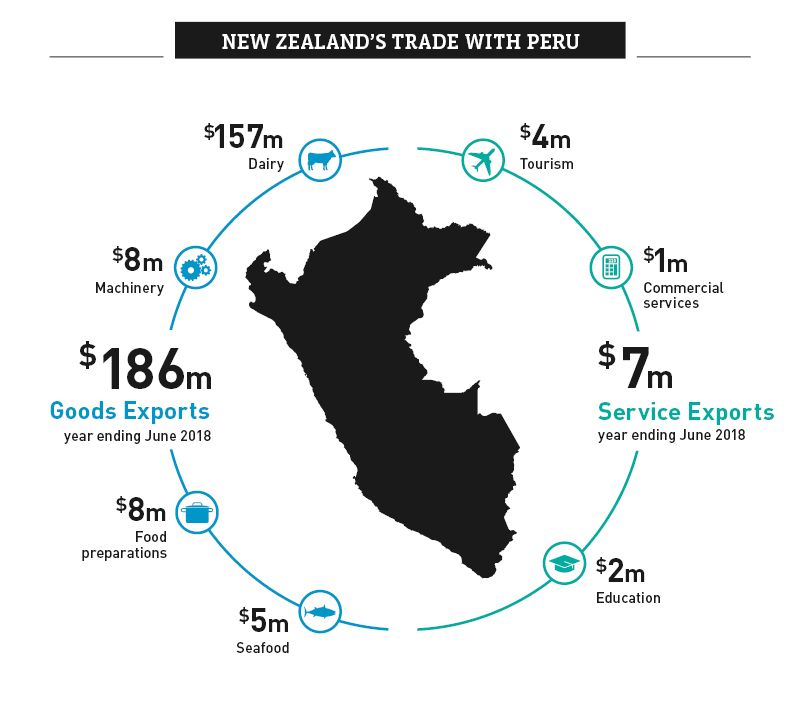 Reduced trade barriers
All tariffs on New Zealand exports into Peru will be eliminated over time under CPTPP, with 99.6% of these immediately removed on entry into force worth an estimated $1 million in annual savings.
In a short period of time, Peru has positioned itself as the world's 13th largest horticulture exporter, and the expectation is that total horticulture exports will continue to grow as more recent investments begin to mature. New Zealand technology and services are well positioned to cater to strong horticultural producers in Peru, and those companies will benefit from barrier reductions under CPTPP.
CPTPP will lock in the duty-free access currently applied on key dairy products (including milk powders and cheese), but Peru did not commit to eliminate the price band mechanism which is a border measure that Peru sometimes applies if the imported price drops below a reference price.
You can search the online tariff finder(external link) to find the outcome for your particular export or import item.
Sector

Key outcomes in Peru

Dairy

Immediate elimination of tariffs on milk powders, cheese, butter and whey.

Fisheries

Immediate elimination of all remaining tariffs on seafood.

Horticulture

Immediate elimination of 17% tariffs on blackcurrants;
Immediate elimination of 9% tariffs on kiwifruit, peas, cherries, avocados and melons;
Elimination of 9% tariffs on apples, onions and mandarins by 2023.

Wine

Immediate elimination of 9% tariffs on still wine;
Elimination of 9% tariffs on sparkling wine and bulk wine by 2023.
Dedicated wine and distilled spirits text to provide greater transparency and flexibility on labelling and certification requirements.

Meat

Elimination of 17% tariff on beef by 2028.

Other

Immediate elimination of up to 9% tariffs on hides and skins;
elimination of up to 9% tariffs on leather products by 2023;
elimination of up to 17% tariffs on wool lines by 2028;
elimination of all tariffs on forestry and forestry products by 2028;
elimination of all tariffs on manufactured goods by 2028.
For the first time under a trade agreement, New Zealand businesses will have commercial opportunities to win Peruvian government procurement contracts. By and large, New Zealand businesses will be able to compete for government procurement contracts in Peru on an equal footing with domestic suppliers and they will be subject to more open, fair and transparent procurement rules.
Around 60% of Peru's exports are in the mining sector as the world's 2nd largest producer of silver and copper. With a large investment pipeline, vast reserves, and low operating costs, the sector is posed for significant growth. On top of the machinery and manufacturing sector tariff reductions, New Zealand companies servicing the mining and infrastructure sectors will benefit from the easier access to government procurement contracts and to the mining companies that are investing and thriving in Peru.
Servicing the market
CPTPP offers an opportunity to boost New Zealand's profile as a destination for education and tourism with Peru.
Under CPTPP, New Zealand service suppliers will have improved protection, predictability and transparency when doing business in the Peruvian market.
For New Zealand, key outcomes from Peru's CPTPP commitments include:
Access for suppliers of services incidental to agriculture, hunting and forestry.
Improvements to access for higher education service providers with Peru committing that it will not restrict the ability of its nationals to consume higher education services abroad.
Enhanced market access for those delivering professional services, including legal, accounting, architectural and engineering services.
Enhanced market access for those delivering retail services (except alcohol and tobacco) and wholesale trade services (except hydrocarbons), although restrictions relating to commercial presence still apply.
Restrictions covering the provision of commercial aviation services have been locked in and cannot be made more restrictive in the future.
Any future liberalisation of measures that inhibit the supply of notary, architectural and auditing services and restrict the number of foreigners that can be involved in the production of commercial advertising will flow to New Zealand.
Working in Peru
New Zealand businesspeople going to work in Peru will benefit from CPTPP in the following ways:
Business visitors are eligible to stay in Peru for up to 183 days to attend meetings or conferences, perform commercial transaction (but not sell goods to the public), or undertake consultations regarding the establishment, expansion or winding up of a business in Peru.
Intra-corporate transferees who are executives, managers and specialists can enter Peru for up to one year.
Professionals and technician professionals from New Zealand outside of judges, lawyers, notaries, and those working in the health, education, social and community services sector can enter Peru for up to one year subject to an economic needs test, which may be extended annually.
Investment partners
CPTPP investment rules provide greater certainty and protection for investors, while preserving the rights of governments to legislate and regulate in the public interest. Strong rules will help ensure that New Zealand and Peruvian investors are treated in a fair, equitable and non-discriminatory manner, allowing them to compete on an equal footing with other investors.
Peru and New Zealand have agreed CPTPP's investor-state dispute settlement mechanism will not be able to used between them.
More information