Overview
New Zealand and the Republic of Korea (Korea) have a long history of working together dating back to New Zealand's involvement in the Korean War. Korea is one of few countries in Asia that shares our values: a strong democracy, an open market economy and respect for the rule of law. Our like-mindedness, along with political, economic, and vibrant people-to-people links, are points of familiarity which enable the free exchange of views and provide a platform for us to cooperate.
The Korea-New Zealand Free Trade Agreement (KNZFTA) is a high quality, comprehensive agreement which delivers significant commercial benefits to New Zealand exporters. Signed on 23 March 2015, and in force since 20 December the same year, KNZFTA marks a significant milestone in our bilateral relationship. It also creates the groundwork for an even closer relationship between New Zealand and Korea in the future.
Korea is a key trading partner for New Zealand, with two-way trade worth $5.38 billion in the year ending December 2021 (an increase of 25.12 percent since 2016). Currently, Korea is New Zealand's sixth largest trading partner.
In 2021, New Zealand exported $2.28 billion of total goods and services to Korea and imported $3.1 billion. Korea is New Zealand's fifth largest export destination for goods and services and seventh largest import source of goods and services.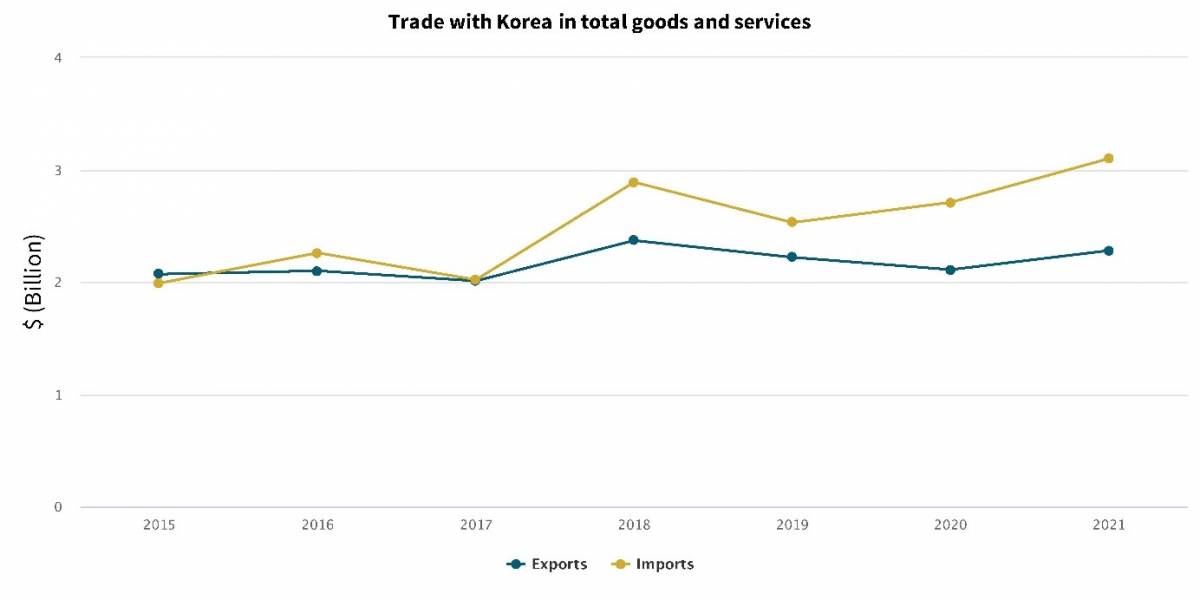 New Zealand and Korea have complementary economies and are natural trading partners. New Zealand exports the primary products in demand in Korea and Korea exports the manufactured goods in demand in New Zealand.
KNZFTA facilitates the movement of goods and services, removes trade barriers, provides greater certainty to investments, and establishes a framework for resolving trade-related issues. It also allows for more cooperation in the areas of agriculture, education, trade facilitation, science and technology, and film and television.
Some of New Zealand's key competitors already enjoy preferential access into the Korean market. KNZFTA helps rectify this imbalance, allowing New Zealand exporters to compete on a more level playing field.
The return of bilateral trade to pre-pandemic levels and the strong performance of New Zealand exports across the board in 2021 demonstrates that exporters are well placed to capitalise on opportunities in the post-pandemic environment, particularly as they seek to diversify their offshore markets. We expect to see tourism and education services, which had fallen precipitately due to COVID restrictions, begin to recover. The New Zealand brand continues to resonate well in Korea with consumers, but also education and tourism stakeholders.