Prepared by the New Zealand Embassy in Tokyo
Summary
All of Japan's major cities are currently under a third COVID-19 state of emergency, which has been extended until the end of May (for now). Since the state of emergency was declared on 25 April, new infection numbers have stabilised in Tokyo, Osaka and surrounding areas. There is considerable strain on the healthcare system, particularly around Osaka. 90% of new infections are thought to be due to new, more infectious variants which have displaced the original strain of the virus.
In mid-February, Japan began the roll-out of the Pfizer/BioNTech vaccine to healthcare workers and from April to over-65s. PM Suga has set a target of one million doses to be delivered daily, about three times the current rate, aiming to have all over-65s and health care workers (total 40m people) vaccinated by end of July.
New Zealand's goods exports to Japan dropped by 13% year-on-year in Q1 2021, compared to what was a bumper Q1 in 2020. New Zealand exports were also down to Australia (-15%), the US (-11%) and South Korea (-5%), but up to China (+22%) in Q1 2021. Breakdown by main sectors:
| Rank | Dairy | Meat & meat products | Forestry and wood products | Horticulture | Misc F&B | Metal & metal products | Fish & seafood products | All sectors |
| --- | --- | --- | --- | --- | --- | --- | --- | --- |
| 1 | China $1,701 ↑26% | China $1,134 ↑40% | China $916 ↑45% | Australia $213 ↑4% | China $688 ↓18% | Japan $141 ↑4% | China $104 ↓4% | China $4,620 ↑22% |
| 2 | US $198 ↓23% | US $500 ↓15% | Australia $120 ↑3% | US $171 ↓14% | Australia $277 ↓24% | Australia $74 ↑0.3% | US $58 ↓18% | Australia $1,746 ↓15% |
| 3 | Australia $172 ↓30% | Japan $103 ↓22% | South Korea $87 ↑5% | Japan $124 ↓11% | South Korea $47 ↓11% | South Korea $61 ↓5% | Australia $56 ↑6% | US $1,476 ↓11% |
| 4 | Japan $172 ↓18% | South Korea $56 ↓6% | Japan $86 ↓9% | China $110 ↓5% | US $45 ↑11% | US $11 ↓57% | Japan $14 ↓11% | Japan $741 ↓13% |
| 5 | South Korea $88 ↓10% | Australia $32 ↓15% | US $61 ↓4% | South Korea $33 ↑28% | Japan $40 ↓31% | China $7 ↓22% | South Korea $4 ↓52% | South Korea $419 ↓5% |
| Total | World $4,591 ↓8% | World $2,530 ↓6.8% | World $1,533 ↑21% | World $1,122 ↓9% | World $971 ↓20% | World $480 ↓0.6% | World $377 ↓16% | World $14,382 ↓7% |
(Unit: $NZD Million)
Despite the overall downward trend, certain goods exports to Japan had a bumper Q1:

Kiwifruit +9% to $54 million (new record)
Pacific Salmon: frozen (+160% to $3 million) and chilled (+70% to $2 million)
Jack and horse mackerel (frozen): +3,000% to $0.9 million.

Japan GDP: After two quarters of positive growth, Japan's GDP decreased in Q1 compared to the previous quarter, dropping -5.1% (real, annualised), equivalent to a -1.3% contraction on a seasonally adjusted basis. For fiscal 2020 (April 2020-March 2021), Japan's GDP decreased a real 4.6% year-on-year. This was the largest contraction on record since records began in 1955.
Japan GDP forecast: According to a Japan Centre for Economic Research survey of 37 private-sector think tanks, the consensus GDP forecast is for an annualized growth 1.8% percent in Q2 2021. Looking forward, the consensus forecast is that real GDP will grow by +3.7% in the April 2021-March 2022 year, and +2.2% in the April 2022-March 2023 year.
Japan GDP Chart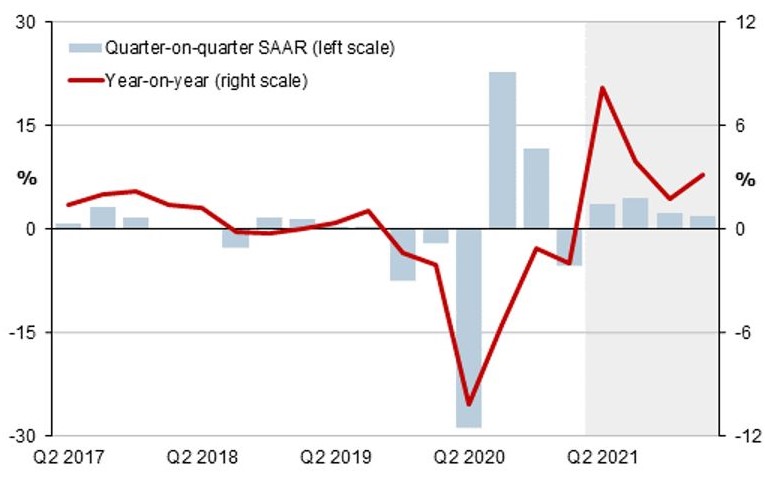 Japan economic indicators
| Indicator | Latest data | Timeframe |
| --- | --- | --- |
| Real GDP growth | -1.3% Q on Q (-5.1% annualised) | Q1 2021 |
| Private consumption | -1.4% Q on Q | Q1 2021 |
| Goods & service exports | +2.3% Q on Q | Q1 2021 |
| Goods & service imports | +4.0% Q on Q | Q1 2021 |
| Consumer confidence index | 34.7 points (↓1.4) (below 50 = pessimism) | Q1 2021 |
| Business confidence index (Tankan) | 5 points (↑15) (above zero = optimism) | Q1 2021 |
| Consumer price Index | -0.2% | March 2021 |
COVID-19: third state of emergency
Japan's third state of emergency was declared on 25 April, five weeks after its second state of emergency was lifted. The quick rebound in cases has been attributed to new, more infectious strains of the virus circulating in the community, particularly the UK strain. The third state of emergency has included stricter measures regarding the serving of alcohol (not to be served at any time of day) and some department stores have been asked to close.
COVID-19 mortality in Japan remains low by international standards due to a much lower active caseload throughout the pandemic and a case fatality rate (1.4-1.7%) roughly half that of Western Europe. Despite their relatively modest restrictions, Japan "states of emergency" have demonstrated an ability to bend the curve by reducing unmasked, indoor alcohol consumption and restaurant dining.
Japan has tightened its border settings to reduce the risk of importing cases of COVID-19 and has suspended a short term business travel scheme operating between Japan and 10 other Asian countries with relatively low rates of COVID infection. For details, please check with Japan Immigration

(external link)

, Japan Ministry of Foreign Affairs

(external link)

, or your local Japanese Embassy or Consulate. It appears unlikely this business travel will be immediately reinstated at the end of the state of emergency.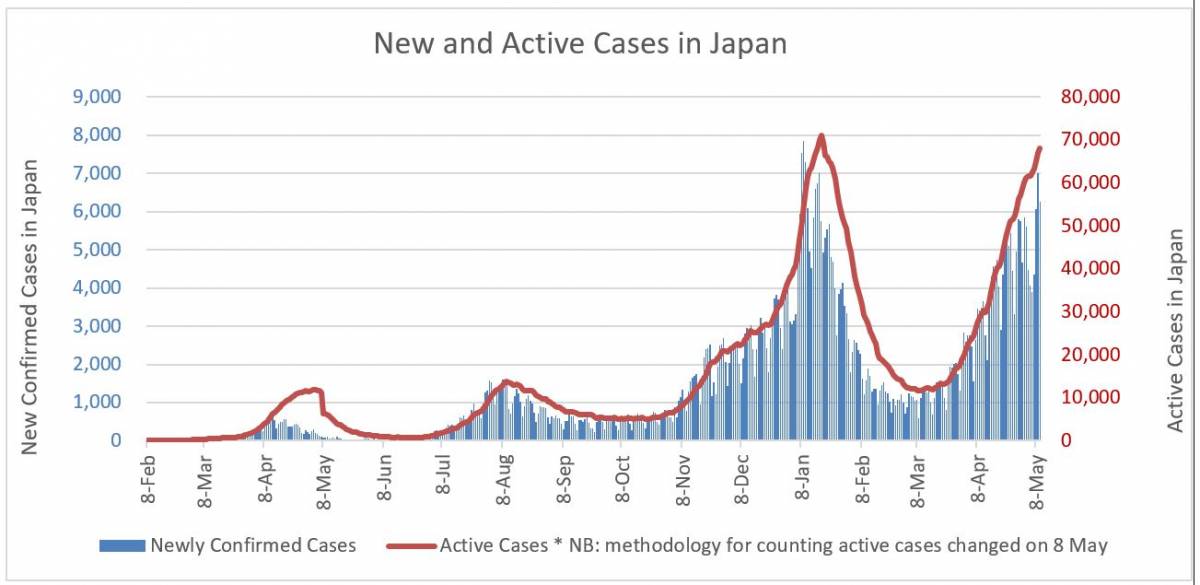 Japan's vaccine rollout strategy
Japan began the roll-out of the Pfizer/BioNTech to healthcare workers from mid-February, but the roll-out has been moving slowly compared to other G7 economies. To date 4.4 million people have received at least one dose of the vaccine, representing 4% of the potentially eligible population over the age of 16. The general population may be able to begin applying for vaccination coupons from mid-summer onwards.
New Zealand goods exports to Japan down 13% in Q1 2021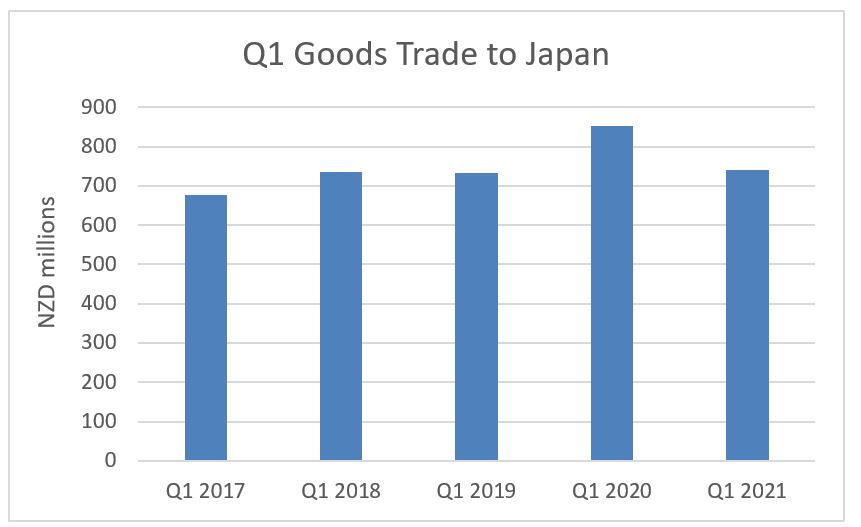 New Zealand's goods export to Japan in Q1 2021 were NZ$741 million, down 13% compared to the bumper Q1 last year (NZ$853 million), but higher than previous Q1 figures – NZ$733 million (2019), NZ$735 million (2018), and $677 million (2017).
The following industry sector increased in Q1 2021 compared to Q1 2020.

Metal and metal products (+7% to $141 million) – unalloyed aluminium was up (+12%), but aluminium alloys were slightly down (-7%).

The following industry sectors decreased in Q1 2021:

Dairy (-18% to $172 million) – due to weak performances by butter (-36%), cheddar and Colby cheese (-20%), and milk albumin (-26%). Casein (+5%) – used as an ingredient in F&B – was the only dairy category to show year-on-year growth in Q1. Demand for some imported dairy products remains low as Japan continues to have high stock levels of domestic milk and butter due to a high production levels vs previous season and lower consumption through food service channels.
Horticulture (-11% to $124 million) – Kiwifruit was New Zealand's largest horticultural export to Japan in Q1 and the 2021 Kiwifruit season is off to a good start with a +9% increase year-on-year to $54 million, a record for Q1. But pumpkins, squash and gourds were down (-24%), and capsicum were down (-28%), due to a labour shortages in New Zealand and supply chain issues. Zespri has started their in-store and TV promotions and another strong year in Japan is expected as brand recognition and demand for kiwifruit continues to grow.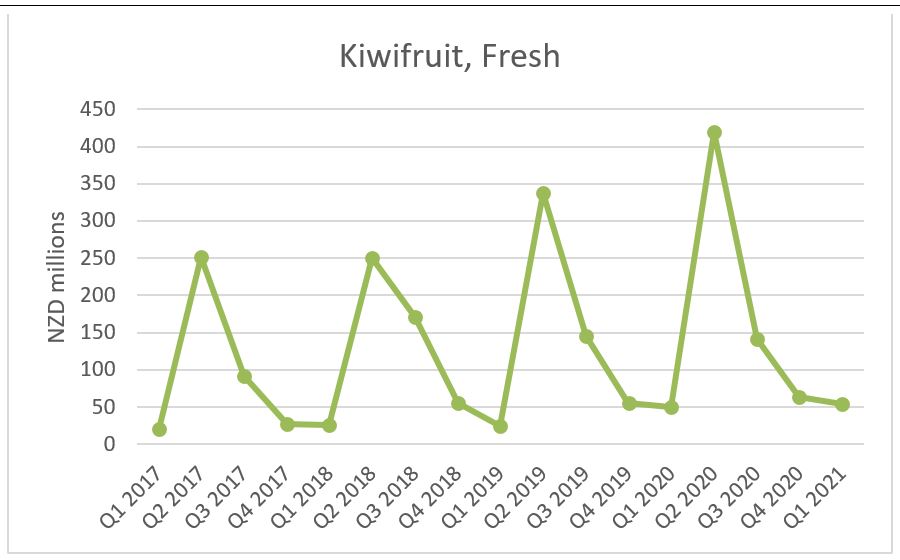 Meat and meat products (-22% to $103 million) – boneless beef was down (frozen: -22%, fresh/chilled: -3%); as was chilled sheepmeat (boneless: -34%; and bone-in: -47%). Like horticulture, the meat sector has been affected by supply chain issues and labour shortages in New Zealand. The shortage of Australian beef has led to more demand for New Zealand beef in other Asian markets, so less product is being sold in Japan.
Forestry and wood products (-9% to $86 million) – while down overall, there were some improvements in non-coniferous wood in chips (+15%) and MDF (+7%).
Miscellaneous Food and Beverage Products (-31% to $40 million) – honey was down (-44%) due to importers' high stock levels
Fish and seafood products (-11% to $14 million). Pacific Salmon bounced back from a disappointing Q1 in 2020, exceeding levels in recent years – frozen up +160% and chilled up +70%. Frozen jack and horse mackerel recorded a massive increase (+3,000%) to $0.9 million for Q1.

Total
741
-13
100
Rank
Industry
(Jan–March 2021)
$Millions
% Change
% Share
1
Dairy
172
-18
23
2
Metal and metal products
141
8
19
3
Horticulture
124
-11
17
4
Meat and meat products
103
-22
14
5
Forestry and wood products
86
-9
12
6
Miscellaneous F&B products
40
-31
5
7
Fisheries
14
-11
2
Subtotal of leading industries
679
N/A
92
Other goods
62
N/A
8
In the news…
New Zealand coffee: The Kiwi coffee business AllPress is set to continue its global expansion after being purchased by Japan's leading beverages company Asahi Beverages.
Financial services group partners New Zealand firm: Japan's Nomura Holdings has struck a strategic alliance with Auckland-based investment and advisory firm Jarden Group, as Japan's biggest investment bank and brokerage seeks to expand its global presence. The alliance will allow the two firms to provide a broader range of services and products to corporates in New Zealand and Australia.
Japanese-style pubs report losses but sales at fast-food chains soar: The Japanese restaurant sector has reported divergent results in their latest earnings as a drop in the number of people dining out has hit Japanese-style "izakaya" pub operators hard, while takeout demand boosted fast-food chains. Among fast-food chain operators cashing in on the food delivery and takeout boom, KFC Japan saw its net profit in fiscal 2020 jump 80 percent to a record $36 million.
Shippers' net profits surge on cargo demand: Japan's three major shipping companies have reported large gains in net profit, with one large company posting a 2,000% increase in net profit for the year ended March 2021. The increase in profit has been driven by demand for goods by people staying at home as a result of COVID-19 and a shortage of containers around the world which has pushed up freight charges.
COVID knocks railway earnings off track: Japan's major rail operators have accrued a combined net loss of over $18 billion dollars for the fiscal year (April 2020 – March 2021). Passenger numbers have collapsed as people spend more time at home due to COVID.
Alternative energy sources for airline: Japan Airlines will replace jet fuel with alternative energy sources for all domestic flights from 2040 under its plan to achieve carbon neutrality in 2050.
Honda to stop selling new gasoline cars: Honda has announced it will stop selling new gasoline-powered vehicles, including hybrids, worldwide by 2040, becoming the first Japanese automaker to set such a goal in response to the global trend towards decarbonization.
Toyota car sales strong: Toyota's global sales in March 2021 surged 45% from a year earlier to a record 980,000 vehicles, buoyed by strength in its key US and Chinese markets and showing a sharp rebound from the initial COVID-19 fallout.
Doubling number of geothermal power plants: Japan is aiming to double the number of geothermal plants, in an effort to achieve the country's new climate goal of reducing domestic greenhouse gas emissions by 46 percent in 2030 from 2013 levels. Currently 60 geothermal plants are running across Japan, and 62 projects are underway to build plants in national and quasi-national parks with heat sources.
Recycling plastic bottles: Japanese beverage makers plan to turn half of the plastic bottles they use back into new ones as part of an initiative to cut greenhouse gases over the coming decade. Most of the plastic bottles currently recycled are turned into food containers and fibre.
Japan: latest economic indicators
GDP – contracted an annualised real 5.1% from the previous quarter, the first decrease in three quarters, which equates to a 1.3% contraction on a seasonally adjusted quarterly basis. The main contributor was a sharp drop in private consumption due to the second emergency declaration (January – March 2021) for the Tokyo metropolitan area followed by 11 out of 47 prefectures. Source: Cabinet Office
Private consumption – which accounts for more than half of Japan's GDP – fell 1.4% from the previous quarter. Announcement in late April of a third state of emergency and its extension until end of May is likely to slow a recovery in spending. Source: Cabinet Office, Focus Economics
Goods and service exports – increased by an annualised 9.7% (or +2.3% on a seasonally adjusted quarterly basis) in Q1. Although exports to the EU continued to decline and the US market weakened, this was more than compensated by robust demand by Asian markets for electronic components and capital goods. However, the pace slowed from an 11.7% expansion recorded in the previous quarter, driven in part by shortages in semiconductor supply. Source: Cabinet Office
Goods and service imports – increased by an annualised 16.8% in Q1 (+4.0% on a seasonally adjusted quarterly basis). This is the second consecutive quarterly increase due to stable goods demand despite weaker services spending. Source: Cabinet Office
Consumer confidence index - decreased by 1 points to 35 in April 2021 month-on-month, with all main sub-indices deteriorating: overall livelihood (down 1 points to 37); income growth (down 1 points to 37); willingness to buy durable goods (down 2 points to 36), and employment perceptions (down 2 points to 29). Source: Cabinet Office
Business confidence index – The Bank of Japan's index for large manufacturers' sentiment improved 15 points to +5 in Q1 from the previous It was the highest reading since the third quarter of 2019, adding to signs of a gradual economic recovery from last year's slump triggered by the COVID-19 pandemic. Source: Trading Economics, Bank of Japan
Consumer prices - were8 (2015=100) in March, down 0.2% over the year before seasonal adjustment, and up 0.2% from the previous month on a seasonally adjusted basis. Source: Cabinet Office
More reports
View full list of market reports
If you would like to request a topic for reporting please email exports@mfat.net
To contact our Export Helpdesk
Disclaimer
This information released in this report aligns with the provisions of the Official Information Act 1982. The opinions and analysis expressed in this report are the author's own and do not necessarily reflect the views or official policy position of the New Zealand Government. The Ministry of Foreign Affairs and Trade and the New Zealand Government take no responsibility for the accuracy of this report.
Download PDF