Objectives and priorities were set to respond to the health and economic crisis caused by COVID-19.
New Zealand led APEC 2021 at a time of unprecedented disruption, and priorities and objectives were set to respond practically to the worst effects of the unprecedented health and economic crisis, and help us demonstrate APEC's relevance, both here and overseas.
Our five strategic objectives were:
Lead a collaborative regional response to the economic impact of COVID-19
Demonstrate the relevance of APEC
Position New Zealand as an enabler of digital diplomacy
Demonstrate New Zealand's partnership with Māori and inclusive approach by connecting indigenous peoples to the work of APEC
Profile New Zealand to support our trade recovery strategy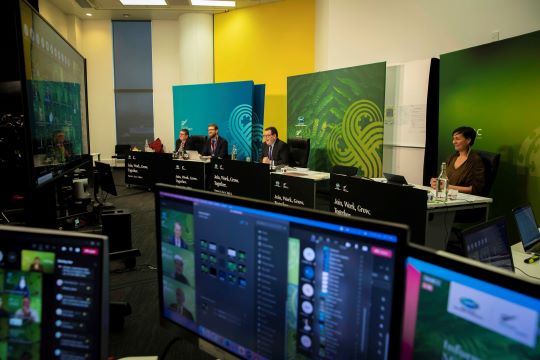 Policy priorities shaped by COVID-crisis
The COVID-19 crisis shaped New Zealand's three policy priorities that focused on bringing the region together to promote an inclusive, sustainable and resilient recovery.
1. Economic and trade policies to strengthen recovery
This priority focused on APEC's economic response to COVID-19. It was about encouraging trade and economic policies, including macro-economic and microeconomic responses to help the region bounce back as quickly as possible.
For 30 years, APEC has stood for open trade. It was critically important that markets remain open, which was reflected in APEC's renewed efforts to rebuild confidence in the multilateral trading system and the World Trade Organization during our host year.
Progress under New Zealand's leadership saw APEC economies agree to speed the cross-border flow of vaccines; economic reforms to kick-start growth, create new jobs and help combat climate change; and agree a programme of work on sending a strong signal on our shared commitment to the WTO.
2. Increasing inclusion and sustainability for recovery
This priority acknowledged the need for the region's long-term response to COVID-19 to be sustainable and inclusive of all people. It was about enhancing the participation of groups such as women and indigenous peoples in the economy, and ensuring their contributions is valued. Our Indigenous priorities focused on working in partnership with Māori; growing support for indigenous economic inclusion amongst APEC economies; and increasing connections between Māori and Indigenous Peoples of the Asia-Pacific in the long-term.
This priority also helped ensure the region's recovery could be used to improve sustainability outcomes, including in the area of climate change.
Building from the APEC Putrajaya Vision 2040(external link), 2021 was the moment for APEC to explore economic incentives that respond to the region's environmental challenges. This was an opportunity for APEC to take its work on environmentally harmful subsidies further and also support the liberalisation of goods and services that support a sustainable recovery.
Progress under New Zealand's leadership laid the groundwork for a voluntary standstill on fossil subsidies; work to update APEC's List of Environmental Goods and development of a list of Environmental Services; and work to ensure the indigenous economy is of relevance to APEC.
3. Pursuing innovation, and a digitally enabled recovery
The final priority focused on accelerating APEC's work in support of the digital economy. The pandemic dramatically accelerated digital transformation across trade, commerce, and the provision of public services, including healthcare services.
Just as APEC successfully embraced virtual hosting, economies must come together to advance APEC's Internet and Digital Economy Roadmap with a view to enhancing inclusion, driving the adoption of green technology and supporting a vital pathway to lifting regional economic growth.
Progress under New Zealand's leadership included locking in digital and paperless customs procedures; agreement to explore initiatives that facilitate solutions to travelling under COVID-19 conditions; and agreement to progress the APEC Internet and Digital Economy Roadmap to promote inclusion and green technology.
Find out more about New Zealand's key achievements during our 2021 host year.