The Ministry's strategic objectives are outlined in our Strategic Intentions.
This publication informs Parliament and the New Zealand public about the outcomes we are targeting and how we plan to achieve them.
Read the MFAT Strategic Intentions 2020-2024 [PDF, 4.6 MB]
The Strategic Intentions is based on the Ministry's Strategic Framework which:
articulates the value the Ministry delivers to New Zealanders – how we contribute to New Zealanders' wellbeing - in terms of Kaitiakitanga, Influence, Security and Prosperity
contains seven Strategic Goals that articulate the impact we aim to achieve for New Zealand in the world, and four Organisational Capability Goals
sets a ten-year horizon for our Goals, Outcomes and Results
identifies our Priority Deliverables for the next four years as well as the enduring work the Ministry does to deliver the Strategic Framework.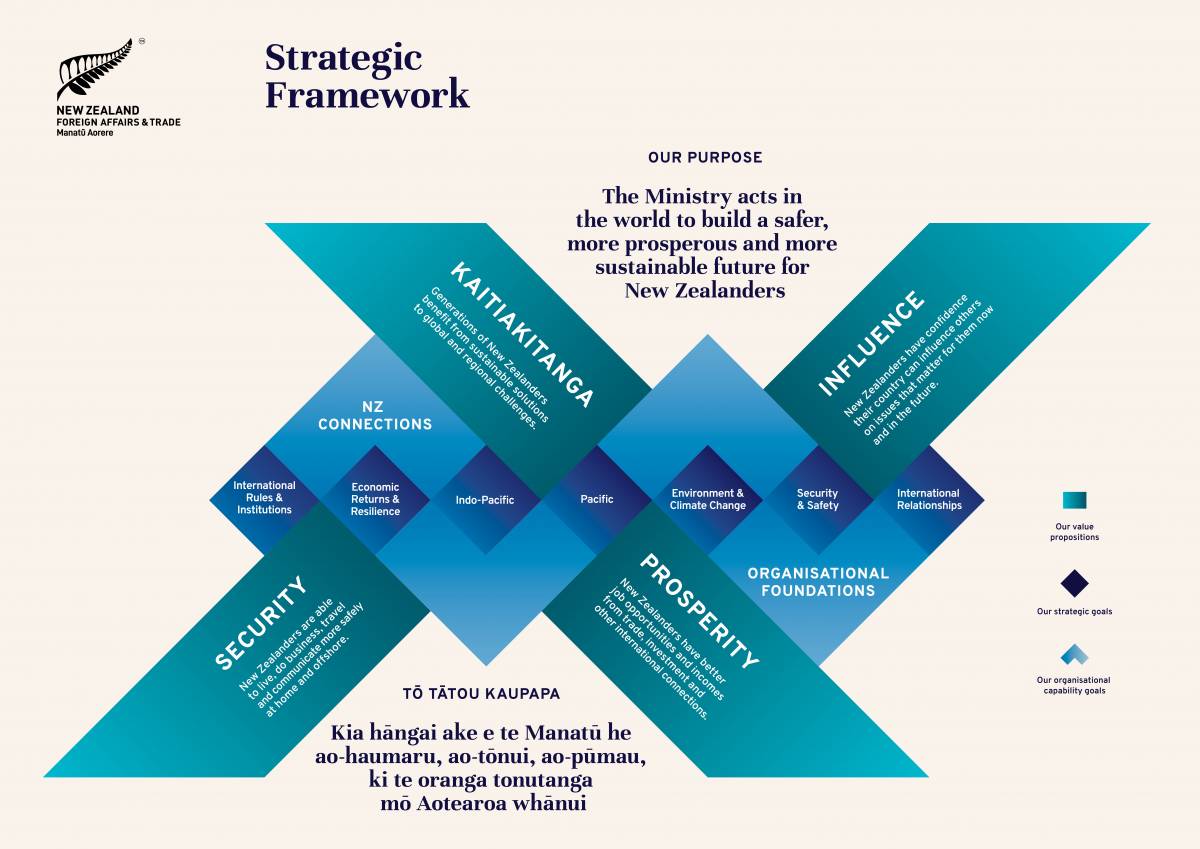 Seven strategic goals
The Ministry has seven strategic goals that express the impact the Ministry is setting out to achieve for New Zealand in the world over a 10-year timeframe.
International Rules and Institutions: Strengthen, protect and use international rules and institutions to pursue New Zealand values and interests.
Economic Returns and Resilience: Grow sustainable economic returns and resilience from trade, investment and other international connections.
Asia-Pacific Architecture: Embed New Zealand as an active and integral partner in building Asia-Pacific architecture in support of regional stability and economic integration.
Pacific: Promote a stable, prosperous and resilient Pacific in which New Zealand's interests and influence are safeguarded.
Environment and Climate Change: Promote sustainable international solutions to global environment and natural resource challenges that impact on New Zealand.
Security and Safety: Lead New Zealand's international action to advance and protect New Zealanders' safety and New Zealand's security.
International Relationships: Build and leverage targeted international relationships to achieve our goals.
Four organisational goals
We have four organisational capability goals that set out the critical capability we need to sustain and develop in order to achieve our strategic goals.
Our People: Build and sustain a happy, healthy and high-performing community, for all.
Operational Excellence: Enable effective and efficient delivery of Ministry business through fit for purpose and resilient global network, systems and services.
NZ Connections: Foster mutually beneficial relationships with NZ Inc partners, Māori, domestic stakeholders and New Zealanders.
Enterprise Performance: Ensure the Ministry delivers the best achievable outcomes for New Zealand from the resources invested in it.