MFAT values diverse thinking, people and skills. We recognise that diversity allows us to be more innovative in the way we think and act, enhancing the quality of our advice and services.
Diversity and Inclusion
We aim to reflect the diversity of New Zealand and the countries in which we are present. That's why we're working actively to grow the diversity of our workforce and the inclusive nature of our workplace.
To help achieve this, we developed a Diversity and Inclusion Strategy. Its sets out, over a ten-year time frame, a range of goals and targeted measures designed to deliver a more diverse workforce and inclusive workplace.
Deeply relevant to our diversity and inclusion aspirations are our organisational values. They drive the behaviours we need to grow the diversity of our workforce and inclusiveness of our workplace.
Commitment to Inclusion
Inclusion is the key to unlocking the potential of our diversity. When people feel that they belong to a workplace, we see higher employee engagement, improved performance, retention of talent, improved staff wellbeing and lower levels of unacceptable behaviour.
MFAT is committed to building an inclusive workplace where everyone can be their 'true' selves. Our values of kotahitanga (we draw strength from our diversity); and manaakitanga (we honour and respect others) will support us to achieve this as we implement our Diversity and Inclusion Strategy.
Gender and Ethnic Pay
In December 2021 we published our Gender & Ethnic Pay Action Plan 2021-2022 [PDF, 747 KB].
The Plan is our roadmap for the next 12 months to support the Ministry's goals of greater inclusion of women, Māori, Pasifika, Asian and other ethnic minorities. It complements our People Strategy, our Diversity and Inclusion Strategy and our organisational values and has an overarching objective of helping us to continue removing barriers and creating opportunities for women and non-dominant ethnicities to advance their careers at MFAT.
Flexible Working
The Ministry recently launched a refreshed Flexible Work policy. Although we have had flexible working in place for a while, flexibility is now our default position. MFAT is committed to workplace flexibility so that we can be agile and fit for the future with talented staff who can meet the types of challenges we face.
Flexible working is available to all staff. There is no one-size-fits-all approach for creating the best flexible working environment. As our value of kotahitanga describes, we draw our strength from our diversity and we can find all sorts of ways of making flexible working work.
Inclusion of our rainbow communities
MFAT's Rainbow Network has been operating for 25 years and has a proud history of representing and advocating for the interests of its members. Our staff organise education and awareness sessions in Wellington and some of our overseas posts. Many of our staff at overseas posts, including our leaders, participate in pride parades in various cities around the world.
In April 2021, as part of the Ministry's Diversity and Inclusion Strategy, we became Rainbow Tick(external link) certified. We look forward to further improving our rainbow awareness and inclusion to maintain our certification.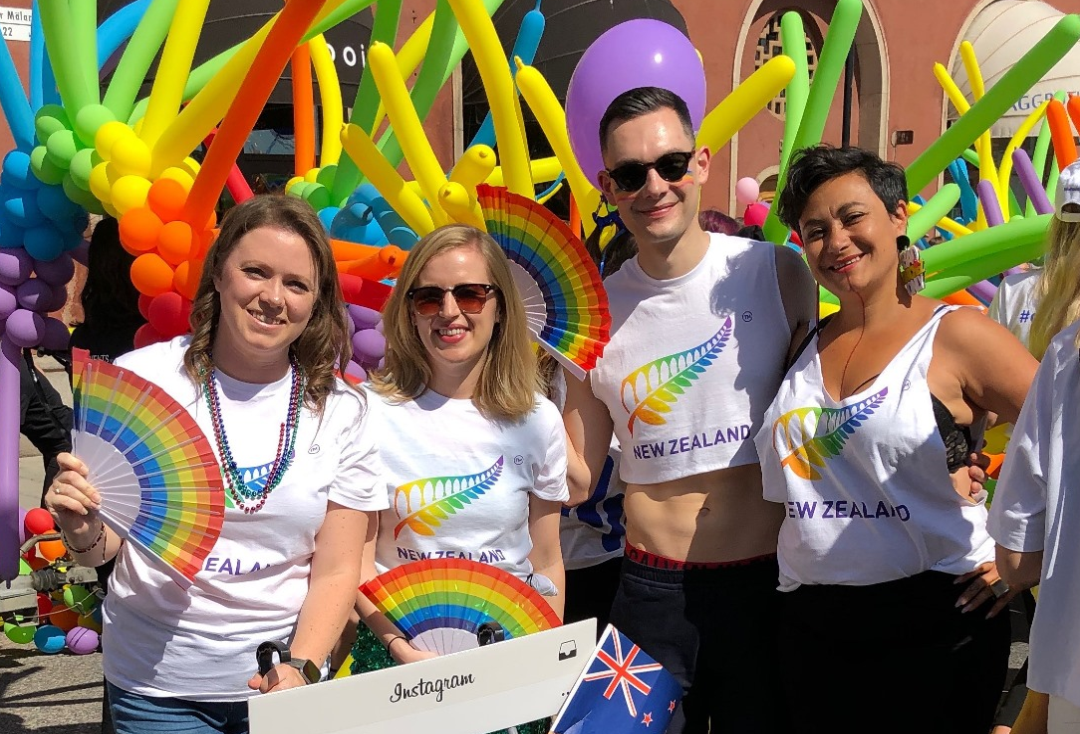 Staff Networks
We have some well-established staff networks and recognise the important role they play in helping us implement our Dvierstiy and Inclusion Stretgy and fostering an inclusive and supportive work environment. Each of the staff networks has a Senior Leadership Team member to support and champion the Networks' goals and plans.
Our staff networks include:
Te Pou Māori
Vaka Pasifika
Ethnic Network (this also includes a social subgroup called NetWOK)
Women's Network
Rainbow Network
Disability Network
Solo Parents Network
Flexible Work Network
Kaitiaki Network