Pacific communities have identified climate change as the single greatest threat the Pacific faces.
At the 51st Pacific Islands Forum in July 2022, the New Zealand Prime Minister stood with other PIF Leaders as they declared a Climate Emergency "that threatens the livelihoods, security and wellbeing of Pacific people and ecosystems, backed by the latest science and daily lived realities in Pacific communities."
Climate change threatens to undo development gains and prevent developing countries achieving the UN Sustainable Development Goals. The costs of reducing the impacts of climate change in the Pacific are in the order of billions of dollars. Solutions are not easy and require new thinking, increased ambition, and greater collaboration to make effective and sustainable change. Even if global emissions reduce drastically tomorrow, the Pacific will still feel the impacts of climate change. The communities and cities of the Pacific urgently require support to build their resilience.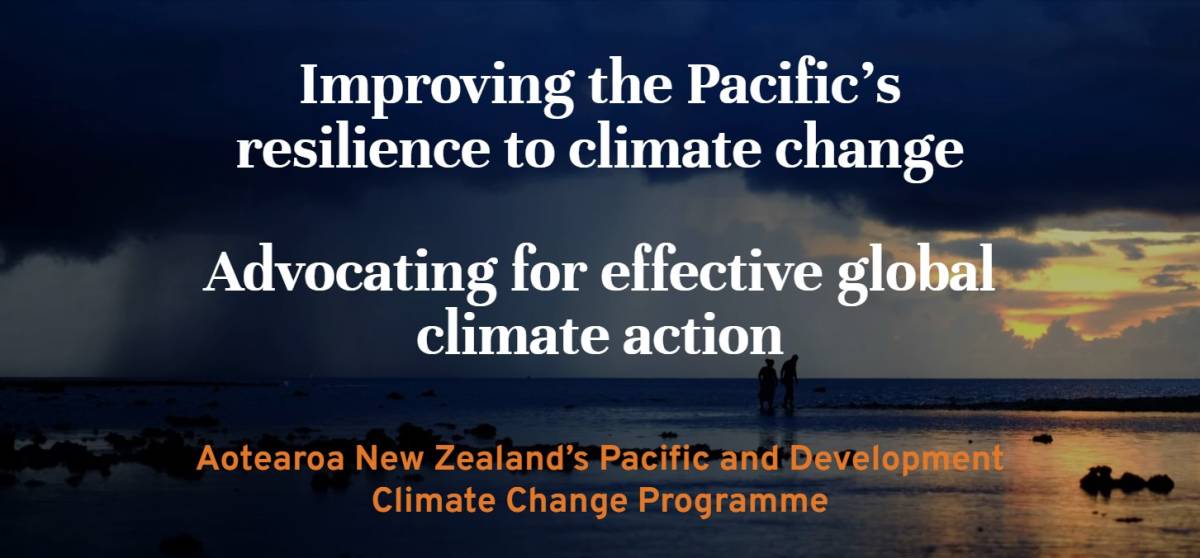 What is the Climate Change Programme?
See case studies from our partnerships in the Pacific.
The Climate Change Programme is a broad-based programme focused on building resilience in the Pacific to the impacts of climate change. It is part of the delivery of Aotearoa New Zealand's commitment for 2019-2022 of $300 million for climate change development assistance. Many of its activities will continue under the expanded commitment for 2022-2025 that is guided by Tuia te Waka a Kiwa - our international climate finance strategy (see Climate change support).
The Climate Change Programme includes activities across seven areas:
Public sector strengthening and institutional effectiveness
Information for decision making
Innovative financing tools
Resilient ecosystems
Water security
Climate change related human mobility
Drive greater action to reduce greenhouse emissions
What is it trying to achieve?
The Climate Change Programme seeks to achieve four long-term outcomes:
Pacific Island countries are leading their own climate change responses
Pacific resilience to climate change impacts is increased
Pacific Island countries are prepared to manage climate change-related human mobility in ways that protect human rights, security and development outcomes
There is greater global action to reduce greenhouse gas emissions.
The programme is supported by an outcomes framework and a set of indicators that allow us to track progress against the goal.
Where is it operating?
The primary focus of the Climate Change Programme is on 14 countries and territories across the Pacific. Some investments are tailored to the priorities of a particular country, some benefit the Pacific region as a whole, and some multilateral investments have benefits extending beyond the Pacific region.
The 14 Pacific countries and territories we focus on are: Cook Islands, Federated States of Micronesia, Fiji, Kiribati, Nauru, Niue, Papua New Guinea, Republic of the Marshall Islands, Samoa, Solomon Islands, Tokelau, Tonga, Tuvalu, and Vanuatu.
Case studies
Read: case studies from Pacific communities and organisations working together in the Climate Change Programme.
News direct from our partners
15/10/22
Information for Decision Making
Access to safe drinking water in rural areas as part of building climate resilience was the focus of training for officials from the Cook Islands, Niue, Samoa, Tonga and Tuvalu in October. The in-person training run by the Pacific Climate Change Centre

(external link)

examined climate risks and vulnerabilities, innovative responses, and strengthening community-based management, aimed at building capacity in island communities. This is part of a training series to help people in Pacific island countries design and deliver climate responses that address local needs.
14/09/22
Public sector strengthening
Fiji shared its experience of risk-informed development with finance and local government representatives (as in this on-the-ground video

(external link)

) with support from the UNDP Governance for Resilient Development in the Pacific project. Country-led peer to peer exchanges, about development informed by gender and social inclusion and climate change risk, followed in Vanuatu (August) and the Solomon Islands (September).
25/08/22
Innovative finance
New options for disaster preparedness: The UN Capital Development Fund has introduced two new 'weather indexed' micro-insurance products

(external link)

to the Fiji market in another milestone achievement under the Pacific Insurance and Climate Adaptation Programme, which New Zealand funds. The products offer affordable insurance cover that provides immediate financial support after extreme weather events including heavy rainfall and wind storms, and now include social welfare recipients in high climate risk locations.
25/08/22
Resilient ecosystems
Community discussions have begun on Apolima Island in Samoa to explore options for the first rat removal from an inhabited island in the Pacific. The talanoa aimed to learn from the community about their environment and to seek consent for a feasibility study on the proposed pest removal programme. It is led by Samoa's Ministry of Natural Resources and Environment, and the Pacific Regional Invasive Species Management Support Service (PRISMSS) run through SPREP – with New Zealand funding and technical support from the New Zealand Department of Conservation. See SPREP News

(external link)

and Facebook post

(external link)

.
16/08/22
Information for Decision Making
Fiji's second National Early Action Rainfall (EAR) Watch Stakeholder Workshop

(external link)

was held at the Fiji Meteorological Service (FMS) office in Suva in August 2022. This training supports disaster management staff to interpret rainfall data.
In 2018 the FMS, supported by the NZ and Australian funded Climate and Oceans Support Program in the Pacific (COSPPAC) launched its first Early Action Rainfall (EAR) Watch bulletin. The bulletin provides information on prolonged periods of abnormally dry and wet conditions to inform disaster management planning.
14/08/22
Public sector strengthening
This Guardian article

(external link)

headlines the strengthened nationally determined contributions (NDCs) for Vanuatu as "one of the world's most ambitious climate policies, committing to 100% renewable energy in electricity generation by 2030 and ambitious targets on loss and damage". SPREP director of climate change resilience Tagaloa Cooper-Halo is quoted saying: 'they're setting an example for the rest of the world'.
09/08/22
Public sector strengthening

We welcome the addition of French development funding for the work of the Global Green Growth Institute (GGGI) in Vanuatu. The work we fund together on development of Vanuatu's Long-Term Low Emissions Development Strategy will support integration of climate change adaptation in the country's long-term planning – says Vanuatu's Ministry of Climate Change Director-General Esline Garaebiti. For more on the Memorandum of Understanding to support Vanuatu to achieve net zero emissions by 2050 and develop its LT-LED Strategy, see this report on GGGI's website(external link).

04/08/22
Resilient ecosystems

Making your own map(external link) is central to understanding how village life and natural environments are affected by climate change – and how communities can navigate(external link) to stronger futures. These new stories (with maps) have been published by Live & Learn, which implements the Climate Resilient Islands programme with funding from New Zealand – working with rural communities in Fiji, Tonga, Vanuatu and Tuvalu to strengthen community resilience to the impacts of climate change through nature-based approaches.

16/07/22
Resilient ecosystems

Following on from the release of tulip tree mites as a biological control agent against African tulip trees in the Cook Islands, Vanuatu has begun carefully managed introduction of the problem trees' natural enemy – several young African tulip trees have been inoculated by the same mite(external link) in Vanuatu, at the Department of Biosecurity Containment Facility.

06/07/22
Water security

158 new water tanks were delivered to Niuafo'ou Island as part of a major programme to improve access to safe water for vulnerable households and communities across Tonga – see the tanks rollout(external link) and launch ceremony(external link) here. The delivery of locally built tanks and sanitation systems is through the Tonga Climate Change Fund, with support from the New Zealand Government and Tindall Foundation.

23/05/22
Public sector strengthening

The Regional Pacific NDC Hub has published results(external link) of its February 2022 evaluation of the significance of its work, highlighting the benefits for Pacific Island countries.