Find the latest news for Australia
Embassies and consular services for Australia
Our relationship with Australia
Shared history, values and institutions, personal connections, geographical proximity and a healthy sporting rivalry combine to make New Zealand's relationship with Australia our closest and most significant. We also work together in virtually every area of government, including on trade and economic issues, and in defence and foreign policy.
Australians and New Zealanders make more than two and a half million short term visits across the Tasman each year, and there are substantial resident populations of New Zealanders in Australia, and Australians in New Zealand. Although we retain distinct cultural identities, close historical ties, family links and friendships have helped to shape a strong sense of kinship and shared values between us.
Political connections
New Zealand and Australia share a longstanding and close political relationship. Our Prime Ministers and other Ministers regularly hold formal talks, and they have frequent contact at regional and international meetings. In recognition of the close relationship between our countries and our many shared objectives, New Zealand ministers attend some meeting of the Council of Australian Governments(external link) (COAG), Australia's highest intergovernmental forum.
Our Parliamentary committees, political parties, and government agencies also have strong connections. For example a number of agencies on each side of the Tasman have arrangements in place for information sharing and dialogue, and have representation on each other's boards.
The Australia and New Zealand School of Government (ANZSOG)(external link) was established in 2001 by Australian and New Zealand national and state/territory-level governments, in partnership with universities and business schools, to develop strong links between our respective public sectors.
The peak political-level meeting is the annual Australia New Zealand Leaders Meeting. The most recent meeting was held on 26 July when Australian Prime Minister Anthony Albanese visited Wellington, including to mark a year of special anniversaries in the bilateral relationship — the 40th anniversary of Closer Economic Relations, 50th anniversary of the Trans-Tasman Travel Arrangement and 80th anniversary of reciprocal diplomatic representation. Following the meeting, the two Prime Ministers issued a Joint Statement and released a Roadmap for the next decade of the bilateral relationship.
International collaboration
Our countries work closely together on many diverse foreign policy, security and trade issues, including in international forums such as the United Nations and World Trade Organisation. We also cooperate on aid and development work in the Pacific and South East Asia regions.
Read about our aid work with Australia
Trade
2016 Statistics
| | | |
| --- | --- | --- |
| Total trade in goods | $14.5 billion | |
| Exports to Australia | $8.3 billion | Top exports: minerals, food and beverage, machinery |
| Imports from Australia | $6.2 billion | Top imports: motor vehicles, aluminium oxide, wheat |
| Australian GDP | US$1.074 trillion | (NZ GDP is US$160 billion) |
| Australian GDP per capita | US$43,800 | (NZ GDP per capita is US$33,770) |
| Australian GDP growth | 2.4% | (NZ GDP growth is 2.7%) |
New Zealand and Australia's economic relationship is underpinned by the Australia and New Zealand Closer Economic Relations (CER) - recognised as the world's most comprehensive, effective and mutually compatible free trade agreement.
New Zealand and Australia have also committed to a process called the Single Economic Market (SEM) agenda, designed to create a seamless trans-Tasman business environment.
The trans-Tasman economic relationship is worth approximately NZ$24 billion per year. Australia is New Zealand's largest trading partner overall (goods and services). Our goods exports to Australia in 2016 were worth NZ$8.3 billion, making up 17.1% of our total exports. Our services exports in 2016 were worth NZ$4.6 billion, representing 31% of our total services exports.
New Zealand is Australia's fourth largest destination for goods exports and its largest destination for services exports. We are Australia's largest market for manufactured products and its largest market for insurance and pension services.
New Zealanders invest more in Australia than any other foreign country with overseas direct investment of $12.2 billion. Australia is our largest source of foreign direct investment with $53 billion invested here.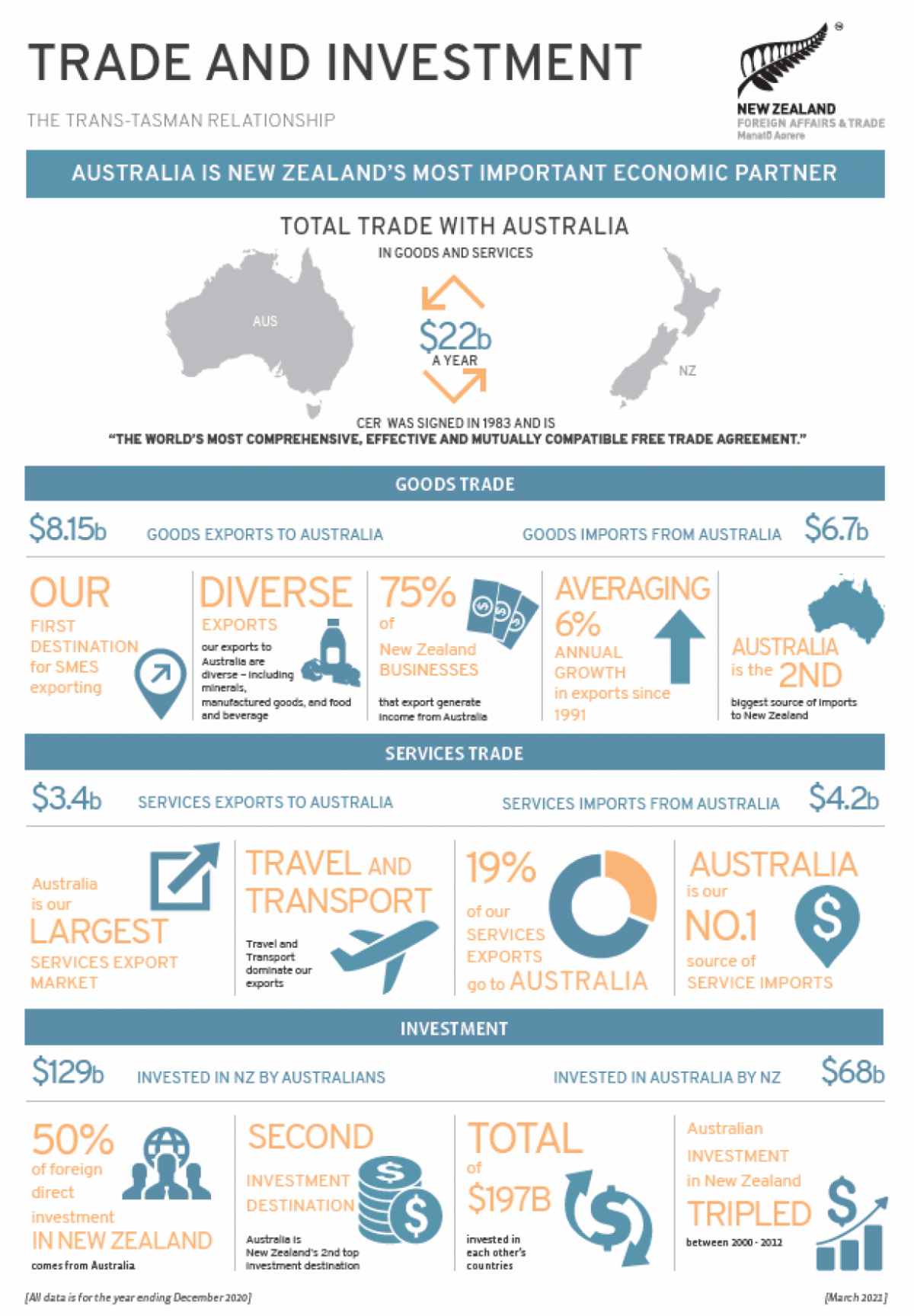 Read more about the Single Economic Market
Read more about Closer Economic Relations
Trade agreements and negotiations
In addition to CER, we have also negotiated the ASEAN Australia New Zealand Free Trade Agreement (AANZFTA) alongside Australia.
We're also negotiating three more regional free trade agreements that include Australia:
NZ Inc Australia strategy
NZ Inc is the Government's plan to strengthen New Zealand's economic, political and security relationships with key international partners. The NZ Inc Australia strategy is about making sure our closest relationship continues to develop and grow.
Defence and security
Since fighting side by side as 'ANZACs' in the Gallipoli campaign of World War I, New Zealand and Australian defence forces have forged a close relationship, and Australia is our only formal defence ally. The Defence Ministers meet annually and there's significant operational collaboration between our two forces. In recent times there have been joint operations in Timor-Leste, Bougainville, Solomon Islands, Tonga and Iraq.
Our two countries had an alliance with the US (ANZUS) that began after World War II and continued until the mid-1980s when our nuclear free stance prompted the US to suspend its obligations to New Zealand under the treaty. The end of this alliance saw Australia and New Zealand embark on the Closer Defence Relations (CDR) in 1991. The CDR spans policy, intelligence and security, logistics, and science and technology agreements and arrangements. The 2011 Review of the Australian/New Zealand Defence Relationship aimed to further improve coordination and identify areas for greater cooperation.
Read the Review of Australian/New Zealand Defence Relationship report(external link)
Gallipoli 2015
April 25 2015 marked the centenary of the ANZAC landings on the Gallipoli Peninsula in Türkiye. The eight months of fighting our soldiers endured alongside their Australian counterparts has helped shape the identities and outlooks of both our countries.
Commemorations were held around the world as people came together to mark the 100th anniversary of the beginning of the Gallipoli campaign that saw the loss of more than 130,000 lives.
Find out more on the WW100 website(external link)
New Zealand ANZAC website(external link)
Read about ANZAC day on the New Zealand Army website(external link)
Find out more about ANZAC day on the RSA website(external link)
Aid collaboration
New Zealand and Australia work closely together on aid and development initiatives, particularly in the Pacific region. As long-term development partners in the Pacific we share responsibility to improve the quality of aid delivery in the region, and we jointly focus on aid coordination, transparent donor practices and good governance.
Examples of our joint aid and development work in the Pacific:
the Tonga Police Development Programme which aims to increase public trust and confidence in the Tongan Police
the France Australia New Zealand (FRANZ) Arrangement to share information and coordinate responses to natural disasters in the Pacific
New Zealand manages Australia's annual aid contribution (AU$2.2 million) to the Cook Islands.
Australia manages New Zealand's annual aid contribution (NZ$2 million) to Nauru
People
New Zealand and Australia enjoy very close people-to-people relations, based on close historical ties, enduring family connections and our similar worldview.
New Zealanders and Australians can travel, live and work in either country.
The Trans-Tasman Travel Arrangement and the Australia New Zealand Social Security Agreement set out the terms for travel between the countries, what social security benefits are available and any restrictions.
There are more than two and a half million short term visits across the Tasman each year and substantial resident populations of each other's nationals in Australia and New Zealand.
Read about living in Australia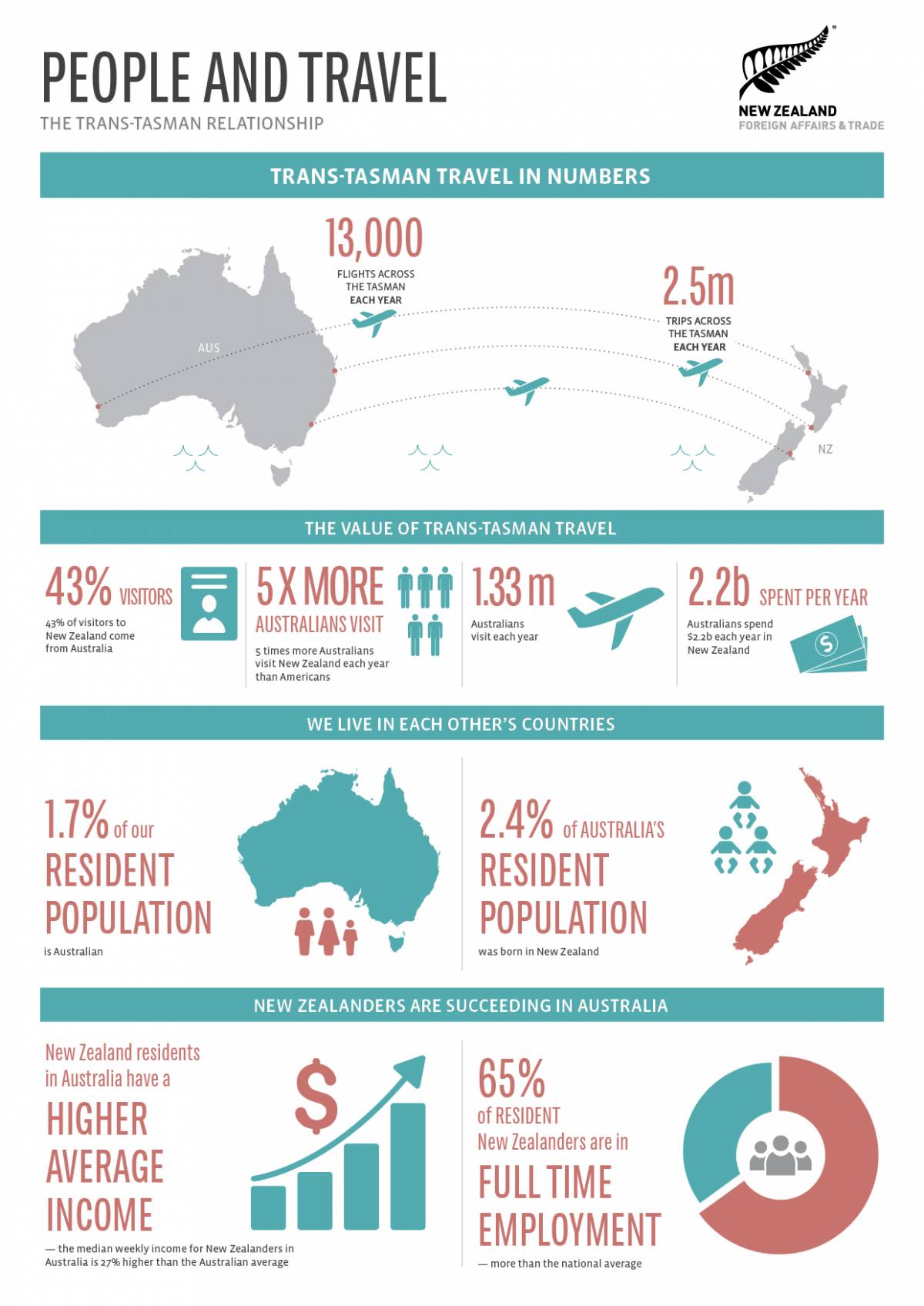 Science and innovation
Investing in science and innovation is important to increase our productivity. Australia is a valuable partner for science and technology and is a major market for innovative businesses.
More than 30% of New Zealand's research community already have links with Australian counterparts, in areas such as agriculture, biotechnology and environmental research. This relationship is growing, with collaborative arrangements between governments, crown research agencies, and tertiary institutions, as well for individual researchers.
We also partner with Australia in large scale research projects such as the Square Kilometre Array(external link), which aims to build the world's largest radio telescope, and the Australian Synchrotron(external link).
High Commission
New Zealand is represented in Australia by the New Zealand High Commission, Canberra ACT and the New Zealand Consulate-General, Sydney
Australia is represented in New Zealand by the Australian High Commission, Wellington(external link) and the Australian Consul-General in Auckland(external link)