A passport is required for travel to all countries, including Australia.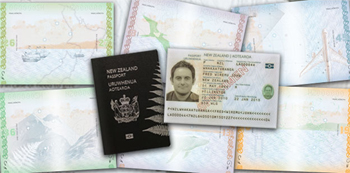 If you are planning to travel and your passport is due to expire in less than a year, you may need to renew your passport. Some countries require that your passport has at least six months validity remaining after your intended departure from the country you are visiting. Check with Embassies of the countries you are planning to visit for validity requirements.
You should also make sure you have at least one clear visa page in your passport for immigration stamps. Your passport should be signed. Signatures are not required if the passport holder is unable to sign or is a child under 10 years.
How do I get a passport in New Zealand?
The Department of Internal Affairs issues passports. Their website provides information about passports, and application forms(external link).
How do I get a passport overseas?
Only the Passport Offices in London, Sydney or New Zealand can issue a passport.
In an emergency, a New Zealand Embassy overseas may be able to issue an Emergency Travel Document. Please note this service is not available through our offices in Austria, Niue, New Caledonia, Afghanistan, Myanmar, Timor-Leste, United Arab Emirates, Ethiopia or Poland. People requiring assistance in those countries should go to www.passports.govt.nz(external link) for further information on applying for a standard New Zealand passport.
How do I get a visa for another country?
You should check with your travel agent or with the Embassy or High Commissions of the countries you intend to visit or transit to find out their visa / entry requirements and if you need to apply for a visa. You should do this well before your planned departure date to ensure you have the correct visa. The New Zealand Ministry of Foreign Affairs and Trade can not provide this information. If you do not have the required visa, you may be refused entry to a country. Having a visa does not necessarily guarantee entry into another country; this decision rests with immigration officials.