APEC – creating prosperity
APEC (Asia-Pacific Economic Cooperation) works to break down barriers to trade and investment, and support the almost 3 billion people of the Asia-Pacific participate in the economy.
It allows its 21-member economies including New Zealand, to deal with new challenges to the region's economic wellbeing, including disaster resilience and responding to pandemics.
APEC's Putrajaya Vision 2040 aspires to achieve an open, dynamic, resilient and peaceful Asia -Pacific community for the future prosperity of all people and future generations. Adopted in 2020, the Vision demonstrated a shifting of focus for APEC to engage on not only traditional trade and investment issues, but also innovation, digital, inclusion and sustainability.
As host of APEC in 2021, New Zealand led the completion of the Aotearoa Plan of Action which will see member economies take action to achieve the Vision's goals by 2040.
About APEC
Formed in 1989, APEC has 21 member economies around the Pacific Rim:
Australia, Brunei Darussalam, Canada, Chile, China, Hong Kong, Indonesia, Japan, Korea, Malaysia, Mexico, New Zealand, Papua New Guinea, Peru, the Philippines, Russia, Singapore, Chinese Taipei, Thailand, United States of America, Viet Nam.
The term economies is used to describe APEC members because the APEC cooperative process is predominantly concerned with trade and economic issues, with members engaging with one another as economic entities.
APEC meetings are held with officials, Ministers and Leaders throughout the year. The major event is the APEC Economic Leaders' Meeting in November. Alongside these meetings are events involving the business community and young people.
Each year of meetings is hosted and chaired by an APEC member. New Zealand, an APEC founding member, has hosted APEC twice – in 1999 and 2021, the first ever fully-virtual APEC.
The 2022 APEC host was Thailand, with the USA hosting in 2023. Read more about the APEC host and priorities on the APEC Secretariat website(external link).
New Zealand's APEC priorities in 2023
The United States' 2023 host year will focus on creating a resilient and sustainable future for all.
Aiming to provide tailwinds for member economies to strengthen recovery and resilience, as well as advance broad-based economic growth, the United States rolled out its theme and priorities for when it hosts APEC in 2023.
There is a good level of continuity of work from New Zealand's priorities and initiatives progressed during our 2021 host year. These included progressing a voluntary standstill on fossil fuel subsidies; updating APEC's List of Environmental Goods and development of a list of Environmental Services; work to ensure the indigenous economy is of relevance to APEC; and support for APEC as an institution.
Key groups associated with APEC include:
APEC Business Advisory Group (ABAC)
The APEC Business Advisory Council (ABAC) is an independent group of business leaders that advises APEC leaders on priority issues for business in the region.
Official observers
APEC has three official observers: the Association of Southeast Asian Nations Secretariat (ASEAN), the Pacific Economic Cooperation Council (PECC) and the Pacific Islands Forum Secretariat (PIF). Representatives from these groups participate in APEC meetings and help track progress and provide guidance in support of APEC objectives.
Why APEC matters
38% of global population
47% of global trade
170 trade agreements in place
Reducing trade barriers
Formed in 1989, APEC has grown to become a dynamic engine of economic growth and one of the most important regional forums in the Asia-Pacific. Its 21 member economies are home to about 2.7 billion people, and generate almost half of the world's trade.
Bringing the region closer together, reducing trade barriers, and smoothing out differences in regulations has boosted trade and prosperity across Asia-Pacific.
Strong connections and relationships have been made through APEC, which provides a forum for Leaders, Ministers and officials to meet, share experiences and work together.
The forward-thinking ideas discussed at APEC meetings have brought many benefits to businesses, people and economies.
For example, in 2021 during New Zealand's host year, APEC Leaders worked together to reject protectionism and make it easier to trade. Tariffs on COVID-19 vaccines and related products were lowered, which meant that life-saving medical supplies could be moved faster and at lower costs across borders. This progress shows how regional cooperation can overcome shared challenges.
Connected and engaged
Being connected to the world, in particular the Asia-Pacific, is vital for New Zealand's economic and social well-being.
The Asia-Pacific's strong economic growth and increased demand for New Zealand products and services makes those links vital. A common vision, language and understanding with other Asia-Pacific economies will help New Zealand achieve its ambitions.
APEC represents 71% of New Zealand's two-way trade. In 2019, 73% of our total exports went to APEC members, while 70% of our imports came from those economies.
Fourteen of our top 20 export markets are APEC members, including the three largest economies in the world - the United States, China and Japan.
18 of our 19 free trade agreements are with APEC partners.
APEC gives us an equal voice
APEC is an important space for New Zealand to meet regularly with regional partners and networks, strengthening the ties that are critically important to our economy.
APEC gives us an equal voice with some of the biggest economies in the world, to promote and shape economic development in the Asia-Pacific region.
Throughout each year, APEC gives New Zealand the opportunity to meet with key regional leaders, Ministers and senior officials and register a New Zealand view. These opportunities are valuable for smaller economies, such as New Zealand.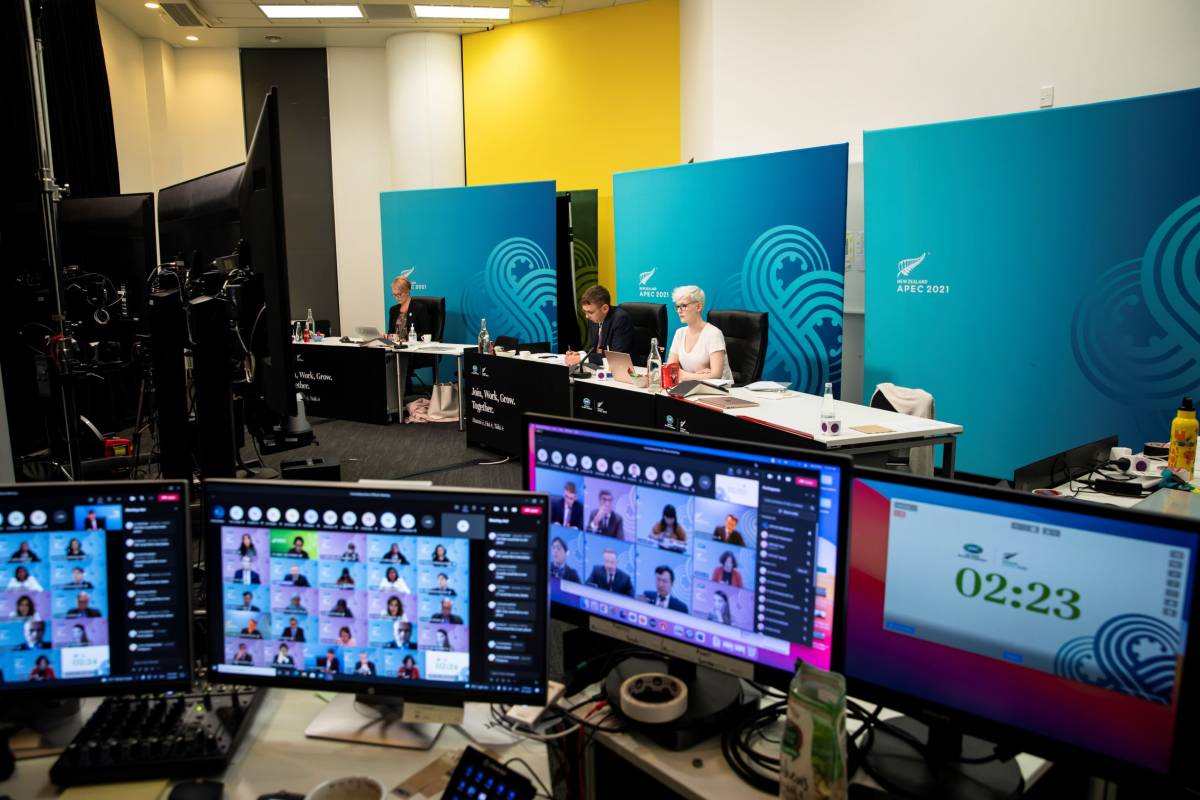 APEC Business Travel Card
The APEC Business Travel Card (ABTC) facilitates short-term business travel within the APEC region by streamlining the entry process into participating APEC economies (including New Zealand).
Features include:
no requirement to apply for visa or entry permits
express immigration clearance through special APEC lanes on arrival and departure at major international airports
Participating economies can enter multiple times for a stay of up to 90 days on each visit.
Apply for the APEC Business Travel Card
Get an application form or find more information about the APEC Business Travel Card at Immigration New Zealand.(external link)