New Zealand and the GCC are a natural fit when it comes to trade.
GCC countries are rich in oil and gas, but lack farmland for food production and have high demand for imported food and drinks. New Zealand's trusted dairy and meat exports meet some of that demand.
GCC countries are also motivated to reduce their trade reliance on oil and diversify their economies into high-tech and service sectors. There is strong potential for New Zealand's Government, service sector businesses and education providers to work with GCC countries towards this goal.
GCC is New Zealand's eighth largest trading partner (with the UAE and Saudi Arabia being the key markets). In 2017, New Zealand goods and services exports to the GCC totalled NZ$1.98 billion and total two-way trade was worth NZ$4.66 billion. The GCC countries are our seventh largest export destination.
The Gulf Cooperation Council (GCC) is made up of Saudi Arabia, United Arab Emirates, Qatar, Kuwait, Oman, and Bahrain.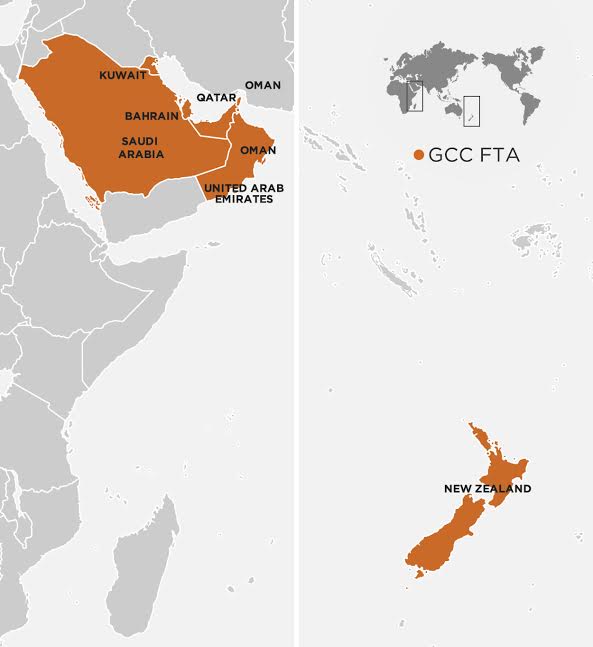 What are the potential benefits?
better market access for New Zealand businesses in the Gulf region
elimination of tariffs for exporters
better procedures for dealing with non-tariff barriers to trade such as sanitary and phytosanitary measures, technical barriers to trade, customs procedures and rules of origin
increased opportunities for New Zealand's service sector in areas such as information and communications technology, education services, architecture and engineering services, consultancies, legal services, environmental services and construction
potential for more investment between the countries
Timing for the negotiations
Negotiations started: 2007
Status: Negotiations were concluded in October 2009. We continue to receive positive signals about the readiness of the Gulf Cooperation Council (GCC), including Saudi Arabia, to resume the process towards finalisation of the NZ/GCC Free Trade Agreement. However there are still several steps the GCC needs to undertake before that can happen and officials are continuing to engage with GCC countries to this end. Current regional dynamics have also impacted on the ability of GCC states to take a collective decision. As a result, the Free Trade Agreement is unlikely to be completed until this impasse is resolved.
NZ Inc GCC Strategy
NZ Inc is the Government's plan to strengthen New Zealand's economic, political and security relationships with key international partners — specifically countries and regions we already have a relationship with, and where there is potential for significant growth.
The GCC Strategy sets out three goals which the NZ-GCC FTA will help to achieve:
strong and enduring political relationships with the GCC
expanded trade and economic relations with the region
connectivity with the region
How to get involved
MFAT negotiators are keen to hear from businesses or individuals who are facing barriers to the GCC market. This includes companies that are not exporting now, but plan to enter this market. Examples of the common sorts of barriers New Zealand businesses face offshore are:
tariffs, eg duties imposed on items at the border that add significantly to the price point in the market
sanitary and phytosanitary measures, eg food safety and animal/plant quarantine requirements
technical barriers to trade (regulations or officially endorsed standards), import licensing, customs or transparency problems
restrictions on individuals, eg difficulties with recognising qualifications or obtaining business visas, requirements to obtain local licences
restrictions on investors, eg requirements to operate in joint ventures with local partners, requirements to employ locals or restrictions on the ability of New Zealanders to be transferred to work in subsidiaries or affiliates, local representation requirements for boards of directors, restrictions on the ability to invest in a new enterprise or invest equity in an company
financial or business restrictions, eg restrictions on supplying services from New Zealand (including via the internet), difficulties competing with local firms who benefit from government preferences, complex and discriminatory local regulations.
We also welcome feedback from New Zealand companies about imports from GCC countries.
For more information or to give feedback on the NZ-GCC FTA negotiations contact us by:
Email: FTA_Outreach@mfat.govt.nz
Mail
Coordinator, NZGCC FTA
Ministry of Foreign Affairs and Trade
Private Bag 18901
Wellington