New Zealand is working with the rest of the world to combat climate change. This page provides information on current activities and initiatives.
MFAT works closely with the Ministry for the Environment (MfE)(external link). MfE is responsible for the implementation and whole of government coordination of New Zealand's domestic climate change policies. We build international collaboration to inform our domestic transition, share New Zealand's climate change story and to ensure New Zealand is complying with our international obligations.
UNFCCC COP26, Glasgow (November 2021)
Due to the ongoing COVID-19 global pandemic, the 26th Conference of the Parties to the UNFCCC has been postponed until 1 – 12 November 2021. The scheduled June 2020 intersessional meetings of the Subsidiary Bodies (SB52) have also been postponed until 2021.
While face-to-face meetings have been postponed, official's level meetings continue virtually to maintain momentum and progress work in the lead up to COP26. In place of physical meetings, the UNFCCC hosted June Momentum for Climate Change(external link), a number of online events to continue the exchanging views and sharing information in order to maintain momentum in the UNFCCC process and to showcase how climate action is progressing under the special circumstances the world is currently facing.
UNFCCC COP25, Madrid (December 2019)
New Zealand attended the 25th Conference of the Parties to the UNFCCC. COP25 was held in Madrid, Spain from 2–13 December 2019. The New Zealand delegation included officials from the Ministry of Foreign Affairs and Trade, Ministry for the Environment, Ministry for Primary Industries, officials from Tokelau, iwi, private sector representatives, and civil society.
Read New Zealand's National Statement to COP25(external link)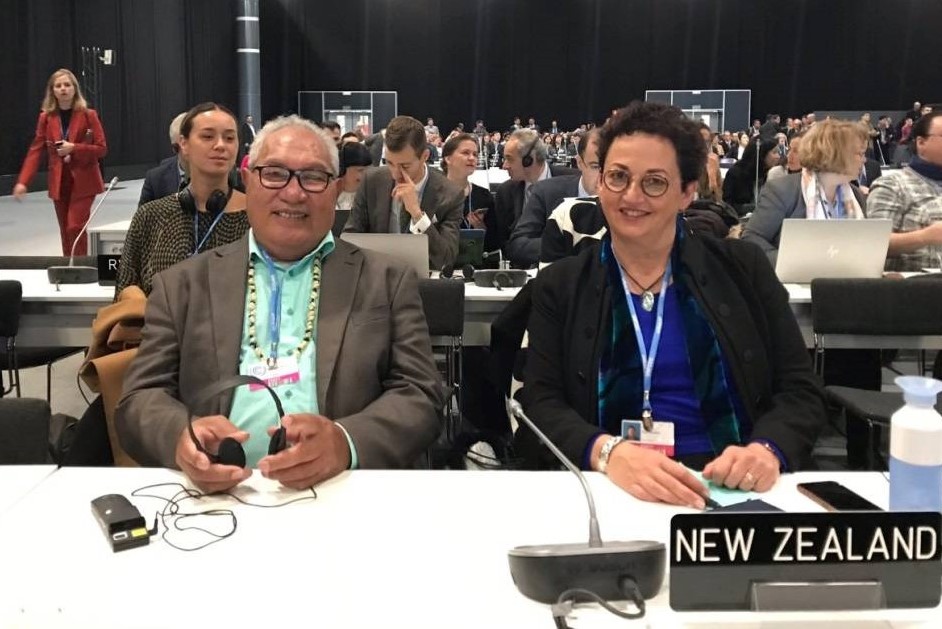 Standing with the Pacific
Together with Fiji and the Secretariat of the Pacific Regional Environment Programme (SPREP), New Zealand co-hosted the Moana Blue Pacific Pavilion(external link) to showcase Pacific climate and ocean action. The Moana Blue Pacific Pavilion provided a place for discussion, debate and knowledge-sharing on ocean and climate change issues relevant to the Pacific. It hosted events and activities that amplified the Pacific's call for ambitious global action, shared stories of national resilience planning, and highlighted the challenges and opportunities for climate change affected regions in the Pacific. The Polynesian word 'moana' – ocean – is widely used throughout the Pacific. It was chosen to emphasise Pacific ownership and pride in taking a piece of their heritage to the global stage.
Watch the Moana Blue Pacific Pavilion documentary(external link)
New Zealand successfully advocated for outcomes that support the interests of the Pacific island countries, including by supporting the review of the Warsaw International Mechanism for Loss and Damage and fulfilling the declaration in the Kainaki II Declaration from the 2019 Pacific Islands Forum(external link) for leaders to support a dialogue on the oceans-climate change nexus within the UNFCCC process, while upholding existing international oceans frameworks.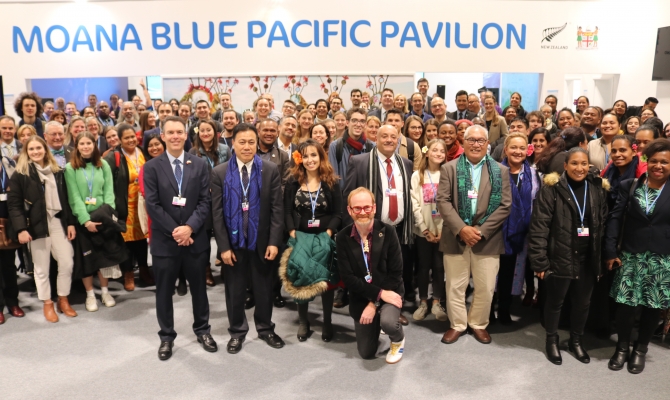 New Zealand's Multilateral Assessment
New Zealand also presented our domestic climate action to the international community through the Multilateral Assessment, a process in which developed countries are assessed on their progress in meeting their 2020 targets.
New Zealand received 26 written questions from Parties in advance of the meeting and 8 oral questions. This was an opportunity for New Zealand to elaborate and expand on its policy initiatives and domestic climate change policy. New Zealand also asked questions of other Parties being multilaterally assessed.
For more information on our Multilateral Assessment, including the questions we were asked by other Parties and our answers, our presentation and a broadcast of the session, please visit the UNFCCC website(external link).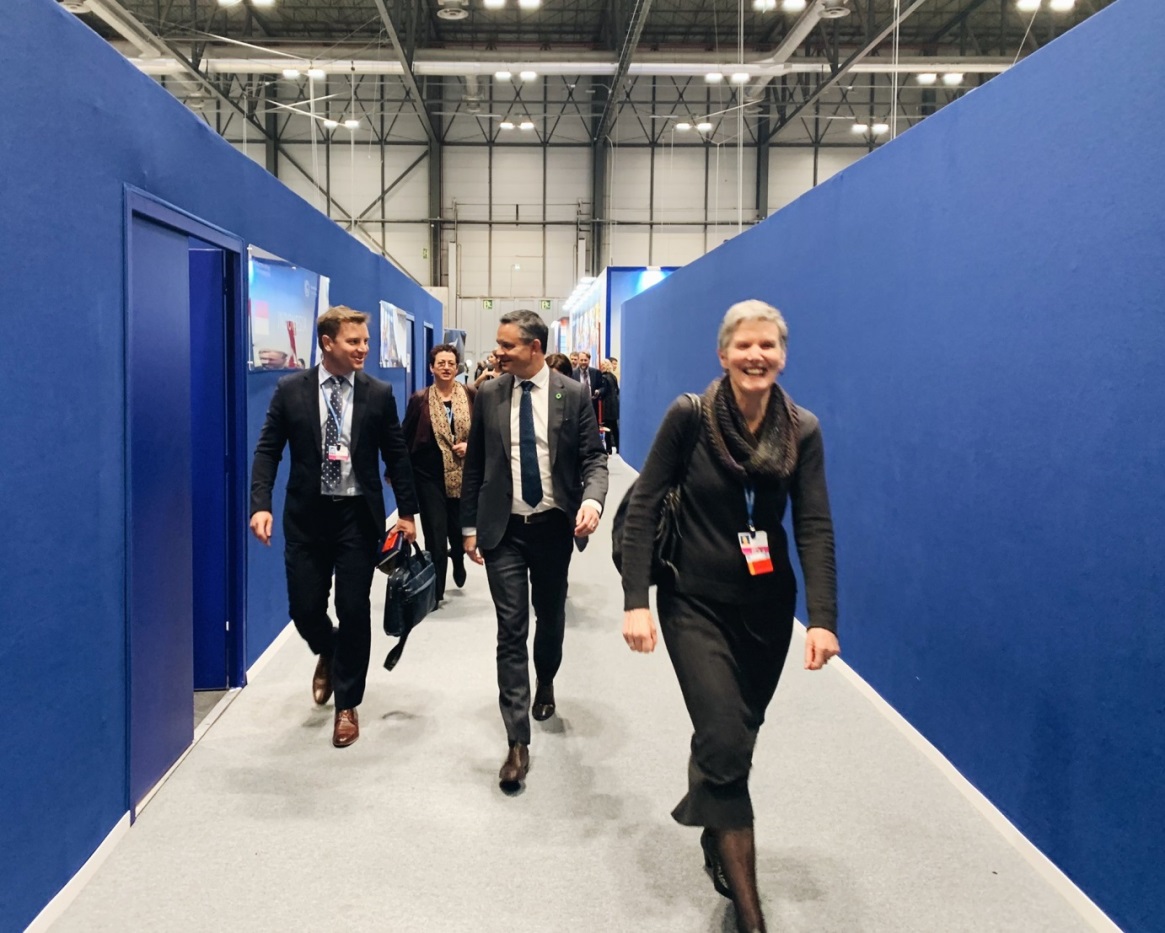 VAKA – a film on climate change in the Pacific
We are proud supporters of VAKA, a documentary produced as a final year project by Massey University film students: Kelly Moneymaker (Director), Rebekah Curtis Motley and Jessica George (Producers), Mason Rudd (Editor), and Ben Dickens (DoP).
Vaka is a short documentary which shares the energy and creativity of the Tokelauan people, weaving stories of their customary wisdom regarding the environment with an exploration of the modern technologies they use in addressing the challenges of climate change. Tokelau was the first Pacific territory to aim to generate 100% of its electricity using solar panels, installed in a New Zealand-funded Renewable Energy Project in 2012. Tokelau produces a minimal amount of global greenhouse gas emissions, yet, like other coral atolls, it is amongst first to be impacted by climate change. Tokelau's resilience in its day to day addressing of the impacts of climate change shows how the Tokelauans are leading by example.
The documentary interviews people in Tokelau, former Ulu Kelihiano Kalolo, other Tokelau climate officials, and climate change experts from NIWA and Victoria University. It was made by final year Massey University film students with support from the Government of Tokelau, Massey University, and MFAT. VAKA screened at COP25 at the Moana Blue Pacific Pavilion.
Watch Vaka on YouTube(external link)
Our international climate change 2019 negotiating mandate
Why did we need an updated mandate?
Our 2019 negotiation mandate reflects new priorities:
we have now set the objective of limiting global average temperature increase to 1.5° Celsius above pre industrial levels at the heart of New Zealand's climate change policy;
negotiation of the Paris Agreement Rulebook is almost complete which leaves most of the existing mandate redundant;
there are new issues emerging that we must be able to engage in;
Pacific island countries are on the front line of climate change and now more than ever is the time to stand with the Pacific region. Read full details in the Cabinet paper

[PDF, 1.5 MB]

. Thank you to our stakeholders for providing input into this process.
Who was consulted?
We sought views from iwi and stakeholders on what New Zealand should be promoting in the negotiating process.
The main theme of the responses was recognition of the urgent need for ambitious climate action and broad support for the positions proposed. We will continue to have, on an ongoing basis, engagement with interested iwi and stakeholders on international climate change matters.
Ministry for the Environment, MBIE, Ministry of Transport, and Ministry for Primary Industries were all consulted. The Government of Tokelau was also consulted as Tokelau participates in the UNFCCC negotiations as part of the delegation of New Zealand.
What does the mandate say?
The August 2019 Negotiations Mandate Update [CAB-19-MIN-0430] covers six addtional areas:
General principles – provides general guidance about New Zealand's approach;
Loss and damage – elaborates on our position for addressing loss and damage caused by climate change, supporting the work of the Warsaw International Mechanism on Loss and Damage in fulfilling its mandate;
Oceans – recognises the impacts of climate change on oceans, and the importance of oceans to Pacific Island countries; seeking meaningful action on oceans and climate change, while upholding existing international legal frameworks;
International carbon markets – provides more detail on our support for guidelines for the use of carbon markets that promote environmental integrity; seeking to ensure the environmental integrity of international carbon markets;
The future of the Kyoto Protocol – explicitly proposes to seek closure of the old regime once the Paris Agreement is fully operational; and
Metrics – sets out a new mandate on how emissions from gases like methane are counted.
It also makes amendments to previous issues: including: advocating for outcomes that support the interests of Pacific island countries, supporting a 5-year timeframe for Nationally Determined Contributions; promoting transparency; mechanisms to promote compliance; an effective global stocktake; encouraging other countries to take action on agriculture; advocating for transparency and predictability of climate finance; ensuring a just transition; support for human and indigenous rights; and, the bounds of the negotiators mandate.
COP25: Time for Action Kōrero
The New Zealand Climate Change Ambassador, Kay Harrison, with the support of Simpson Grierson held two kōrero on New Zealand's international climate change priorities for COP25. Negotiators from the Ministry of Foreign Affairs and Trade and Ministry for the Environment joined the Ambassador to discuss three priorities for New Zealand at COP25.
Thank you to those that attended. We want to continue to hear your thoughts and views so we can take those into the negotiations with us.
To keep up to date with future events, register your interest to DM-CCD@mfat.govt.nz
Subject to Change – a film on climate change in the Pacific
We are proud supporters of Subject to Change, a documentary on climate change in New Zealand and the Pacific made by final year Massey University film students in 2018.
Exploring the impacts Climate Change is having on our world, "Subject to Change" is a collection of interviews and personal stories from across the Pacific in the form of a documentary film. The film both provides an insight into the New Zealand response
UN Climate Action Summit and Nature-Based Solutions
23 September 2019, New York
United Nations Secretary-General António Guterres' Climate Action Summit(external link) in New York in September was held to boost ambition and accelerate action on climate change. New Zealand played a key role, co-leading one of the nine 'action areas(external link)' with China.
The UN Climate Action Summit called on countries to raise the global level of ambition to meet the goals of the Paris Agreement and to galvanise action to keep the 1.5°C temperature goal within reach.
It brought together national and local governments, private sector, civil society, and other international organisations to develop ambitious climate solutions across the nine action areas(external link). These include: a global transition to renewable energy; sustainable and resilient infrastructure and cities; sustainable agriculture and management of forests and oceans; resilience and adaptation to climate impacts; and, public and private sector investment in initiatives that contribute to a net zero global economy.
The action focus of the Summit means the initiatives highlighted need to be implementable, scalable and replicable and have the potential to get the world in line with the commitments of the Paris Agreement.
Nature-Based Solutions action area
New Zealand and China co-led the action area called 'Nature-Based Solutions'. This looks at how natural systems and our interactions with them can contribute to reducing greenhouse gas emissions and support adaptation to climate change. It also considers co-benefits linked to the 2030 Agenda for sustainable development(external link), such as poverty reduction, biodiversity, food security and health, and looks at strengthening the connection of people and communities to nature.
Read about the Nature-Based Solutions(external link) action area.
More than 40 countries representing over a third of the world's population responded to a call from China and New Zealand to increase support for nature-based solutions. More than 200 existing nature-based initiatives(external link) from around the world were submitted as part of China and New Zealand's call to action.
Collaborating to increase ambition
New Zealand joined five initiatives led by other coalitions that are designed to increase global climate change ambition across a range of areas relevant to New Zealand. These were:
Climate actions that advance gender equality and the empowerment of women and girls
Advancing a Just Transition and the Creation of Green Jobs for All for Ambitious Climate Action
Decarbonising Shipping: Getting to Zero Coalition
Kwon Gesh Pledge (Pledge to Youth)
A Call for Action: Raising Ambition for Climate Adaptation and Resilience
Along with the Pacific, New Zealand supported the Secretary-General's call for removal of harmful fossil fuel subsidies(external link). We also welcomed six new members to the Carbon Neutrality Coalition(external link) that New Zealand co-champions with the Republic of the Marshall Islands to build ambitious long term strategies to achieve a carbon neutral world.
Positive outcomes for New Zealand included agreement to hold an agriculture workshop in New Zealand; improvement in quality of discussions on carbon markets, and some key compromises on markets rules since last year's Katowice meeting.