Russian aggression posed one of the gravest threats to the international system in 2021–22.
Shortly after President Putin's announcement on 24 February 2022 of a "special military operation" in eastern Ukraine, Russian armoured units and air support began crossing the border in a full invasion of Ukraine. This was the culmination of months of Russian military build-up and speculation about President Putin's intentions in Ukraine.

Russia's actions were a clear violation of international law and the UN Charter by a permanent member of the UN Security Council. They also showed a brazen disregard for the fundamental principles of international law that underpin Aotearoa New Zealand's security and the international system as we know it.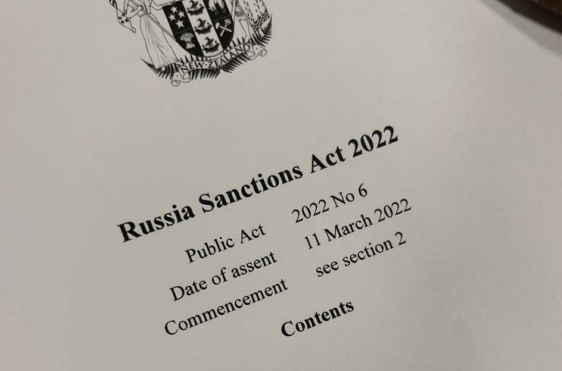 The Russia Sanctions Act 2022 has been a key pillar of Aotearoa New Zealand's response to support Ukraine and the rules-based international system. The Act was developed and passed under urgency in March 2022 over the course of eight days. In the three months since its passage, sanctions have been applied to more than 780 individuals and entities, including political and military leaders, disinformation actors, defence entities, financial institutions, and economic elites with close ties to President Putin or the Russian regime.

The Act enables Aotearoa New Zealand (acting in concert with many others) to hold Russia to account for its ongoing and illegal aggression. It also exerts pressure on those responsible within Russia with the aim of upholding the rules-based international system and promoting adherence to fundamental principles of international law.

The Act provides the ability to prohibit or restrict activity in Aotearoa New Zealand in relation to persons responsible for or associated with Russia's invasion. It establishes a framework that imposes a wide range of sanctions against Russia, responsible individuals, and any other states that provide illegal aid or assistance to Russian aggression (such as Belarus).

A significant cross-agency effort was required to develop the Act and create and implement a wide-ranging suite of sanctions. The MFAT website sanctions page contains further details about our work, the sanctions register, and FAQs.