Samoa is an independent state situated about halfway between Hawaii and New Zealand.
The total land area is 2,842km2, and consists of two large islands (Upolu and Savai'i), and eight small islets. Around three-quarters of its 195,000 population live on the main island of Upolu; the rest live on the neighbouring island of Savai'i or on two of the smaller islets, Manono and Apolima.
Our relationship
More than 100 years ago, at the outset of World War One, a 1,400 strong New Zealand Expeditionary Force landed at Apia on 29 August 1914, which until then had been administered by Germany. With no resistance from German officials or the Samoan population, New Zealand assumed the administration of Samoa until it gained independence in 1962.
In 1962, shortly after Samoa gained full independence, both countries signed a Treaty of Friendship. The treaty emphasises our close relationship and recognises "friendship, confidence, and a mutual endeavour to obtain for their peoples fuller opportunities for social progress".
Statement of partnership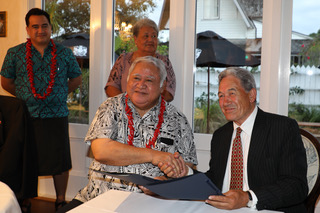 In February 2019, New Zealand and Samoa reaffirmed that commitment by signing a Statement of Partnership which set out their vision, priorities and principles for cooperation. This signalled a shift in the relationship towards a more mature and equitable partnership, grounded in the Treaty of Friendship.
New Zealand and Samoa work closely together in the region on a range of issues, including on climate change, security, and on enhancing the prosperity of the region. Samoa is a valued partner for New Zealand and provides a vital leadership role in the Pacific.
Challenges
Samoa faces a number of challenges. Its economic development is constrained by its geographical remoteness and by a shortage of formal employment opportunities. Climate change is a significant challenge for Samoa, as it sits squarely in the cyclone belt and is highly vulnerable to devastating storms.
New Zealand works with Samoa to foster economic development and on adaptation to and mitigation of the impacts of climate change.