New Zealand has rights and obligations in relation to various maritime zones. These include New Zealand's territorial sea, its Exclusive Economic Zone (EEZ) and its continental shelf.
Continental shelf
New Zealand has rights to an area of the continental shelf beyond our EEZ, covering approximately 1.7 million square kilometres
The continental shelf is the area that surrounds a landmass where the sea is relatively shallow compared to the open ocean. It's geologically part of the land and, under international law, a state has exclusive rights over the non-living resources (eg, minerals) and sedimentary species (eg, oysters and sponges) in and on the seabed there.
Setting our extended continental shelf boundaries
A country can make a submission to the UN Commission for the Limits of the Continental Shelf to extend their outer limits for the continental shelf when it goes beyond their EEZ. An extension gives a country rights to the seabed but no special rights to fisheries or control over other activities like shipping beyond the EEZ.
MFAT worked with Land Information New Zealand, the Institute of Geological and Nuclear Sciences Ltd and the National Institute of Water and Atmospheric Research on New Zealand's submission in 2006. Two years later the Commission issued its recommendations confirming our rights to an extension. The Commission's recommendations are final and conclusive except where the continental shelf boundary overlaps with those of other countries.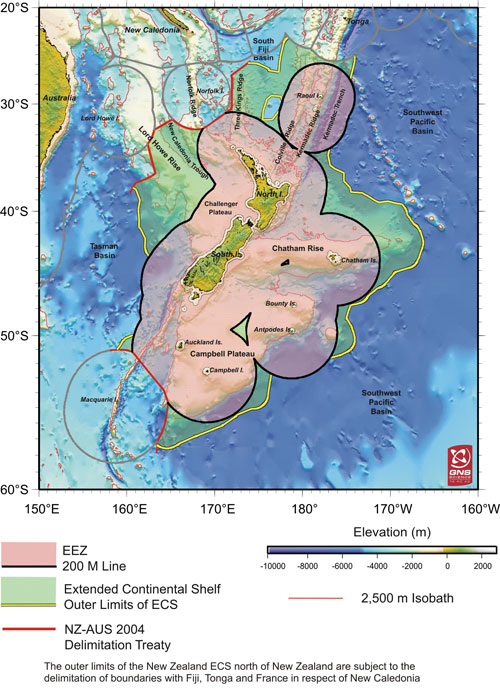 Where our extended continental shelf boundary overlaps in places with Australia, Fiji, Tonga and France, we have to agree on the respective boundaries with these countries.
These discussions can occur without formal Commission recommendations if both countries agree. An example of this is New Zealand's treaty with Australia in 2004 where we agreed our maritime boundaries, including areas of extended continental shelf.
We've started discussions with Fiji and Tonga regarding the continental shelf along the Colville and Kermadec Ridge complex that extends from north of the North Island to Fiji and Tonga.