CPTPP strengthens New Zealand's trade and investment relationship with Brunei Darussalam, one of our original P4 and AANZFTA partners.
Why Brunei matters
Brunei is an important market for New Zealand in the growing ASEAN region. While Brunei has a small population, there are a range of opportunities available to New Zealand exporters, including agricultural and education exporters, and in related services supporting different specialised sectors in Brunei (such as oil and gas).
New Zealand already enjoys preferential services access and largely comprehensive goods access to the Bruneian market under the earlier Trans-Pacific Strategic Economic Partnership Agreement (P4) and ASEAN-Australia New Zealand FTA (AANZFTA). The exceptions are a short list of products (alcohol, tobacco and firearms) excluded by Brunei for moral, human health and security reasons.
Total two-way trade was worth $13 million in the year ended June 2018, with New Zealand's services exports to Brunei accounting for more than half of this amount.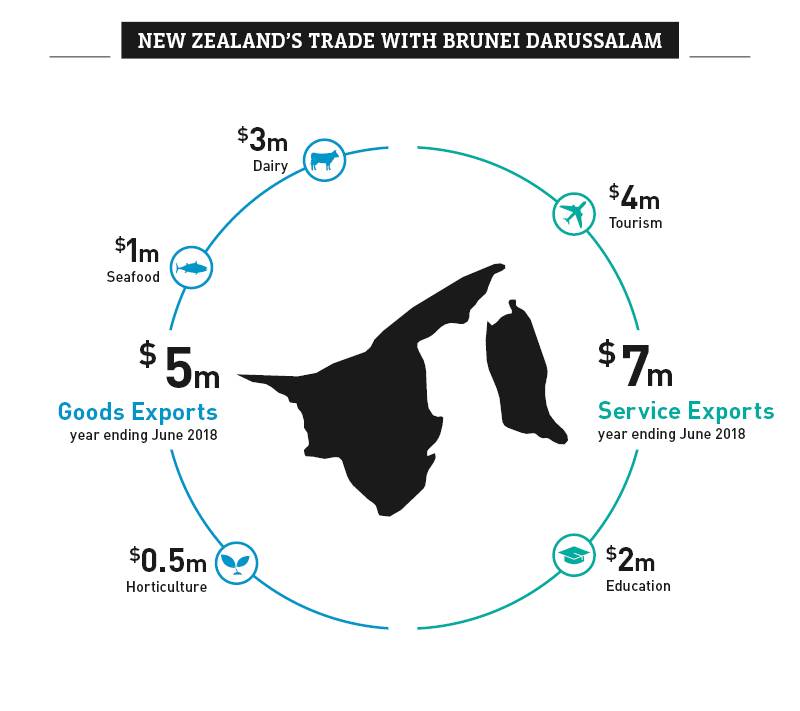 Reduced trade barriers
New Zealand and Brunei already provide for tariff-free access into each other's market as a result of P4 which entered into force in 2006. However, the CPTPP rules of origin accommodate the concept of full cumulation – allowing processing undertaken in CPTPP Parties to be counted towards achieving the customs origin threshold.
Full cumulation means that New Zealand inputs can be counted as part of the qualifying content for goods produced and traded between all CPTPP Parties, and therefore makes New Zealand materials more attractive for companies in Brunei (and elsewhere in the CPTPP region) that plan to utilise CPTPP tariff preferences. This both improves and increases the opportunities for New Zealand companies to integrate into different regional supply chains.
Servicing the market
Under CPTPP, New Zealand service suppliers will have improved protection, predictability and transparency when doing business in the Bruneian market.
For New Zealand, key outcomes from Brunei's CPTPP commitments include:
Guaranteed ability for New Zealand lawyers to provide legal advice on New Zealand, international or third-party law on a fly-in, fly-out basis.
Locking in current market access arrangements for architects, engineers, surveyors and urban planners, guaranteeing existing regimes cannot become more restrictive and any future liberalisation will flow through to New Zealand suppliers.
Certainty around the way higher education institutions and international schools must be structured before they can be established (including where and when government approvals are needed). New Zealand institutions can pursue new opportunities in Brunei knowing new measures will not be introduced in the future making access to the sector more difficult.
Working in Brunei
New Zealand businesspeople going to work in Brunei will benefit from CPTPP in the following ways:
Business visitors, investors, installers and servicers are all eligible to stay for up to three months, with the possibility of having this extended for up to 12 months.
Intra-corporate transferees who are executives, managers and specialists can enter for up to three years, with the possibility of having this extended for a further two years.
Professionals in highly specialised services and core services categories in the energy sector can stay for up to two years or for the duration of the contract (whichever is shorter). Other professionals, with the educational and professional qualifications relevant to the service to be provided, can enter for one year or for the duration of the contract (whichever is shorter).
Investment partners
CPTPP investment rules provide greater certainty and protection for investors, while preserving the rights of governments to legislate and regulate in the public interest. Strong rules will help ensure that New Zealand and Bruneian investors are treated in a fair, equitable and non-discriminatory manner, allowing them to compete on an equal footing with other investors.
CPTPP's investor-state dispute settlement mechanism cannot be used for investments between Brunei and New Zealand without government consent.
More information
New Zealand High Commission, Kuala Lumpur (accredited to Brunei Darussalam)