CPTPP adds to the network of trade agreements New Zealand has with Singapore.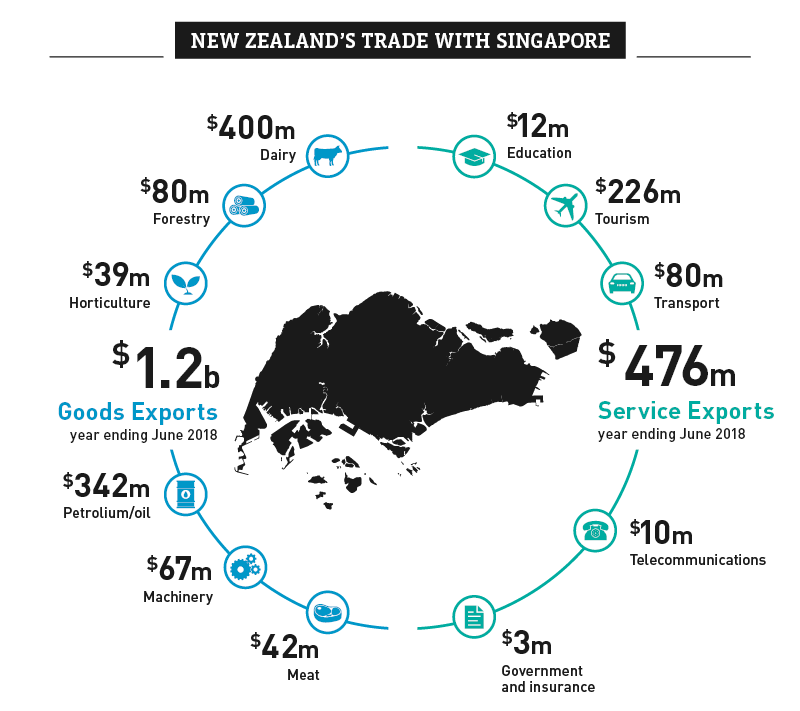 Reduced trade barriers
There are new commercial opportunities for New Zealand businesses to win government procurement contracts. Singapore's government procurement market is sizable and it procures a diverse range of goods and services, which will provide greater opportunities for New Zealand's established industries as well as more specialised and niche exporters.
By and large, New Zealand businesses will be able to compete for government procurement contracts in Singapore on an equal footing with domestic suppliers and they will be subject to more open, fair and transparent procurement rules.
New Zealand and Singapore already provide for tariff-free access into each other's market as a result of the original Agreement which entered into force in 2001. However, the CPTPP rules of origin accommodate the concept of full cumulation – allowing processing undertaken in CPTPP Parties to be counted towards achieving the origin threshold.
This principle means that New Zealand inputs can be counted as part of the qualifying content for goods produced and traded between all CPTPP Parties. This potentially makes New Zealand materials more attractive for companies in Singapore (and elsewhere in CPTPP the region) that plan to utilise CPTPP tariff preferences and we would expect it will improve New Zealand companies' integration into regional supply chains.
Servicing the market
Singapore is one of New Zealand's most open trading partners. For New Zealand, Singapore's CPTPP commitments provide additional certainty, again confirming that New Zealand service suppliers and investors can operate in Singapore with few restrictions.
Working in Singapore
However, Singapore retains strict controls over who can enter the country and the length of their stay. Under CPTPP, Singapore has made limited temporary entry commitments, extending benefits to business visitors and investors only. However, under the upgraded Closer Economic Partnership between Singapore and New Zealand, business visitors will be able to enter Singapore for a period of 90 days.
More information
Minister Parker: Singapore Third Nation to Ratify CPTPP(external link)
NZTE's Singapore Market Guide(external link)
New Zealand High Commission, Singapore
ASEAN New Zealand Business Council(external link)