Singapore and New Zealand have a close, collaborative relationship based on shared history and interests.
Our Closer Economic Partnership signed in 2000 has been the forerunner to New Zealand's involvement in wider regional free trade agreements, including the Comprehensive and Progressive Agreement for Trans-Pacific Partnership.
There is strong economic complementarity between advanced small countries in the Asia-Pacific, and Singapore is among New Zealand's top markets for goods and services and source of tourists and investment.
Singapore is New Zealand's oldest free trade agreement partner in South East Asia and our pioneering bilateral trade agreement – the Closer Economic Partnership (CEP) was our second, and Singapore's first, bilateral free trade agreement.
The CEP with Singapore was one of our most swiftly concluded trade agreements, taking less than a year to complete negotiations. It had its origins in stalled talks for a Pacific Five agreement between New Zealand and Australia, Chile, Canada, and the United States.
Creating a Closer Economic Partnership
George Yeo was appointed Minister of Trade and Industry by Singaporean Prime Minister Goh Chok Tong on 3 June 1999. Minister Yeo visited New Zealand shortly after his appointment. The seeds for an agreement were laid at a meeting in Wellington on 1 July with then New Zealand Trade Minister Lockwood Smith and former New Zealand finance minister, Sir William Birch
After listening to the two ministers exchange downbeat views on the prospects of trade liberalisation in other forums, Sir William suggested "that we start the ball rolling in all of this, and enter into a bilateral free trade agreement."
It was agreed a paper would be provided for Minister Yeo's consideration and Tim Groser, at that time MFAT's Principal Economic Adviser, would produce it. The paper noted that an insurance policy was needed if other forums failed to deliver trade liberalisation. It was proposed that: "New Zealand would like Singapore to consider the possibility of a free trade agreement (FTA) between our two economies. The case for such a FTA does not lie in traditional trade policy: there are likely to be few discernible trade benefits…the case for such a FTA is almost wholly strategic."
Preliminary discussions
Singapore responded positively to the paper and it was agreed to hold preliminary discussions between officials in Rotorua in August.
Following meetings included:
11 August, Rotorua – scope a possible ageement
21 August, Singapore – agree to draft a Memorandum of Understanding (MOU), completed over 6 days via email
6 September – set a programme for negotiations following Cabinet approval of the MOU
11 September – Prime Minister Jenny Shipley and Singaporean Prime Minister Goh Chok Tong announce and sign the MOU
"Conscious that a framework of rules for trade in goods, services and investment will lead to a more effective use of resources and an increased capacity to contribute to economic development and prosperity through international exchanges and the promotion of closer links with other economies, especially in the APEC region" - 1999 Memorandum of Understanding
Negotiations
Negotiations took place over six negotiating rounds between 1999 and 2000. Tim Groser led for New Zealand for the first three rounds in 1999 and Peter Hamilton for the final three negotiating rounds. Pang Kin Keong from the Ministry of Trade and Industry led for Singapore for the entire negotiations.
Three negotiating rounds were held in 1999:
Round 1: Singapore – 4-5 October
Round 2: Auckland – 26-29 October
Round 3: Singapore – 14-17 November
The New Zealand General Election on 27 November saw a change of government — a new coalition government between the Labour Party and the Alliance. A further three negotiating rounds were held in 2000:
Round 4: Wellington – 13-17 March
Round 5: Singapore – 15-17 May
Round 6: Auckland – 10-15 July
The final agreement was signed in Singapore on 14 November 2000 by then Prime Minister Helen Clark and her counterpart Singaporean Prime Minister Goh Chok Tong.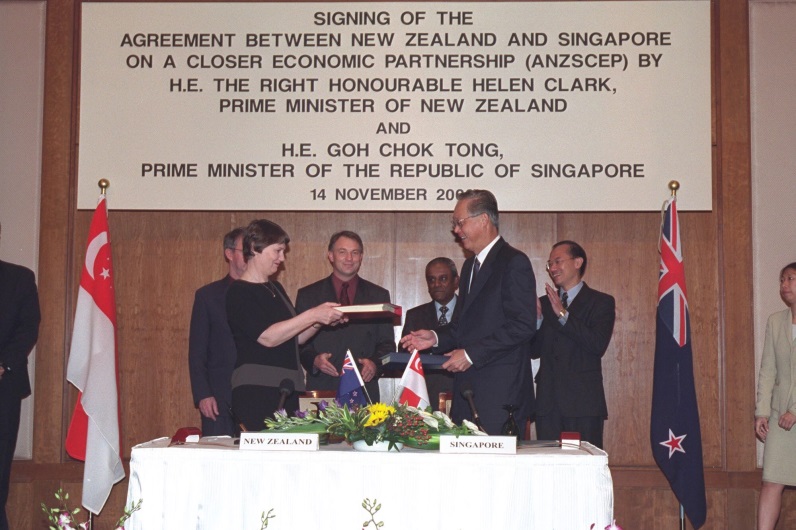 From CEP to P4 to CPTPP
The strategic ambition behind the CEP took its next step in 2002. At the APEC Leaders' Summit in Mexico, Prime Minister Helen Clark, the Prime Minister of Singapore and the President of Chile launched negotiations of what was originally known as the Pacific Three Closer Economic Partnership or P3 CCEP.
The leaders' shared vision was to create a trade agreement that could act as a platform for expansion within the Asia-Pacific region. Fittingly, the first round of the P3 negotiations was held in Singapore in September 2003.
The P4 – an agreement between Brunei, Chile, Singapore, and New Zealand - set the scene for a much more ambitious Pacific Rim agreement. Also referred to as the Trans-Pacific Strategic Economic Partnership, this agreement was signed in Wellington on 18 July 2005 and entered into force in 2006.
P4 to Trans-Pacific Partnership (TPP)
One of the objectives of the P4 Agreement was to create a model that could potentially attract new Asia-Pacific members.
When P4 negotiations concluded in 2005, its parties agreed to begin negotiating on financial services and investment (not covered by the original agreement) within two years of its entry into force.
When these negotiations began in March 2008 the United States joined the group pending a decision on whether to participate in a comprehensive negotiation for an expanded TPP agreement. In September 2008, the US announced it would participate fully in the negotiations, and Australia, Peru, and Viet Nam followed suit.
A change of administration in the US delayed the first round of TPP negotiations, but President Obama reaffirmed in November 2009 that the US would engage with TPP countries "with the goal of shaping a regional agreement that will have broad-based membership and the high standards worthy of a 21st century trade agreement".
Following negotiations included:
March 2010 – negotiations begin for expanded agreement
October 2010 – Malaysia joins negotiations
June 2012 - Canada and Mexico invited to join negotiations
December 2012 – Canada and Mexico sit at the negotiating table for the first time (at 15th round)
Eight more countries joined the P4 economies to negotiate the TPP. After negotiations concluded in 2015, the TPP agreement was signed in Auckland in February 2016. Following the withdrawal of the United States, the remaining TPP partners engaged in discussions and then negotiations for what would become the Comprehensive and Progressive Agreement for Trans Pacific Partnership.
The CPTPP was signed in Chile on 8 March 2018.
General Reviews
New Zealand's free trade agreements typically include a review provision which allows for the periodic review of the operation and implementation of the agreement. Review provisions are an important tool for ensuring that agreements remain up to date and relevant for trade between the Parties.
The original CEP required Singapore and New Zealand's trade ministers to review the agreement within one year of entry into force and then every two years afterwards or as otherwise appropriate. The CEP also required a general review of the agreement in 2005. Unlike New Zealand's other free trade agreements, the original CEP did not have a senior officials level committee structure responsible for the operation and implementation of the agreement. This meant reviews of the agreement were the main opportunity for the two sides to assess the performance of their agreement.
The CEP was reviewed by ministers in November 2001 and July 2004. The mandated general review of the agreement in 2005 did not take place due to the negotiation of the P4 agreement.