The Trans-Pacific Strategic Economic Partnership (P4) between Brunei Darussalam, Chile, Singapore, and New Zealand is the first free trade agreement linking Asia, the Pacific and the Americas.
In the decade since the P4 came into force in 2006, New Zealand has seen its exports to Chile grow to NZ$128 million, exports to Singapore have doubled to more than $1.13 billion, and exports to Brunei, although still modest, almost double to $5 million. The agreement has also opened up more opportunities in investment and services.
The P4 set the scene for a much more ambitious Pacific Rim agreement. Eight more countries have joined the P4 economies to negotiate the free trade agreement known as Trans-Pacific Partnership (TPP).
Read more about TPP(external link)
Facts and Figures
P4 combined population: 28.5 million (2016)
P4 combined GDP: US$736 billion (2016)
Timeline: Negotiations began in September 2003, agreement signed in July 2005 and came into force for all countries in 2006.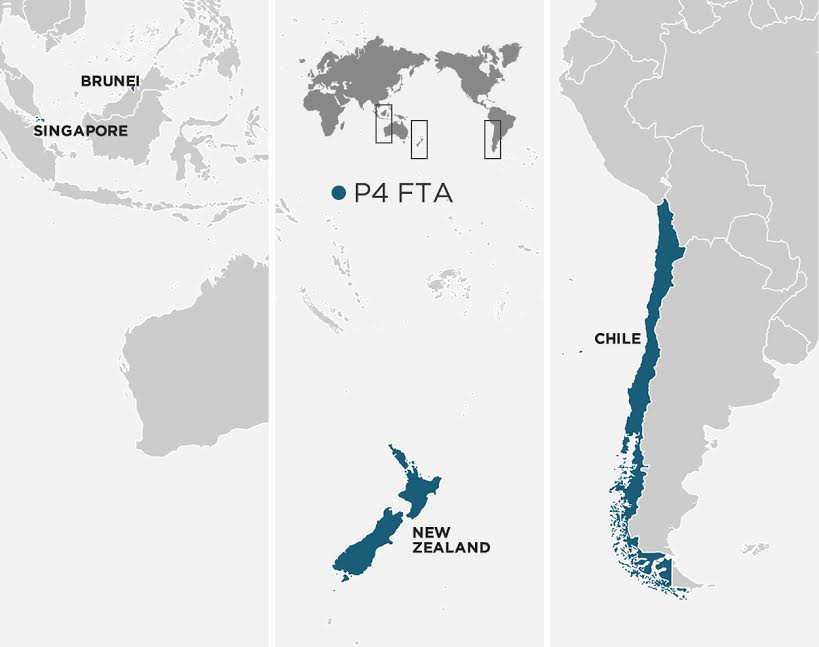 Agreement highlights
tariffs on most of New Zealand's exports to Brunei and Chile were eliminated in 2006 and the remainder phased out by 2017. (Singapore was already tariff-free under the NZ Singapore CEP).
easier access to the three markets for New Zealand service providers, who are now able compete on the same footing as domestic competitors in many sectors, including for government contracts.
easier trading and reduced red tape through changes to customs procedures, sanitary and phytosanitary procedures, technical barriers to trade, intellectual property and competition policy.
'most favoured nation' treatment where if any outside country gets a more favourable trade arrangement with a member, New Zealand will automatically receive it too.
a new focus on shared innovation and research and development – especially relating to cooperation in economic development, science, technology, education and agriculture.
a clear process for settling disputes arising from the P4.
Agreements that promote sound practices in environment and labour cooperation are also part of the P4 package.
Using the FTA
Businesses trading in goods
Use the Tariff Finder(external link) to find out:
the tariff classification for the good
the tariff commitments
the Rules of Origin (ROO)
how to get a Declaration of Origin or Certificate of Origin
what FTA to use if there are more than one to choose from
Read the Customs fact sheet for the TPSEP (P4) - Rules of Origin #31 [PDF, 239 KB]
Service sector businesses
All services sectors are covered by the agreement and are subject to the obligations covered by National Treatment, Most-Favoured Nation Treatment, Market Access or Local Presence articles. All countries outline their existing laws and regulations which contravene these articles in Annex 3. In Annex 4 the countries outline areas where they wish to maintain their own regulatory policy.
Investors
The P4 agreement doesn't cover investments, with the exception of investment relating to some services. These are set out in Chapter 12 of the Agreement - Trade in Services [PDF, 157 KB].
Deciding which FTA to use
The P4 is the only trade agreement New Zealand has with Chile, but we have the AANZFTA with Singapore and Brunei, and the NZ Singapore CER. You'll need to decide which one to use when doing business with Singapore and Brunei. The Tariff Finder(external link) will help you decide.
To understand the difference between the agreements use this NZIER study [PDF, 130 KB].
Media and resources
Tariff schedules in HS2012