Exporters can sometimes experience hurdles in getting goods and services into international markets. We've helped companies and industries to work through issues to become successful.
Overcoming trade barriers
The New Zealand Government's efforts to address trade barriers have enjoyed some success in recent times. According to our non-tariff barrier (NTB) tracker, 14 NTBs affecting approximately NZ$1.45 billion worth of trade were reported as resolved during the 2022-2023 financial year.
The majority of these were in the food and beverage sector (9 NTBs). Both the highest number of NTBs resolved (6 NTBs) and the highest value of trade affected (NZ$1.28 billion) were in the Middle East and Africa region.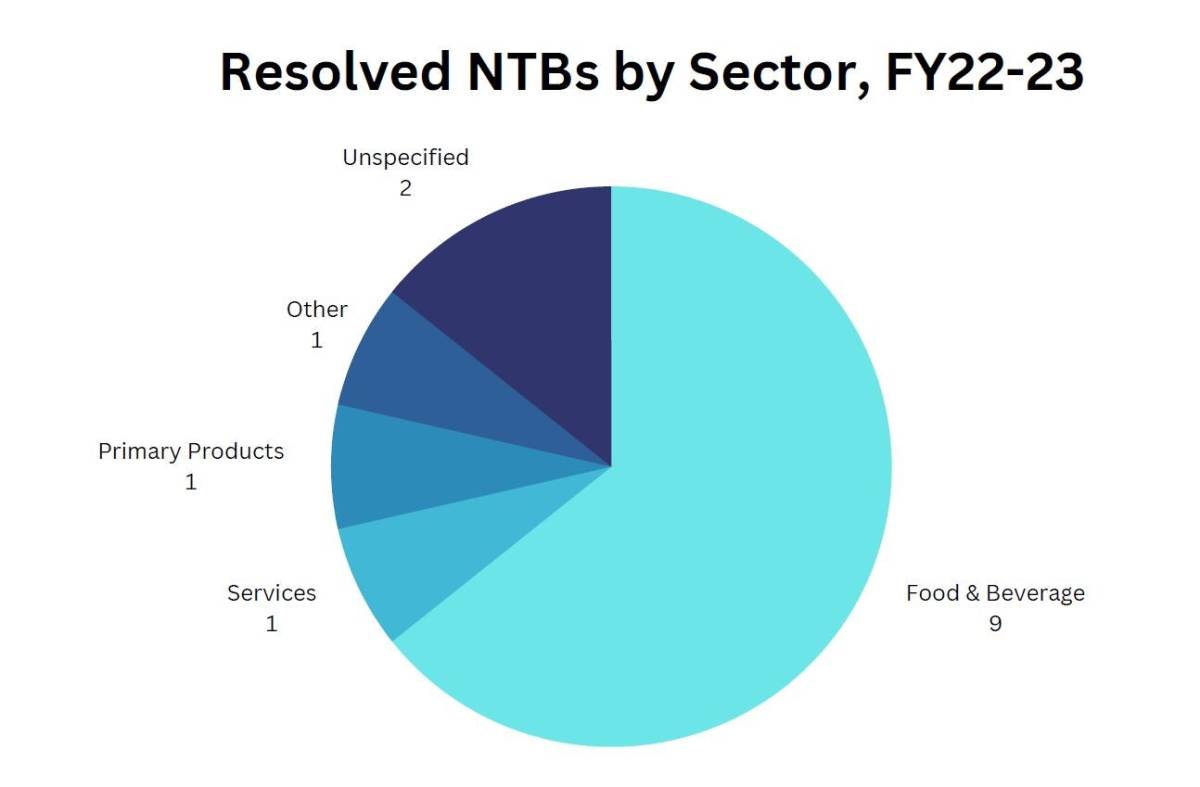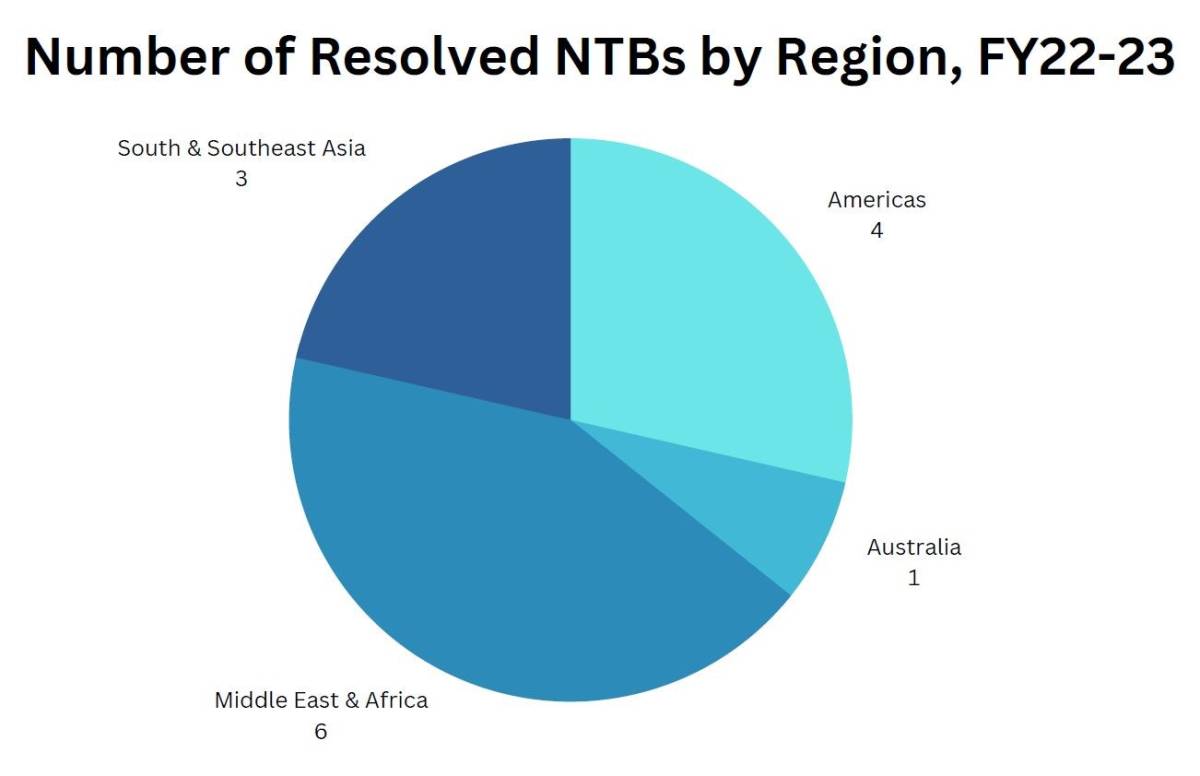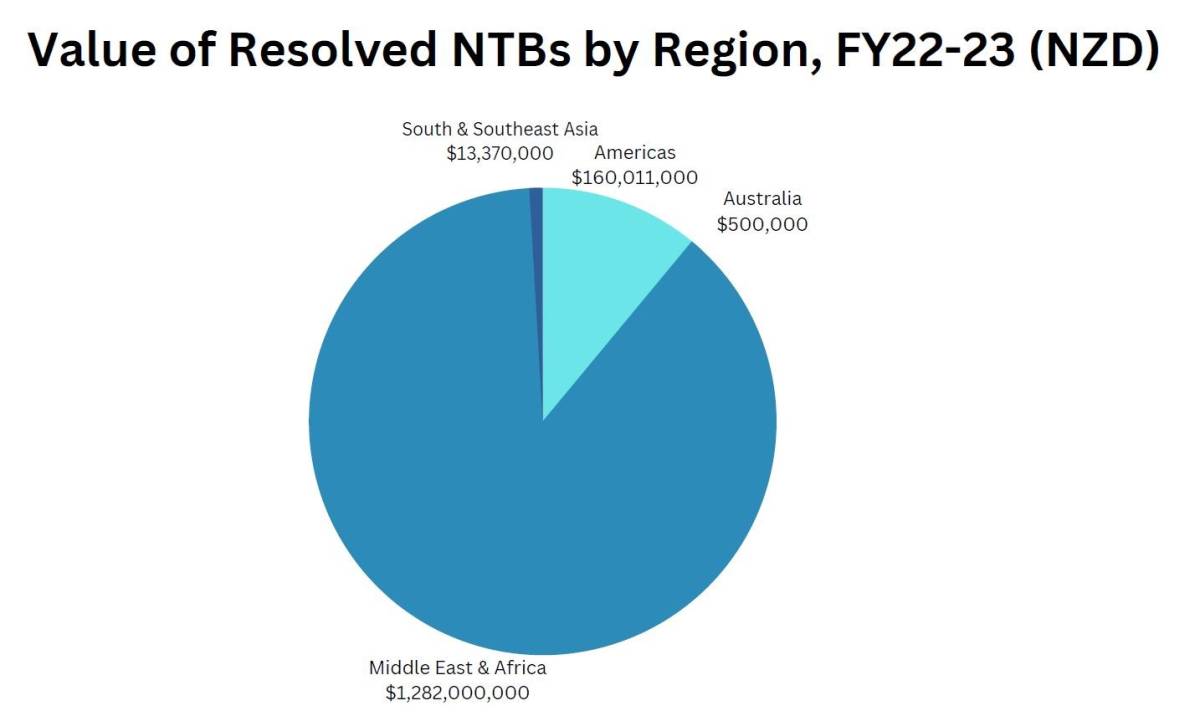 These figures are somewhat higher than would normally be the case. This is because we recently asked our offshore Post network to update their NTB data, so the figures above represent an accumulation of updates since that point.
We measure NTBs based on the value of trade affected. This can be subjective as NTBs can vary in terms of their impact, ranging from a complete barrier to a bureaucratic or logistical hindrance. There is no standardised approach for valuing NTBs.
Watch how we can help New Zealand exporters overcome non-tariff barriers to make exporting easier and more competitive. Find out more: www.tradebarriers.govt.nz
Keeping supply lines open during the Covid-19 lockdown
Fisher & Paykel Healthcare was designated an essential business during the level 4 lockdown in April 2020 due to its production of vital respiratory equipment, which is used to treat COVID-19 patients. This enabled them to keep their manufacturing lines in Auckland running.
One of its key electrical component suppliers in the Philippines was however subject to lockdown restrictions in that country. These restrictions limited its production to 10 per cent of its pre-lockdown levels. This was affecting the suppliers' ability to supply Fisher & Paykel Healthcare and in turn its ability to manufacture some products.
Fisher & Paykel Healthcare contacted the Ministry of Foreign Affairs and Trade, who, via the Ambassador to the Philippines, asked the Manila Office of New Zealand Trade and Enterprise to assist through their relationships with the Philippines Board of Investment. When they were advised that a Philippines-based company was producing components for respiratory products, they agreed that an exemption to the lockdown rules should be granted. The exemption, issued within 48 hours, allowed production at the factory to increase to 50 percent. This assured sufficient production to meet the needs of Fisher & Paykel Healthcare.
Resolution for cheese detained in South Korea
In June 2019, a shipment of New Zealand cheese worth approximately NZ$1.8 million was detained in South Korea due to local quarantine officials' interpretation of labelling requirements. The shipment, while being of high value to New Zealand, was also important to the importer for the commencement of a new project with their New Zealand partner.
The concerns of quarantine officials related to understanding the format of the health certificate and the use of descriptors on the product label such, as 'manufacturing' that were not on the health certificate. Staff from the Ministry for Primary Industries and the Ministry of Foreign Affairs and Trade at the New Zealand Embassy in Seoul worked together with Korean officials to resolve the issue. They agreed that the product and the health certificate met all the agreed requirements and that there had been no issues with previous shipments.
The product was cleared in time to meet the importer's deadline.
Gold standard regulatory approval for Pultron in Canada
Leading the world, meant meeting the highest standards for Gisborne-based industrial technology company, Pultron Composites. Approval from the Ministry of Transport for Ontario (MTO) in Canada is considered the gold standard internationally and is where approval for Pultron's glass fiber-reinforced polymer composite rebar product – Mateenbar™ was sought. This involved 3 years' of independent testing and verification by Pultron. They requested strategic support from New Zealand Trade & Enterprise and the New Zealand Ministry of Foreign Affairs & Trade in Canada, to help obtain MTO approval. This was achieved in 2018 and has been the catalyst to opening up markets in Canada and the United States.
Mateenbar™ is used on concrete infrastructure projects worldwide. It is regarded as a superior alternative to stainless steel, galvanized steel and epoxy-coated steel rebar and provides lasting durability in highly corrosive environments.
Chicken exports to Australia boosted
New Zealand poultry producer, Tegel Foods, is focused on growing international sales particularly of its higher value processed products such as free range crumbed tenders, and crunchy burgers. However, like other exporters, Tegel has faced barriers to trade with other countries.
Up until 2016 Australian regulations allowed only cooked chicken into the country. This limited New Zealand's trade opportunity to less than 10% of the Australian market. The Ministry for Primary Industries worked with the New Zealand poultry industry to satisfy Australian authorities that our rigorous biosecurity controls fully met Australian standards. The subsequent removal of this barrier is expected to significantly boost exports of New Zealand chicken to Australia, which in 2016 generated over NZ$70 million.
Separate to this, in early 2017 Tegel was preparing a trial shipment for a customer in the Philippines when the company learned that the Philippines Government had introduced a temporary ban on poultry imports. The ban followed isolated outbreaks of avian flu in Europe and North Asia but exempted product from US, Canada and Australia. Tegel contacted the New Zealand Government for assistance.
The New Zealand Embassy in Manila had already contacted the Philippines authorities and been given an assurance that product from New Zealand would also be exempt. The quick actions of the New Zealand and Philippines Governments meant that the Tegel shipment was not delayed.
Saudi visa fees reversed
In October 2016 the government of Saudi Arabia implemented a new law which increased fees for a single entry visas tenfold, from NZ$74 to NZ$743. This imposed a considerable cost on New Zealand companies doing business with Saudi Arabia.
The New Zealand Embassy in Riyadh made representations to the Saudi government based on the fact that New Zealand offers visa free entry to Saudi businesspeople and visitors while the new fees could negatively affect the developing commercial relationship with New Zealand.
The Saudi Ministry of Foreign Affairs considered a written submission from New Zealand and directed that New Zealand be exempted from the new visa fees. As of March 2017, the fees have reverted to around NZ$96. The move has been well received by New Zealand businesses and the New Zealand-Middle East Business Council.