Safe travel matters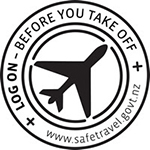 SafeTravel is the official source of travel advice for New Zealanders, with advisories for specific destinations. Checking SafeTravel helps you avoid travel blackspots.
On SafeTravel you can also register your details and travel plans. If a crisis occurs overseas, MFAT will contact New Zealanders who have enrolled to check on their safety and well-being.
We also recommend you take out travel insurance. If you can't afford travel insurance, you can't afford to travel.
While you are overseas, make sure you respect cultural norms and obey local laws.
SafeTravel(external link) is the Ministry of Foreign Affairs and Trade website designed for New Zealanders who are travelling or living overseas. You will find:
Travel advisories for countries accredited to the New Zealand Embassy in Moscow