Chongqing Municipality
Key points
Chongqing is one of China's four municipalities directly under the central government's control, and the only one in inland China. It is one of China's largest cities, with a population of 30.48 million people.
Chongqing recorded the highest level of GDP of any province in 2016 (10.7%).
The city's strategic location and importance has attracted significant government support to transform it into an economic, trade, and financial centre as part of China's Western Development Strategy. It is also a major link in China's new One Belt One Road and Yangtze River Economic Belt initiatives.
Current links between Chongqing and New Zealand are largely focused on commodities trade. There are also some education and research links, and potential in new sectors such as environmental engineering and public healthcare management.
New Zealand-Chongqing links
Recent high-level visits from New Zealand to Chongqing include a business mission led by Minister of Trade Hon Tim Groser in March 2012, and a visit by Deputy Prime Minister and Minister of Finance Hon Bill English in July 2015. To New Zealand, Madame Zhang Xuan, Chair of the Chongqing People's Congress visited Auckland and Tauranga in July 2015, Executive Vice Mayor Mr Weng Jieming visited Auckland in July 2016 and Vice Mayor Mr Liu Qiang visited New Zealand in April 2017. Chongqing does not currently have any formal city partnerships with New Zealand cities.
Chongqing's main economic sectors (automotive, chemical and heavy industry) are not traditional areas of deep involvement for New Zealand. But the market remains an important one for New Zealand food and beverage exporters, and New Zealand products are often seen in market. Due to Chongqing's inclusion as one of China's first cross-border e-commerce (CBEC) pilot areas (along with Chengdu as the only two in Western China), it was one of the top five destinations for New Zealand airfreight to China in 2016, comprised mainly of infant formula sourced through e-commerce channels.
In December 2016 Tianjin Airlines commenced year round flights between Tianjin, Chongqing and Auckland – the first direct air service from Western China to New Zealand. The service operates three times a week and adds approximately 83,000 seats to Auckland-China air traffic each year. Auckland International Airport estimates the route could contribute an additional $102 million to the New Zealand tourism industry annually. According to Statistics NZ data, over 4600 Chongqing residents made general visits (tourism or business) to New Zealand in 2016: this number is expected to increase in 2017 due to the direct flight.
Zespri has established a regional office in Chongqing, as it is a key logistics hub for Southwest China. ANZ Bank has a commercial branch in Chongqing. Although few other New Zealand companies have a permanent presence in Chongqing, some are actively exploring opportunities in areas such as environmental engineering and urban planning. Relevant to the latter, Chongqing has been selected as a pilot city for China's new 'Sponge City' urban water management programme.
Education links are also gaining momentum. A small but growing number of New Zealand education institutions, such as the Southern Institute of Technology and University of Auckland, have formal links with Chongqing partner institutions.
There is a small New Zealand community resident in Chongqing.
Background
Quick facts (2016)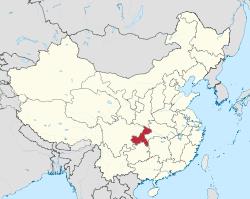 Chongqing Municipality
Population: 30.48 million
Ethnicity: 94.2% Han Chinese, 5.8% other ethnicities
Land area: 82,403 km²
Total GDP: 1.76 trillion RMB (NZ$354.72 billion)
GDP growth: 10.7%
Per capita GDP: 57,902 RMB (NZ$11,697)
CPI growth: 1.8%
Chongqing has a long history and archeologists believe that early humans were in the Chongqing area twenty to thirty thousand years ago. Later historical studied associates Chongqing with the State of Ba: The Ba people supposedly established Chongqing (then called Yuzhou) during the "Spring and Autumn Period" from about 771 BC. The city received its current name (meaning 'double celebration') during the Southern Song Dynasty to mark the enthronement of Chongqing native Emperor Zhaodun in 1189.
From 1940-1946 Chongqing served as the wartime capital of China during the Sino-Japanese War, and some foreign governments established temporary diplomatic missions there. To help accelerate its development, in 1997 Chongqing was separated from Sichuan Province and established as a municipality directly under the central government, as one of four such cities in China (alongside Beijing, Tianjin and Shanghai).
Built on steep hills sloping down to the Yangtze River and one of its main tributaries the Jialing River, Chongqing is known as the Mountain City. It is also known as "Fog City" – a relevant factor during wartime aerial bombardments. As a river transport hub Chongqing historically had a blue-collar or 'dockside' feel that still echoes today in its down-to-earth and resilient inhabitants, albeit under a modern facade.
Chongqing lies at the core of the economic belt of the upper Yangtze River, connecting China's vast west and eastern coast. It is a key region for implementing China's 'Western Development Strategy', launched in 2000 to bridge the gap between China's more developed eastern coastal regions and relatively less developed internal western areas. Cities like Chongqing (and nearby Chengdu) have received extensive government support to develop its transport, IT, manufacturing and financial sectors. Chongqing has also piloted a number of important socio-economic reforms designed to increase internal labour mobility in China, not least as a result of population relocations during construction of the Three Gorges Dam and resulting reservoir on the Yangtze River downstream from the city.
Chongqing is an important inland transport hub and inland port, and has invested heavily in transport infrastructure to attract investment. Previously most commercial and passenger traffic was by river, but the city now promotes itself as an air, river, road and rail (ARRR) hub. Many tourists pass through Chongqing at the start or end of Three Gorges boat cruises. Chongqing's Jiangbei Airport is one of China's top ten busiest airports with 35.88 million passenger arrivals in 2016. A new 14-day rail freight service linking Chongqing with Germany, has been established alongside a number of similar services from other Chinese cities, under the umbrella of the One Belt One Road initiative.
Economy
As elsewhere in China, Chongqing's GDP growth has cooled from its high-points of 16-17% in 2010-11. But it has nevertheless stood out as a growth engine in China in 2015-16: Chongqing was one of a few province-level areas in China to record double-digit GDP growth in the past two years, and recroded 10.7% growth in 2016. Chongqing's GDP total is 1.76 trillion RMB, ranking 20 of the 31 provinces and municipalities in China due to its relatively low population – but per capita GDP in 2016 was a healthy 57,902 RMB (10th of 31), higher than China's national average.
Chongqing's key economic sectors include electronic information, automobile, equipment manufacturing, chemical engineering, materials, energy and consumer goods. In the past, up to 75 per cent of Hewlett Packard's global tablet computers were assembled in Chongqing. It is also one of China's largest centers for motor vehicle production and the largest for motorcycles – by 2015, the output reached 3 million with a value of 470 billion RMB. Ford's JV with Changan, with three plants in Chongqing is the company's largest assembly operation outside Detroit. Chongqing is also one of the nine largest iron and steel centers in China and one of the three major aluminum producers. South West Aluminum operate's Asia's largest aluminum plant.
The city and its largely rural environs have deposits of coal, natural gas, and more than 60 kinds of minerals such as strontium and manganese. Chuandong Natural Gas Field is China's largest inland gas field with deposits of around 270 billion m3 - more than 1/5 of China's total. It also has China's largest reserve of strontium (China has the world's 2nd biggest strontium deposit). The Three Gorges Dam, the world's largest, is downstream from Chongqing and supplies much of its electricity: the city is a major load centre on the national grid.
Two new Chinese Government strategies are set to further boost Chongqing's economic credentials and drive further growth. Chongqing promotes itself as a key domestic link in China's "One Belt One Road" initiative, which has the aim of strengthening the country's transport, trade, investment and other connectivity in the footsteps of ancient Silk Road and Maritime Silk Road routes. It is also a nexus between OBOR and the Yangtze River Economic Belt initiative, which has the goal of strengthening trade, investment and people flows between the coastal, mid-stream and upper reaches of the Yangtze river. Local analysts sometimes refer to the resulting combined local strategies as "Two Belts One River".
The Chongqing Pilot Free Trade Zone (PFTZ) was officially launched on 1st April 2017 as one of seven newly-approved free trade zones across China, bring the total number in China to 11. The PFTZ aims to expand advanced manufacturing sectors, as well as facilitate the development of "One Belt, One Road" and the "Yangtze River Economic Belt". The PFTZ is spread across three areas of Chongqing. The Liangjiang area (covering Chongqing Lianglu-Cuntan Free Trade Port Area) will focus on expanding the high-end manufacturing sector. The Xiyong area (covering Xiyong Comprehensive Free Trade Zone and Railway Bonded Logisitics Centre) will focus on production-related service industries and bonded logistics. The Guoyan port area will focus on establishing a multi-logistics transshipment centre.
Guizhou Province
Key points
The 10.5 per cent GDP growth of Guizhou Province ranked 2rd among all provinces in 2016. GDP growth has ranked in the top 3 over the last five consecutive years, although GDP per capita remains relatively low compared to other provinces.
Guizhou is known nationally for its mineral deposits and electricity generation, timber and forestry, large tobacco industry, herbs and traditional medicines, and alcohol.
Guizhou is making a strong effort to establish itself as a big data and cloud computing centre in China.
Former New Zealand Prime Minister David Lange was one of the first foreign Heads of Government to visit Guizhou, in 1986. New Zealand and Guizhou have a warm history of agriculture development assistance. There is interest in links with Māori business.
New Zealand-Guizhou links
New Zealand and Guizhou share a special relationship spanning several decades, built largely around practical agricultural and development cooperation.
In 1986 former New Zealand Prime Minister David Lange was one of the first foreign Prime Ministers to visit Guizhou, and he is still fondly remembered as one of the few foreign leaders to have visited the province. Former New Zealand Minister of Maori Affairs Dr Pita Sharples led an official and Maori business delegation to Guizhou in February 2014. There is interest in stronger links with New Zealand Māori business, particularly in the areas such as eco-tourism.
The New Zealand government's earliest contacts with former President Hu Jintao stemmed from his time as Party Secretary in Guizhou.
In August 1992 Guiyang city established a sister city relationship with Palmerston North. Mayor Grant Smith visited Guiyang in September 2015 and July 2017.
The New Zealand Government has implemented a number of development assistance projects in Guizhou, with a focus on agriculture and rural livelihoods. This has resulted in ongoing people-to-people linkages with New Zealand agricultural experts, including three experts being honoured with state-level China Friendship Awards for their work in rural development in Guizhou, with Dr Phil Rolston also being awarded the country's highest foreign research award (the International Science and Technology Cooperation Award), one of less than 100 foreigners to receive this honour.
Guizhou communities have been the recipient of small projects funds managed through the New Zealand Embassy in Beijing.
New Zealand's long-term development cooperation relationship with Guizhou is now evolving into a commercial partnership, with scope for New Zealand commercial involvement and investment in Guizhou. Current New Zealand companies with interests in Guizhou span a range of sectors, including: agri-business, helicopter training and services, 3D animation and fertiliser ingredients.
Some New Zealand universities have institutional partnerships with Guizhou counterparts, including Massey and Lincoln Universities. One theme is sustainable rural livelihoods, which is particularly relevant to Guizhou.
In April 2015, New Zealand Consul-General Alistair Crozier led a business delegation to Guizhou with officials from the New Zealand Embassy, Beijing and the New Zealand Consulate-General in Guangzhou, along with business representatives from a range of agriculture, dairy, and health sectors.
Background
Quick facts (2016)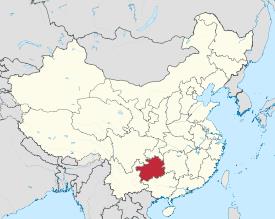 Guizhou Province
Capital City: Guiyang
Population: 35.55 million
Ethnicity: 62% Han Chinese, also Miao, Buyei, Dong, Tujia, Yi, others.
Land area: 176,000 km²
Total GDP: 1.17 trillion RMB (NZ$237.06 billion)
GDP growth: 10.5%
Per capita GDP: 33,127 RMB (NZ$6,692)
CPI growth: 1.4%
Guizhou Province is located in the eastern Yunnan-Guizhou Plateau of Southwest China. It adjoins Sichuan Province and Chongqing Municipality to the north, Yunnan Province to the west, Guangxi Province to the south and Hunan Province to the east. Overall Guizhou is a mountainous province however it is hillier in the west while the eastern and southern portions are relatively flat. The Province consists of nine prefecture-level divisions: six prefecture-level cities and three autonomous prefectures.
More than one third of Guizhou people are ethnic minorities, with 18 different ethnic groups in total. After the dominant Han Chinese, the largest groups are Miao (12 Per cent) and Buyei (8 Per cent). It is also the home of the well-known Chinese liquor Moutai. Guizhou cuisine is spicy but distinct from Sichuan cuisine.
Guizhou has two UNESCO World Heritage Sites (South China Karst and China Danxia). Guizhou does not get unbearably hot in the summer or extremely cold in winter. It is a popular summer resort in China. Many places of interest are well-known at home and abroad, such as Huangguoshu Waterfall, Zhijin Cave, Libo Small Seven Holes and Chishui Danxia.
Economy
The GDP growth of Guizhou Province was 10.5 per cent in 2016 – the second highest provincial growth in China. However this is in the context of a relatively low per capita GDP when compared to more developed provinces.
Although the economy is relatively undeveloped, the province has strong environmental and agricultural resources. Natural industries include timber and forestry. Guizhou is also the third largest producer of tobacco in China, and is home to the well-known Guizhou Tobacco brand. The local market also sees potential for further development of organic foods and biological drugs.
Guizhou is one of China's four major regions for the production of traditional Chinese herbs and traditional medicines. Traditional local medicine, especially ethnic Miao medicine, has achieved nationwide recognition. Future plans involve building a modern Chinese medicine industrial park in the Guiyang National Hi-Tech Development Zone that will integrate Chinese medicine processing and manufacturing.
Guizhou is one of the most resource-rich provinces in the country: A total of 127 kinds of minerals have been found. Reserves of bauxite, phosphorus ore, manganese ore, antimony ore and gold ore in Guizhou all rank third or fourth in China; and reserves of barite and rare earth ores rank first and second. Other minerals are limestone, arsenic, gypsum and oil shale.
Liupanshui city of Guizhou Province is known as the coal city in the south region of the Yangtze River. Guizhou has become an important base for the national East-West electricity transmission project. A lot of its electricity is exported to Guangdong and other provinces.
Guizhou is an important industrial base of the aviation, aerospace and electronics industries in China. There is an established machinery manufacturing industry. It also has development potential in optical instruments and precise machine tools. Notably the Five-hundred-meter Aperture Spherical radio Telescope (FAST), the world's largest filled-aperture radio telescope, is located in Pingtang County, Guizhou Province.
Gui'an New District, located at the juncture of Guiyang and Anshun, is one of the youngest "new districts" in China at the State level. It has adopted new policies incentives on finance and taxation, land, investment, talent and science in order to develop a local 'big data' industry. The air quality, cool weather conditions and stable geological structures is reported to create a good environment for information equipment.
In 2013, the provincial government issued a plan to speed up the development of the big data industry in an effort to build up "seven cloud projects" serving governments, the public and companies. The "seven cloud projects" include e-government systems, intelligent transportation, logistics, tourism, industrial cloud computing, e-commerce and food security. The nation's top three telecom giants - China Telecom, China Unicom and China Mobile - are building cloud computing facilities in the Gui'an New District with a cumulative investment so far exceeding 15 billion RMB. Foxconn and Alibaba are also notable companies that have established a strategic presence in the province in the big data and cloud computing sectors.
Sichuan Province
Key points
Sichuan is the 4th largest province in China and the largest provincial economy in Western China, surpassing 3 trillion RMB in GDP for the first time in 2015. Recent GDP growth (7.7% 2016) has slowed but remains above the national average.
Chengdu, the provincial capital, is China's 9th largest city economy and contributes slightly over a third of provincial GDP.
The province has benefited significantly from investment under China's national Western Development Strategy, and now promotes itself as a convergence point for China's large One Belt One Road and Yangtze River Economic Belt initiatives.
The provincial economy is diversified across agriculture, mineral resources, manufacturing, ICT and services.
New Zealand established a Consulate in Chengdu in 2014. The New Zealand Prime Minister, Deputy Prime Minister and Minister of Defence have visited Sichuan since establishment.
New Zealand has growing trade, investment and services links with Sichuan. Trade and business opportunities for New Zealand companies exist in many areas including Foof and Beverage, agri-tech, aviation and airports, healthcare sector, tourism, residential property fit-out, start-up tech and entrepreneur collaboration, education and attraction of new foreign direct investment.
Direct flights between Sichuan (Chengdu) and Auckland commenced in June 2017.
New Zealand-Sichuan links
New Zealand's people-to-people links with Sichuan date back to before the founding of the People's Republic, when at least one NZ missionary served at the Canadian Mission which established Chengdu's Huaxi University. In the 1950s Rewi Alley spent some time in the region en route to Gansu Province, after leaving Shanghai.
New Zealand received approval to open a Consulate-General in Chengdu in mid-2014, its fifth diplomatic post in China. The post is headed by New Zealand's first Consul-General to South West China, Alistair Crozier.
Prime Minister Rt Hon John Key visited Chengdu on 12 November 2014 to open the Consulate, which commenced business operations shortly afterwards. Deputy Prime Minister and Minister of Finance Hon Bill English visited Chengdu in July 2015. Minister of Defence Hon. Gerry Brownlee also visited in October 2015.
According to official provincial statistics, New Zealand direct goods exports to Sichuan in 2016 totalled 1.1 billion RMB (NZ$230 million), a 17.4 per cent increase over 2015. However, the total value of such exports is likely to be much greater as most New Zealand produce enters China via coastal ports (where they are recorded) and then internally distributed. The data also does not cover growing NZ services exports.
As elsewhere in China, New Zealand agricultural products have a positive reputation in Sichuan for their food safety and high quality – especially dairy products, with awareness of our fruit, meat, seafood, honey, craft beer and wine also growing. This matches well with local consumers, who have a reputation in China for valuing quality products, work-life balance and 'life experiences' (dining, entertainment and travel). The commencement of direct flights has also expanded potential for premium food and beverage products to be transported directly to market between New Zealand and Sichuan.
Trade and business opportunities for New Zealand companies also exist in other sectors including agri-tech, aviation and airports, healthcare sector, tourism and residential property fit-out. Two New Zealand Trade & Enterprise (NZTE) business development managers at the Consulate in Chengdu assist NZTE customers in market.
A small but growing number of New Zealand companies now have offices in Chengdu/Sichuan. These include companies across a number of sectors, including banking analytics and service maintenance, dairy, logistics, beer and environmental engineering.
Links are developing between start-up and entrepreneur communities in Chengdu and New Zealand. A number of New Zealand start-up companies have visited Chengdu in 2016-17 to explore opportunities to attract venture and angel capital, enter the Chinese market and/or identify potential local business partners. A Chengdu start-up took part in Wellington-based business acceleration programme in 2016, with another opportunity available in 2017. There are hundreds of tech and business incubators in Chengdu, the best of which are actively seeking opportunities to internationalise and form strategic partnerships with New Zealand and other partners.
Two-way investment is growing. NZ companies have made a number of historic investments in Sichuan Province and one company remains an investor in a high-tech manufacturing plant in Chengdu. There is also ongoing a mutual investment relationships in the dairy sector. Sichuan companies have also recently invested in the New Zealand honey, restaurant, property development and quarrying/explosives sectors.
New Zealand is a popular destination for Sichuan tourists. The province is currently the sixth largest source of Chinese visitors to New Zealand (behind Beijing, Shanghai, Guangzhou, Jiangsu and Zhejiang), with over 16,000 visitors in 2016. Immigration New Zealand opened a NZ Visa Application Centre in Chengdu in May 2015, and direct online applications / electronic visas are also now available for local travellers.
In June 2017, Sichuan Airlines commenced direct flights between Auckland and Chengdu. According to Auckland International Airport the service with three flights a week adds a potential 81,000 seats annually and an estimated NZ$102 million to the New Zealand economy, through both passenger travel and air freight.
A number of New Zealand education institutions have institutional partnerships in Sichuan. One of the most established is a joint degree collaboration between Wintec in Hamilton and Chengdu University, although a number of other New Zealand tertiary institutions are also forming local partnerships. Christchurch and Sichuan Province established a strategic Education Alliance in September 2014 which has paired local schools and tertiary institutions from both sides together and offers teacher training, student and staff exchanges, and pathway programmes to tertiary study.
Chengdu and Hamilton formally established a sister city relationship in 2015. Hamilton Mayors Julie Hardaker and Andrew King led delegations to attend the 2016 and 2017 China (Chengdu) Global Innovation and Entrepreneurship Fairs respectively. Chengdu Mayor Luo Qiang visited Hamilton in June 2017.
There is a strong interest in New Zealand culture in Sichuan. The Consulate has hosted or assisted a number of New Zealand cultural visits in Chengdu since 2015, including NZ Trio (classical music), Witi Ihimaera (author), David Hill (author), university media art exhibitors and school kapa haka and dance groups.
An estimated hundred New Zealanders live in Sichuan, mainly Chengdu but also Mianyang and other cities. There is an active WeChat community group, and get-togethers are held periodically. The New Zealand Alumni Network in Southwest China, for local Chinese who have studied in New Zealand and returned home, has over 150 members and can also be contacted through the Consulate.
Background
Quick facts (2016)
Sichuan Province
Capital City: Chengdu
Population: 82.62 million
Ethnicity: 95% Han Chinese, also Tibetan, Yi, Qiang, Naxi
Land area: 485,000 km²
Total GDP: 3.27 trillion RMB (NZ$660.21 billion)
GDP growth: 7.7%
Per capita GDP: 36,695 RMB (NZ$8,019)
CPI growth: 1.9%
Sichuan was known historically as Tianfu (land of abundance), reflecting its role as a grain-growing 'food basket' of China. Archeological discoveries of bronze-age Sanxingdui artefacts indicate that the Chengdu area was inhabited by a developed culture at least four thousand years ago.
Bordering seven other provinces, Sichuan has two distinct halves: The fertile eastern plains where Chengdu is located; and the west rising up to the Tibetan plateau and including the province's highest mountain at 7,556 metres. Large parts of Western Sichuan are isolated and arid. In contrast, Chengdu is a booming manufacturing, financial, innovation and education centre which, along with Chongqing are the most developed cities in Western China.
Sichuan is known worldwide for its spicy food, and as the centre for China's panda-breeding centres. Five UNESCO World Heritage sites in the province are popular international and domestic tourism destinations. Sichuan's most famous modern personality was Deng Xiaoping, China's leader from 1978-92.
Like New Zealand, Sichuan is in an earthquake zone and has suffered major earthquakes in recent years. The 12 May 2008 'Wenchuan' earthquake, with an epicenter just 80 kilometres northwest of Chengdu, measured 8.0 in the Richter scale and killed 69,000 people. The Ya'an earthquake along the same fault-line in April 2013 killed 196 people. In this light, Sichuan has had extensive experience in post-earthquake recovery and rebuild.
Economy
Sichuan's Total GDP in 2016 was 3.27 trillion RMB (NZ$660.21 billion). In 2016 GDP grew by 7.7% - a decline from 7.9 % growth in 2015 and 8.4% in 2014, consistent with national growth trajectory but still above the national average.
Sichuan's economic performance was again spearheaded by its provincial capital Chengdu. Chengdu's 2016 GDP was 1.22 trillion RMB (37% of Sichuan's total GDP), up 7.7%, with per capita GDP of 77,470RMB, almost double the provincial average.
In 2016, Sichuan's economy had the following split between primary industry (12.0%), secondary industry (42.6%) and tertiary industry (45.4%). The province, particularly Chengdu, has been a major beneficiary of the Chinese Government's Western Development strategy implemented since 2001 to reduce the socio-economic gap between China's eastern areas and the large interior. These have included investment incentives for local and foreign companies, multiple transport and other infrastructure projects, and investment in education.
Sichuan is also strategically placed to take an active role in the Chinese Government's 'One Belt One Road' initiative (also known as the Belt and Road Initiative); as well as the Yangtze River Economic Belt, which aims to strengthen flows of goods and services between key regions along the river.
Despite experiencing rapid growth, Sichuan's population size and diversity also presents economic development challenges. According to official provincial government data, as at the end of 2016, an estimated 2.72 million people in Sichuan continue to live below the national poverty line. Ethnic minority areas in Western and Southern Sichuan are the among the least developed areas in the province.
Sichuan has always had a strong agriculture sector. The province is amongst China's top grain and pork producers. It is also one of China's kiwifruit growing centres. Changes to China's rural land-use laws have opened the way for larger-scale farms and production models here, as in other provinces. It also has substantial natural resources, including China's largest natural gas and hydroelectricity resource, fourth largest forestry resource, and the world's second largest rare earth deposits.
Sichuan has emerged as a manufacturing hub in Western China. The province has successfully attracted major international investment from companies such as Foxconn, which reportedly produces up to 70% of the world's iPads in Chengdu, and Intel which produces half of its global chips and microprocessors. Volkswagen, Volvo and Hyundai all have large car assembly plants in the province. Sichuan also intends to strengthen a number of emerging sectors as it continues its economic diversification, including new materials, clean energy, modern logistics, aviation, automotive innovation and science and technology services.
The province is also focused on developing higher value-add IT industries such as software development, mobile gaming, cloud computing, the 'internet of things', e-commerce and services outsourcing. The city's reputation as an education hub (with 56 universities), and Sichuan's wider history as a base for China's military science and other R&D industries, have provided a strong foundation for this sector's growth.
In recent years, Sichuan has worked to improved its transport connectivity. There are now more than 100 direct regional and long-haul international passenger routes. In 2016 Chengdu's airport was the fourth busiest in China, with over 40 million passenger movements. A second commercial airport, Tianfu International Airport, is currently under construction and will eventually boost the city's passenger capacity to over 80 million per annum. The high-speed rail network also continues to expand: the 400km route from Chengdu to Chongqing can now be covered in 90 minutes.
On 1 April 2017 the Sichuan Pilot Free Trade Zone (PFTZ) was officially announced as one of seven free trade zones across China, bringing the total number in China to 11. The Sichuan PFTZ is designed to facilitate the development of modern services, high-end manufacturing, high-tech industry and the international transhipment of commodities. Additionally, a central aim of the Sichuan PFTZ is to support the development of the Western Reform strategy, "One Belt One Road" and the "Yangtze River Economic Belt". The PFTZ is spread across three areas of Sichuan: Chengdu's Tianfu New Area, the Chengdu Qingbaijiang Railway port area and South Sichuan Port area.
Yunnan Province
Key points
Due to its geographic location, Yunnan is a key province connecting South East and South Asia.
Yunnan is characterised by diversity, including ethnic populations, climate, and geographical features. The province has the second highest number of ethnic groups among the provinces and autonomous regions in China.
Yunnan's five economic pillar industries are tobacco, tourism, mining, electric power generation and biological resources development. Yunnan has also established mining and processing industries. Electricity generation includes potential for clean energy sources including geothermal.
New Zealand's recent engagement in Yunnan has focused on horticulture and education links.
New Zealand-Yunnan links
The New Zealand Government has previously implemented a number of large development assistance projects in Yunnan, with a focus on agriculture and rural livelihoods. The last major project was an integrated rural livelihoods project in Zhongdian / Shangri-La in the north of the province. There are also a number of small grant projects in the province, both ongoing and completed, funded by the New Zealand Embassy in Beijing.
In recent years, New Zealand parliamentary delegations have visited Yunnan. In March 2014, a delegation representing the Parliamentary Foreign Affairs, Defence and Trade Committee visited the province. In October 2016, Speaker of the House Rt Hon David Carter, led a delegation of MPs and New Zealand businesses to Yunnan, with a focus on the horticulture sector.
New Zealand's Consul-General in Chengdu also led a business mission to Kunming in April 2015 with representatives from the agri-business, dairy and software/IT sectors.
New Zealand Crown Research Institute Plant & Food Research (PFR) have long term and successful efforts in cultivating research and commercial partnerships with local Yunnan counterparts. This began with work to jointly breed and commercialise a variety of the Yunnan Red Pear. Cooperation has now expanded to include crops such as blueberries, vegetables and ornamental plants. PFR now has links with a range of Yunnan partners, including research institutions, government departments and commercial entities.
Founded on this horticulture cooperation platform, New Zealand and Yunnan organised a series of science and technology cooperation workshops aimed at enabling research institutes and businesses from both sides to explore areas of potential collaboration. The first workshop in July 2015 was held in Kunming, and the second workshop in November 2016 was held in Christchurch. A third workshop is planned for late 2017.
Some New Zealand universities have institutional partnerships with Yunnan counterparts and New Zealand Chinese language students have undertaken short-course language study in Kunming. Yunnan has access to the New Zealand Development Scholarships which allow for up to 10 Chinese students at any given time to undertake postgraduate study in New Zealand in developmentally relevant areas of study.
In August 2003 Kunming City established a sister city relationship with New Plymouth. New Plymouth Mayor Andrew Judd last visited Kunming in August 2014. There is a Kunming Garden in New Plymouth's Pukekura Park and a New Zealand garden in Kunming, both given as reciprocal gifts to mark the sister city relationship.
There is a small New Zealand community in Kunming, and a New Zealand style 'Slice of Heaven' Café.
Background
Quick facts (2016)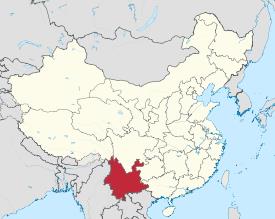 Yunnan Province
Capital city: Kunming
Population: 47.71 million
Ethnicity: 67% Han Chinese, also Yi, Bai, Hani, Zhuang, Dai, Miao, Hui, Tibetan, others.
Land area: 394,000 km²
Total GDP: 1.49 trillion RMB (NZ$300.40 billion)
GDP growth: 8.7%
Per capita GDP: 31,265 RMB (NZ$6,316)
CPI growth: 1.5%
Yunnan is located on the southwest boundary of China. The southern part of Yunnan is on the belt of the Tropic of Cancer. Yunnan borders the Guangxi Zhuang Autonomous Region and Guizhou province in the east, Sichuan province in the north, and Tibet Autonomous Region in the northwest. It shares a border with Myanmar in the west, Laos in the south, and Vietnam in the southeast. Yunnan consists of sixteen prefecture-level divisions: eight prefecture-level cities and eight autonomous prefectures.
Because of its highly complex terrain, the climate of Yunnan is very diverse. Climate zones ranging from alpine, temperate, subtropical to a tropical arc, distributed from the northwest to the southeast. A typical altitude-dependent climate is also found in the high mountains and deep gorges.
The province is also an earthquake region, and several serious earthquakes have hit Yunnan in recent years. The most recent was in Ludian County on 3 August 2014, which claimed over 600 lives.
Yunnan is noted for its high level of ethnic diversity. It has the second highest number of ethnic groups among the provinces and autonomous regions in China after Guangxi Province. Among the country's 56 recognized ethnic groups, 25 are found in Yunnan, of which 15 are indigenous. Yunnan is also known nationally for tea. One of Yunnan's best known products is Pu-erh tea (or Pu'er), named after a well-known tea trading town in the south of the province. Yunnan Gold and other Dianhong teas, developed in the 20th century, are also well known.
Yunnan is rich in biological resources and is an important treasure-trove of China's biological diversity. Because of is unique climate and geographical environment, Yunnan has the largest variety of plants in China. Yunnan is home to 15,000 species of plants, including 60 percent of the plants used in traditional Chinese medicine.
Yunnan has two international airports: Kunming Changshui Airport (opened in 2012) and Xishuangbanna Airport (Jinghong). Currently, more than 100 domestic and international air routes have been opened. Most international routes focus on Asia, although flights to other continents are also expanding including to Australia and Europe.
Economy
Yunnan's GDP growth in 2016 was 8.7 per cent. In 2016 urban residents' income increased by 8.5 per cent. Foreign trade import/export by value decreased by 18.4% in 2016.
Yunnan is relatively less developed when compared to other Chinese provinces such as those in Eastern China. Poverty alleviation remains a key goal of the provincial government and they have detailed five large projects aimed at improving infrastructure facilities. These involve improving soil improvement, water conservation, electricity generation, roads, and green economy and planning.
Yunnan's five economic pillar industries are tobacco, tourism, mining, electricity generation and biological resource development. Important manufacturing industries are iron and steel production and copper-smelting, commercial vehicles, chemicals, fertilizers, textiles, and optical instruments.
Yunnan maintains a strong agricultural focus. Rice is the main crop; corn, barley, wheat, rapeseed, sweet potatoes, soybeans, tea, coffee, sugarcane, tobacco, and cotton are also grown.
Yunnan has strong competitive potential in the fruit and vegetable industries, especially in commodities such as fresh and dried vegetables and fresh apples. Over 800 out of 938 kinds of edible mushroom varieties in China can be found in Yunnan. In 2004, around 7,744 tons of wild edible mushrooms were exported, making up for 70% of the total export of this product in China. The so-called 'pine mushroom' is the main product in Yunnan and is exported to Japan in large quantities. Yunnan is also currently China's largest producer of coffee beans.
Due to China's growing consumption of dairy products, Yunnan's dairy industry is also developing more rapidly and receives assistance from the government to develop a competitive edge in Southwest China, while also aiming to export to neighbouring countries.
Currently, Yunnan is the key province nationwide in the flower growing sector. The province accounts for 50% of China's total cut flower production. Yunnan also exports flowers to a number of foreign countries and regions such as Japan, Korea, Hong Kong, Thailand and Singapore. The rapid developments in this field have attracted the attention of foreign horticultural companies, and foreign investment in flower-related projects and businesses are growing.
Yunnan has large reserves of a wide range of minerals. Of the 168 types of minerals discovered in China, 142 can be found in Yunnan. The reserves of 54 of these minerals in the province rank among the top 10 in the country. Yunnan is a 'top three' source province for minerals such lead, zinc, tin, phosphorous, copper and silver. Yunnan is also rich in non-metallic minerals such as limestone, dolomite, halite, marble, and granite.
As an energy generating province, Yunnan has over 600 rivers which provide an annual water supply of 222.2 billion cubic meters and an estimated hydropower reserve of 103.64 million kilowatts with an exploitable capacity of 90 million kilowatts. Yunnan is also an important coal producer in southern China. However, it also has good potential to the develop other sources of renewable energy, including solar, wind and geothermal energy. The electricity industry plays a key role in the "West-East Electricity Transmission Project", an initiative aimed at developing western provinces while accommodating growing energy demands of the eastern provinces. Electricity produced in Yunnan is both transferred within China (such as to Guangdong Province) and exported to neighbouring Vietnam and Laos.
Yunnan's ethnic diversity together with its geographical, natural and historical features have driven a strong tourism sector. The province is among the top domestic and regional tourism destinations and is seeing an increase in international tourist. The sector is one of its economic pillars, but is also a particularly important one for its many ethnic groups.