Rupert Holborow
New Zealand's Ambassador to Germany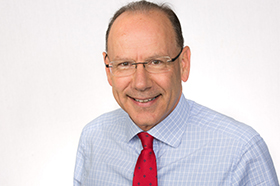 Rupert Holborow is New Zealand's Ambassador to Germany, Switzerland, the Czech Republic and Liechtenstein.
As a career diplomat he has been privileged to spend time both representing New Zealand in some fascinating countries offshore as well as working at home.
He has served twice overseas in Australia (1986-89 and again 2000-2004), Indonesia (1994-97), and most recently as High Commissioner to India (2008-2010) with responsibility for Sri Lanka, Bangladesh and Nepal.
Most recently at home he headed up the Ministry's Economic Division. He has also served as New Zealand's Senior Official for APEC, has worked in the Ministry's North Asia and South East Asia Divisions, in the Ministry's Trade Negotiations Division and – early in his career – as a private secretary to the then-trade minister.
Having spent a good number of years living in Europe as a child, Rupert is delighted to be back in Europe as part of the wider New Zealand team seeking to promote deeper links with this very important part of the world.