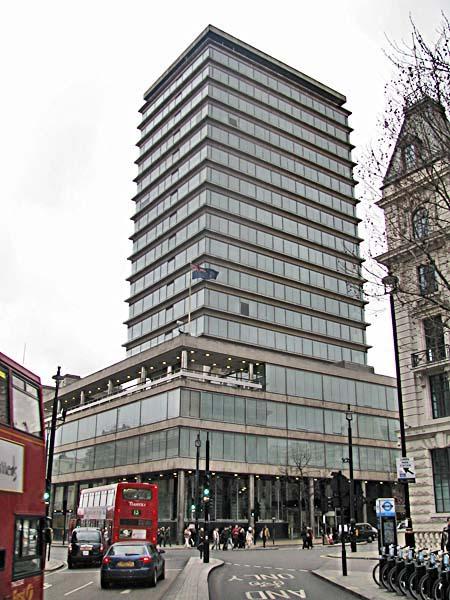 New Zealand House is situated in central London on the west corner of Haymarket and Pall Mall.
The New Zealand Government secured the Haymarket site for the New Zealand High Commission in 1948. It was the derelict site of the Carlton Hotel, destroyed by a bomb during the Blitz. Ho Chi Minh worked in the Carlton from 1913 – 1917 in the kitchens.
Built by Holland Hannen and Cubitts in 1959, the design differed from the other diplomatic buildings of the Commonwealth realms in that it was a modern skyscraper.
Designed by Sir Robert Matthew, a Scottish architect and proponent of modernism, it remains one of the tallest buildings in this part of London. After difficulties in planning permission, the 18 storey building was constructed only after permission was granted by the British Cabinet.
In 1972 Maori wood carver Inia Te Wiata's pillar Te Pouihi was completed and sited in the reception, towering high up into the floors above.
New Zealand House today is the base for New Zealand government agencies, including the Ministry of Foreign Affairs and Trade, New Zealand Defence Force, Department of Internal Affairs, Immigration New Zealand, Tourism New Zealand and New Zealand Trade and Enterprise.
Today there are a number of private businesses who operate out of New Zealand House but are not affiliated with New Zealand.