New Zealand is supporting countries in the Pacific following significant damage caused by Tropical Cyclone Gita.
How New Zealand is helping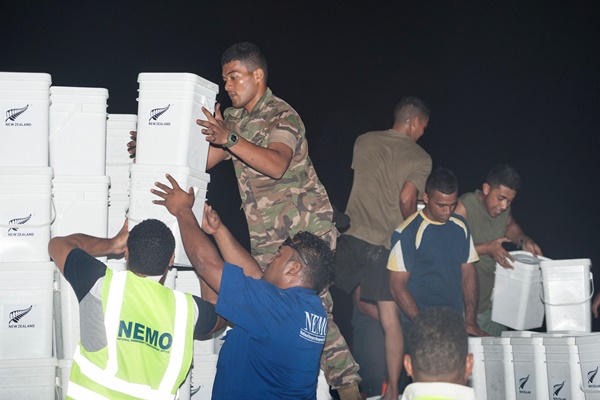 Tropical Cyclone Gita swept through the Pacific leaving a trail of damage and disruption in February 2018. The Kingdom of Tonga bore the brunt of the damage, but it also affected Samoa, Niue, Fiji, New Caledonia and New Zealand.
Tonga sustained significant damage to critical infrastructure, including electricity supply and schools, and is now beginning the recovery process, which is expected to take many months.
New Zealand stands by its Pacific neighbours and swung into action to assist the Samoan- and Tongan-led responses.
In the days and weeks following the cyclone, New Zealand set aside $2.33 million to help emergency response efforts in the Pacific.
As part of this assistance, New Zealand provided approximately 38 tonnes of emergency relief supplies and dozens of expert response personnel.
A 10-person team deployed to Tonga on 13 February to scope support. Based at the New Zealand High Commission Nuku'alofa, the team included officials from the Ministry of Health, Fire and Emergency New Zealand, Ministry of Civil Defence and Emergency, New Zealand Defence Force and Ministry of Foreign Affairs and Trade.
A Fire and Emergency New Zealand Disaster Assistance and Response Team (DART) also deployed with their Australian counterparts to conduct initial structural assessments of schools and other public buildings to check they were safe to return to.
The NZDF provided a P3-K Orion to conduct aerial surveillance of the damage and six C-130 flights gone have up to Tonga to deliver relief supplies.
Press releases
The New Zealand Government announced an initial $750,000 that will enable us to respond quickly to requests from the Government of Tonga to meet immediate needs, such as emergency shelter, water and sanitation.
A C130 Hercules is transporting family hygiene kits, shelter kits, jerry cans, and tarpaulins from New Zealand. The plane will also carry a New Zealand government team to support the New Zealand High Commission in Nuku'alofa assess emergency needs and respond to requests from the Government of Tonga.
An additional $1.5 million to help with the emergency response and early recovery efforts in Tonga, Samoa and Fiji. It will be used to replenish New Zealand Red Cross relief supplies in Tonga and provide up to $750,000 for New Zealand NGOs to deliver ongoing emergency relief and early recovery activities.
Press release 14 February: Further Cyclone Gita help(external link)
Follow our social media for updates:
Twitter @MFATNZ(external link)
Facebook @MFATNZ(external link)
How you can help
The best thing you can do when a disaster occurs is to donate money to an emergency appeal by an experienced organisation working on the ground. These organisations have clear systems and processes for assessing what's needed. Where possible they will source supplies from close to the affected area, which is the most efficient and cost-effective way of getting help to those who need it, and also supports the local economy.
Emergency appeals
See details of New Zealand humanitarian organisation appeals(external link)
See details of the New Zealand Red Cross Pacific Disaster Fund(external link)
Other assistance
See details of the New Zealand Red Cross Pacific Disaster Fund(external link)
Some banks and money transfer providers are helping by reducing the cost to send money to Tonga. See Send Money Pacific(external link) for details.
If you have a specific offer that you want to make to support the relief efforts:
Email publicoffers@mfat.govt.nz
Phone 0800 711 103