Through the Inclusive Trade Action Group New Zealand, Canada, Chile and Mexico are driving a more inclusive and sustainable trade agenda.
What is the Inclusive Trade Action Group?
The Inclusive Trade Action Group (ITAG) was established by New Zealand, Canada and Chile at the Asia-Pacific Economic Cooperation (APEC) Leaders' Summit in November 2018.
ITAG has its origins in the Joint Declaration on Fostering Progressive and Inclusive Trade [PDF, 112 KB]. This was issued by New Zealand, Canada and Chile alongside the signing of the Comprehensive and Progressive Agreement for Trans-Pacific Partnership (CPTPP) in March 2018.
ITAG members are working together to help make trade policies more inclusive, and ensure that the benefits of trade and investment are more broadly shared. It could be seen in some ways as a natural extension of New Zealand's Trade for All Agenda.
Since November 2018 the three countries have together held a number of workshops and meetings to further develop understanding of indigenous trade, women's economic empowerment, agriculture and the sustainable development goals, and small and medium sized enterprises (SMEs) development.
In October 2021 Mexico was welcomed as the first new participant of ITAG.
The Global Trade and Gender Arrangement
On 5 August 2020 (NZT) New Zealand, Canada and Chile launched the Global Trade and Gender Arrangement (GTAGA) in a virtual Ministerial signing ceremony. It was the first ITAG Arrangement concluded, and New Zealand's first trade arrangement specifically on gender.
Read:
a

press release

(external link)

from the Minister for Trade and Export Growth. This includes a Joint Communique by New Zealand, Canada and Chile to mark the signing of the Arrangement.
What is the Arrangement and what does it do?
The Global Trade and Gender Arrangement (GTAGA) commits each Participant to advance a more inclusive approach to trade, and address barriers that women face when participating in trade. At the heart of the Arrangement are cooperation activities which will be designed to share knowledge, best practices and increase women's participation in the economy and trade.
We know that trade has a positive impact in economic development and that exporting firms, including women-owned companies that export, can achieve greater levels of profitability, competitiveness, productivity, innovation, resilience, and pay higher wages and hire more diverse employees.
But women-owned businesses and workers are less likely to be involved in trade sectors and generally face lower wages.
Over time the Arrangement will be a force for positive change in our economies and societies by:
increasing the development of more robust opportunities for women in international trade, and
contributing to the promotion of gender considerations on the international stage.
The Participants also reaffirmed their commitment to the Sustainable Development Goals, chiefly Goal 5, which commits to ending all forms of discrimination against all women and girls everywhere and leaving no-one behind.
The GTAGA recommits to the goal of gender equality in the workplace. It commits Participants to cooperate and share best practices to eliminate discrimination in employment and occupation, including on the basis of sex, pregnancy, possibility of pregnancy, maternity, gender and gender identity, and sexual orientation.
For women-owned businesses, the GTAGA includes cooperation activities to promote the internationalization of SMEs led by women and the fuller integration of women into the formal economy. It also contains specific cooperative activities aimed at enhancing economic opportunities for rural women and Māori.
Is the Global Trade and Gender Arrangement a Free Trade Agreement (FTA)?
No. The GTAGA is similar to a Trade and Gender Chapter in an FTA as it is designed to assist in removing barriers that women face when participating in trade, and proposes cooperation activities.
The GTAGA represents a strong demonstration of commitment by the Participants, but it is not enforceable or subject to binding dispute resolution. It does contain a review mechanism and the Participants will look afresh at the GTAGA, including legal form, by 2022.
Who can join the GTAGA? Do economies need to be part of ITAG to join?
Given that the Arrangement is "standalone", it is not linked to any specific trade agreement. It is open to any interested economies to join. The ITAG have extended an invitation for other economies to consider doing so.
An economy does not need to be part of ITAG to join the Arrangement (but ITAG partners welcome participation in both.)
In October 2021 Mexico became the first new participant of the GTAGA (and ITAG) at a Ministerial meeting in Paris hosted by the OECD.
New Zealand welcomed Mexico's new partnership on inclusive trade issues with a Press Release from the Minister for Trade and Export(external link) on 7 October 2021.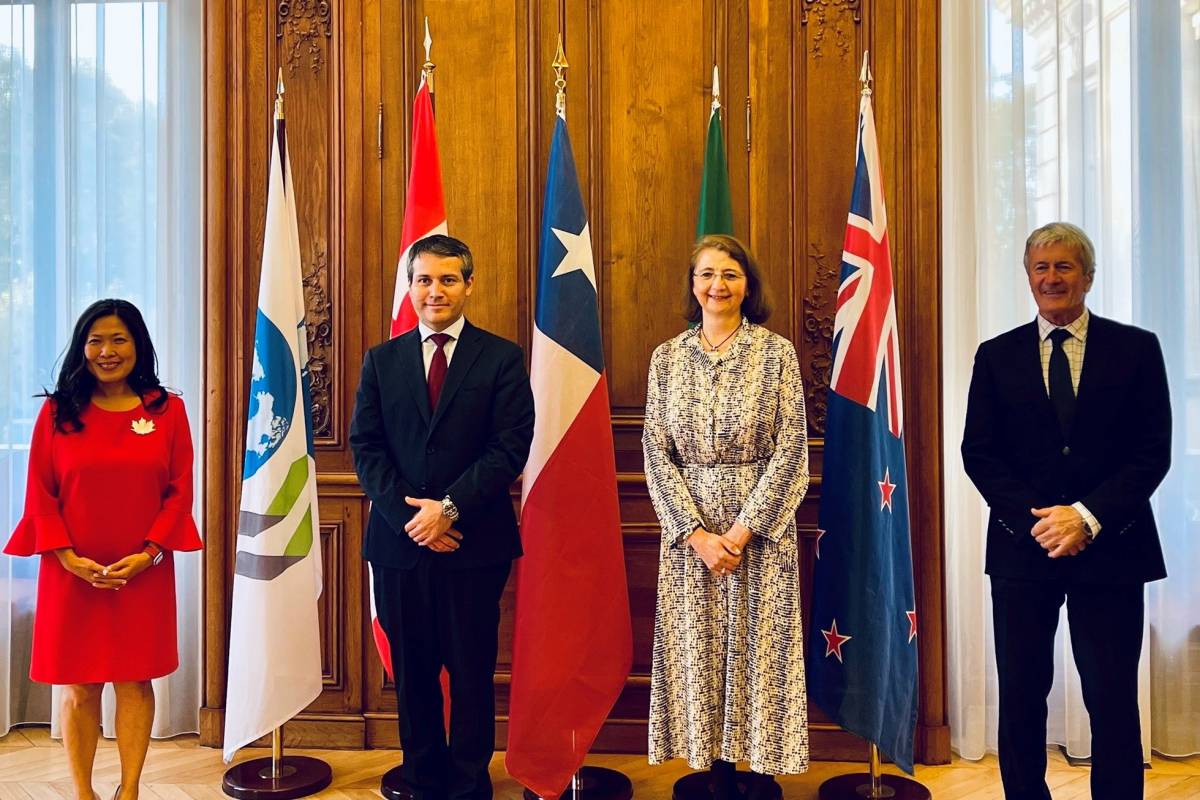 Implementation Activities
There have been a range of important implementation events since the GTAGA was signed.
In December 2020, Canada hosted the first (virtual) GTAGA implementation meeting which looked at domestic programmes and policies that support women's economic empowerment and gender equality. Canada's presentation was delivered by an economist at Finance Canada on gender-based budgeting, a discourse that seeks budget policies which enhance gender equality and women's empowerment. Chile's presentation was delivered by the CEO of Start-Up Chile, an initiative that supports women entrepreneurs. New Zealand's presentation was delivered by the Ministry for Women and focused on practical initiatives that enable policy makers and the private sector to include a gender perspective in their decision making.
Officials were invited from eight other economies and over 60 participants attended.
In June 2021, Chile hosted the second (virtual) GTAGA implementation meeting which looked at unlocking opportunities for women entrepreneurs in Canada, Chile and New Zealand. The event provided a platform for women who are exporting, export-ready or considering opportunities in GTAGA markets to learn more about the business activities that exist in the three economies. The private sector panellists included: Laura Mottola, President of Flow Partners Inc, Canada; Carolina Echenique, Founder and President of Tika Chips, Chile; and Sarah Adams, Global Strategy and New Ventures Manager for Gallagher Animal Management, New Zealand. Senior diplomatic and trade officials from the three GTAGA economies also spoke about opportunities in the three markets.
There have been other GTAGA-focused events as well. In June 2021 the OECD's Marion Jansen, Director Trade and Agriculture, hosted a virtual GTAGA Ministerial meeting "An innovative initiative to support women's economic empowerment through trade". GTAGA Ministers were joined by senior female business leaders to talk about challenges and opportunities in promoting women's involvement in trade. This included Liz Te Amo, CEO of Miro, New Zealand; Vicky Saunders, founder of SheEO, Canada; Fernanda Vicente, Executive Vice President and Co-Founder of Mujeres del Pacifico.
The event was well attended with around 400 participants from economies around the globe.
Another GTAGA-focused event was hosted in September 2021 which brought together officials, private sector and civil society representatives in an event moderated by German NGO Polis 180.