Our strong relations with ASEAN are based on our shared history, growing trade, development and security interests and our close geographic location.
Find the latest news for ASEAN
Home to nearly 654 million people, ASEAN is a very important partner for New Zealand. We have a thriving trade relationship with ASEAN and it is one of New Zealand's most significant sources of foreign students, tourists and migrants. Today there's a vibrant community of around 80,000 people of South East Asian origin living in New Zealand.
In 2014, we appointed a dedicated Ambassador to the ASEAN Secretariat in Jakarta, reflecting the growing ties between New Zealand and ASEAN.
45 years of partnership
In 2020 we celebrated 45 years of our formal relationship with ASEAN. Since 1975 the areas of cooperation and mutual interest have grown and we've built a solid partnership. We have high ambitions for the future of this relationship — we plan to work towards greater levels of engagement, integration and cooperation.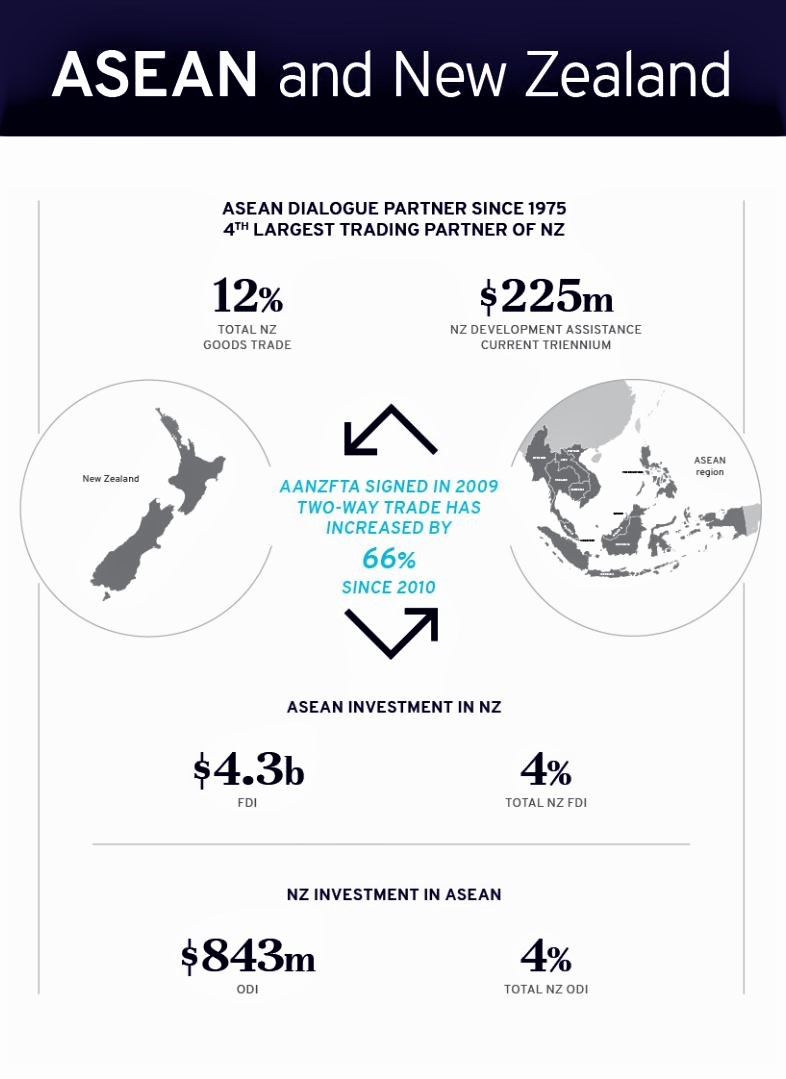 New Zealand – ASEAN trade and economic ties have gone from strength to strength over the last 45 years. In 1975 two-way trade between ASEAN and NZ was worth US$133 million and that this represents less than three days' worth of our trade today- this year's total with ASEAN was close to NZD$19 billion. The ASEAN - Australia-New Zealand Free Trade Agreement (AANZFTA) which came into force in 2010 provides a strong foundation to continue our close economic partnership.
Read more about AANZFTA(external link)
ASEAN forums
We're an active member of several ASEAN-centred forums including:
Joint Cooperation Committee
The Joint Cooperation Committee (JCC) is an Ambassador-level meeting which takes place each year at the ASEAN Secretariat in Jakarta. It is an important part of New Zealand's annual meeting cycle with ASEAN as it provides a great opportunity for New Zealand to raise the profile of our cooperation with ASEAN. The JCC also allows New Zealand to look strategically towards the future of our partnership with ASEAN through exchanges with each of the Member States. We are nearing the end of our 2016-2020 Plan of Action Implementation and we have already achieved significant progress under the current Plan of Action.
East Asia Summit
New Zealand is a founding member of this regional leaders' forum for strategic dialogue and cooperation on political, security, economic and social issues of common concern. The East Asia Summit (EAS) comprises the 10 ASEAN countries, Australia, China, India, Japan, New Zealand, the Republic of Korea, Russia and the United States. It is held after the annual ASEAN leader' meeting and plays an important role in the regional architecture of the Asia-Pacific.
The 12th East Asia Summit (EAS) Foreign Ministers' Meeting was convened on 5 August 2022 in Phnom Penh, Kingdom of Cambodia. New Zealand plays an active role in the EAS, including in climate change, sustainable development, disaster relief capacity-building, regulatory good practice, and counter-radicalisation initiatives.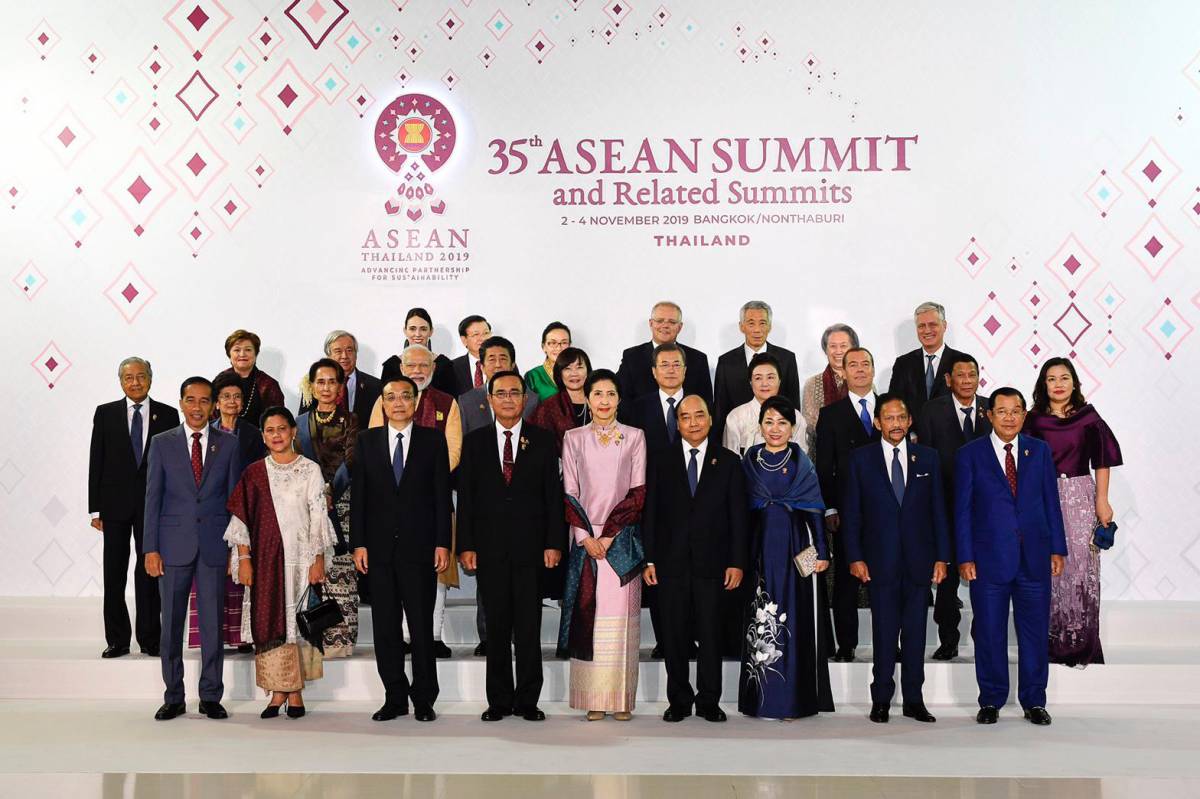 ASEAN Regional Forum
The ASEAN Regional Forum (ARF) includes the 10 ASEAN members and 17 other countries in the region, including New Zealand. Foreign Ministers attend the annual ARF Ministerial Meeting, which is a valuable opportunity for consultation on regional security and political issues, and on global matters that affect the region. The ARF's priorities include: confidence-building and preventive diplomacy, counter-terrorism and transnational crime, disaster relief, maritime security, and disarmament and non-proliferation of weapons.
ARF is important to the region's security and therefore our security. New Zealand's participation is particularly focused on preventive diplomacy, ship profiling for maritime security, disarmament and non-proliferation of weapons, countering illicit drugs, disaster response and countering terrorism and transnational crime.
In 2020 New Zealand is co-hosting three ARF events. This includes the Counter Terrorism and Transnational Crime intersessional meeting along with a workshop on countering terrorist use of the internet next March. As well as co-hosting three activities on preventive diplomacy and conflict mitigation.
Read more about the ASEAN Regional Forum(external link)
ASEAN Defence Ministers' Meeting-Plus
New Zealand is a founding member of the ASEAN Defence Ministers' Meeting-Plus (ADMM-Plus), a group of Defence Ministers from the 10 ASEAN countries and its eight dialogue partners. ADMM-Plus pursues security and defence cooperation in seven areas: maritime security, counter-terrorism, humanitarian assistance and disaster management, peacekeeping operations, military medicine, humanitarian mine action, and cyber security.
New Zealand and the Philippines currently co-chair the ADMM-Plus Expert Working Group on cyber security.
Read more about the ADMM-Plus(external link)
The ASEAN-CER Integration Partnership Forum
The ASEAN-CER Integration Partnership Forum, or "IPF", is a collaboration between the governments of New Zealand and Australia. It occurs alongside the annual meeting of the AANZFTA Joint Committee, more information on AANZFTA can be found here.
Read more about the most recent event in Auckland, New Zealand
The ASEAN- New Zealand Air Services Agreement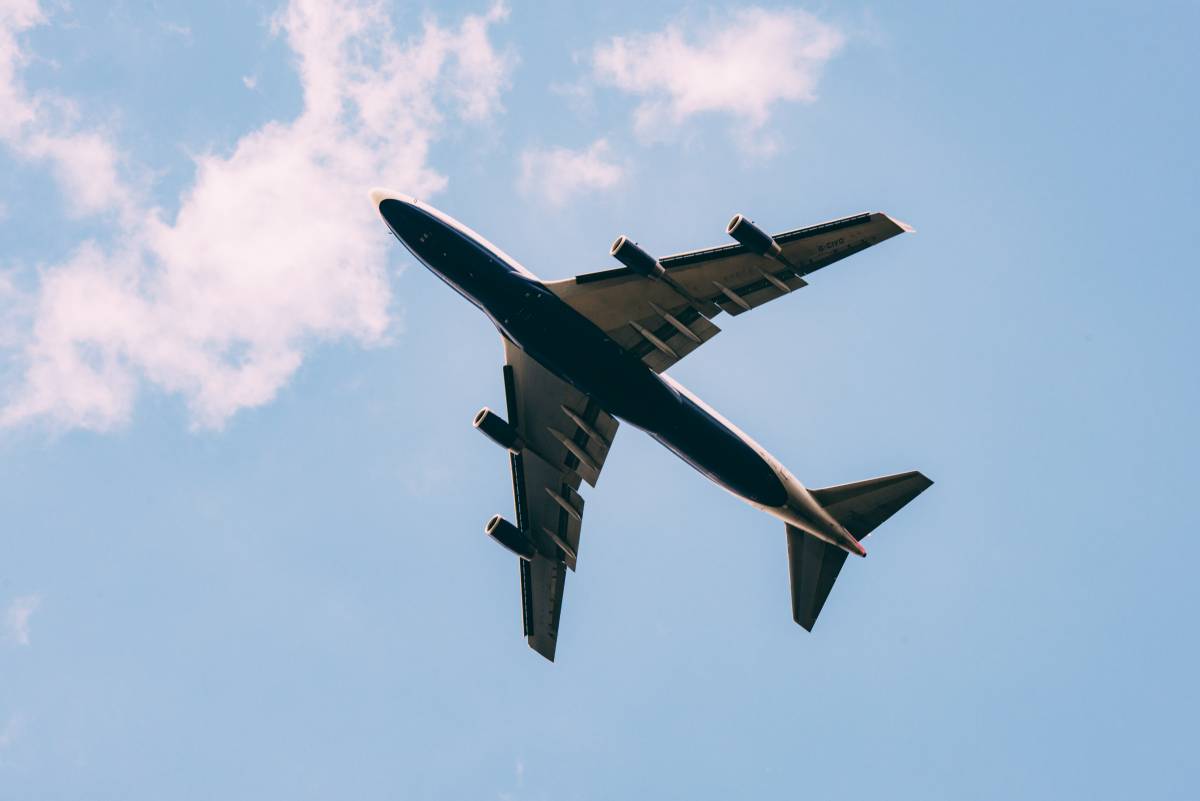 In September 2019, the first round of the ASEAN regional air services agreement negotiations took place in Wellington. These talks are to agree upon a single regional agreement which would raise the overall quality of air services within the region creating new growth opportunities and set rules for air travel. New Zealand has existing bilateral air service agreements with all ASEAN member states, however having an ASEAN regional agreement results more opportunities for New Zealanders, creates better airline options and fares as well as making it easier for visitors to New Zealand, boosting our tourism sector.
Read more about the ASEAN regional services agreement(external link)