SafeTravel is the official source of travel advice for New Zealanders, with advisories for specific destinations. Checking SafeTravel helps you avoid travel blackspots.
Safe travel matters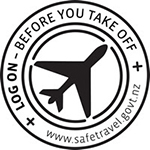 At SafeTravel.govt.nz you can register your details and travel plans. If you register with SafeTravel, we're able to relay important information and account for your safety and wellbeing, as part of New Zealand's consular response to an overseas emergency. Your information is protected by the Privacy Act and is used for consular purposes only.
Some other info you'll find on the SafeTravel website:
a traveller's checklist to help you plan your journey
recommendations regarding travel insurance
travel advisories for specific destinations, with up-to-date information on security risks (see below for a link to our travel advisory for Canada)
information and help you can access when things go wrong
SafeTravel's official advisory for New Zealanders living in and travelling to Canada is available at: https://www.safetravel.govt.nz/canada(external link).