Carl Berendsen
1890–1973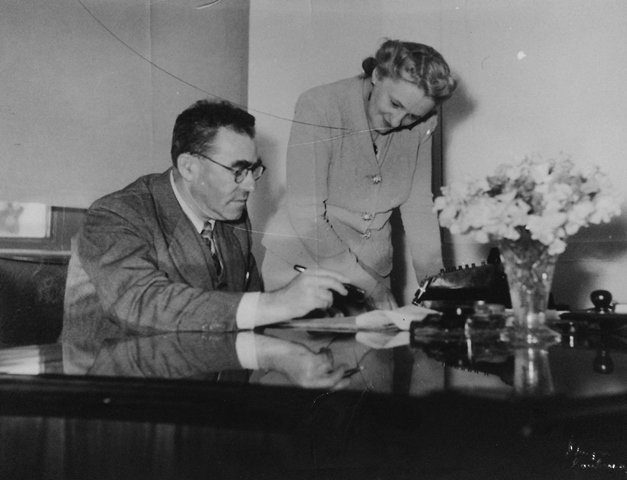 Carl Berendsen was born in Woollahra, NSW, in 1890. When he was a child his family moved to New Zealand, and he grew up near Mataura in Southland. A gifted student, he passed the exams needed to secure a cadetship in the Department of Education in 1906, and subsequently graduated LLB and LLM through part-time study at Victoria College. Between two spells of service in the First World War he transferred from the Department of Education to the Department of Labour. He resumed his public service career in 1919 after his return from service overseas.
When, in 1926, the newly-created Prime Minister's Department sought an 'imperial affairs officer', Berendsen secured the post, on the basis of an application that listed as his attributes, 'intelligence, industry, integrity and interest in the proposed position'. His responsibilities, at first somewhat nebulous, were subsequently established as the oversight and coordination of all international matters within the purview of the Prime Minister, and all correspondence with the Governor-General and the High Commissioner in London. He thus became the first public servant to be given as his principal responsibility the conduct of New Zealand's relations with the outside world.
Until the outbreak of the Second World War, Carl Berendsen took the lead in managing virtually every aspect of New Zealand's external relations. From 1935 to 1943 he served also as permanent head of the Prime Minister's Department and, from 1939, as secretary of the War Cabinet. In early 1943 he was appointed New Zealand's first High Commissioner to Australia. From there he was sent, in March 1944, to represent New Zealand in Washington, a position he held until 1952. In 1946, Berendsen was made a KCMG.
Over his time in Washington, Berendsen represented New Zealand at many international meetings, and between 1946 and 1951 he led the New Zealand delegation at sessions of the United Nations General Assembly in New York. He was, as Tom Larkin has written, "New Zealand's principal representative abroad, offering clear-cut advice on the great issues of the day and then, when New Zealand policy had been determined, articulating it in speeches that abounded with wit, rhetoric, scorn, persuasiveness and power".
Carl Berendsen was fiercely proud of representing New Zealand, and as fiercely determined that New Zealand should make a good showing on the international stage. For him, that meant placing principle above expediency – in his words, "to do the right thing is the right thing to do". He was a man of peppery and sometimes explosive temper, and one given to decisive judgements, allegedly stating once that "if you look at a thing and it's 51 percent black and 49 percent white then for Christ's sake, it's black".
Over his time in Washington, Berendsen became increasingly disillusioned with the government's treatment of him, claiming in 1948 to have more than 50 grievances "old and new, dead and alive". On one occasion his anger over perceived slights was so great that he refused to dine with the Prime Minister. He returned to New Zealand to retire in 1952, adding to his grievances the failure of the Department of External Affairs to seek his advice on foreign policy matters thereafter. Sir Carl Berendsen died in Dunedin in September 1973.
Now read on
McGibbon, Ian (ed.) Undiplomatic Dialogue: Letters Between Carl Berendsen and Alister McIntosh 1943-1952, Auckland University Press, 1993.
Templeton, Hugh (ed.) Mr Ambassador: Memoirs of Sir Carl Berendsen, Wellington: Victoria University Press, 2009.
Templeton, Malcolm (ed.) An Eye, an Ear and a Voice: 50 Years in New Zealand's External Relations 1943-1993, Ministry of Foreign Affairs and Trade, 1993
Larkin, Tom (December 1993) A Special Time and Special People, New Zealand Books: A Quarterly Review December 1993. Retrieved from the New Zealand Books: A Quarterly Review website(external link)