Asena Tolungamaka is a Policy Officer in the Development, Economy and Prosperity Division.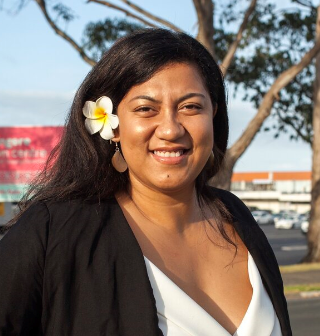 Tell us a bit about yourself
I was raised in Māngere in South Auckland. My parents migrated to Aotearoa from Ha'apai and Tongatapu in Tonga. My Pacific heritage and my love for South Auckland are two of my driving forces in life.
What did you study at university?
Bachelor of Law and Arts Conjoint
Why MFAT?
I wanted to do work that positively impacted the world, and MFAT was the perfect place to do this. Not only were my academic studies and professional experience an asset but my personal experiences were as well.
How do you think your studies helped you prepare for a career in Foreign Policy?
I have been aware of social issues from a very young age, but my studies equipped me with the skills I needed to help impact the world through foreign policy. Foreign policy, at the end of the day, is about people and relationships. My studies and personal upbringing equipped me with my unique way of interacting with people and creating genuine relationships.
Highlights of your role so far?
I work in the NZ Aid Programme side of MFAT and my highlight has been the real world impact that I've seen from the activities I manage around the world.
What impact do you think policy officers can have?
Policy officers at MFAT have the opportunity to impact how New Zealand engages with the rest of the world — the impact is endless.
What do you enjoy about MFAT outside of your team?
My cohort have become a family away from home. I'm also really grateful to have beautiful friendships with people across the Ministry (especially some cool Māori and Pacific staff).
Is there anything that surprised you when you joined MFAT?
How much MFAT covers; from foreign policy, to the NZ Aid Programme, to our Multilateral division. It's so vast!
Application process
Apply online for an Aorere or Vaka internship.